If there is one shoe that never goes out of style, it is the strappy wedge sandal.
They are a classic staple in any woman's wardrobe and can be dressed up or down for any occasion.
From thick straps to thin straps, leather, canvas, faux leather, high heel, low heel, platform, and not wedge sandals are a must-have in any frilly and fab wardrobe.
Let's examine why the strappy wedge sandal is the perfect go-to shoe for any event and show you some fun picks we've discovered for you!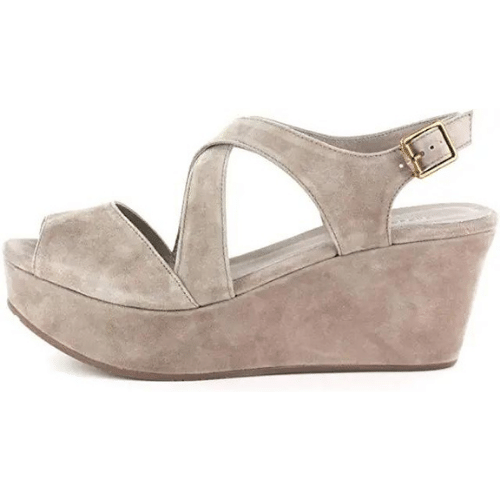 Chocolat Blu Winnie - Strappy Wedge Sandal
Retro wrap styling make these beauties a must have - reviewers love them calling them comfy and stylish! Pair with green jeans.
Check Price Here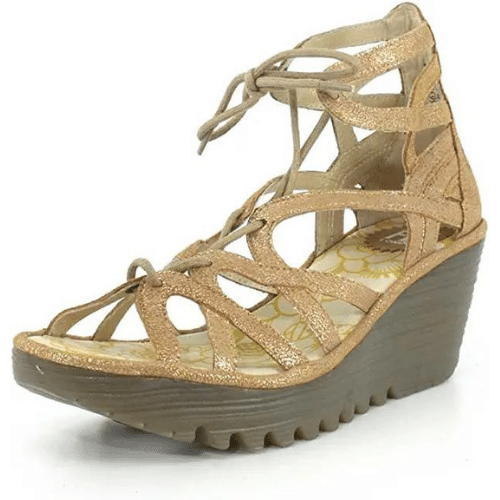 FLY London Women's Yuke663fly Wedge Sandal
Love the sparkly gold of these strappy wedges! Try with a boho mini for a fun day or night out!
Check Price Here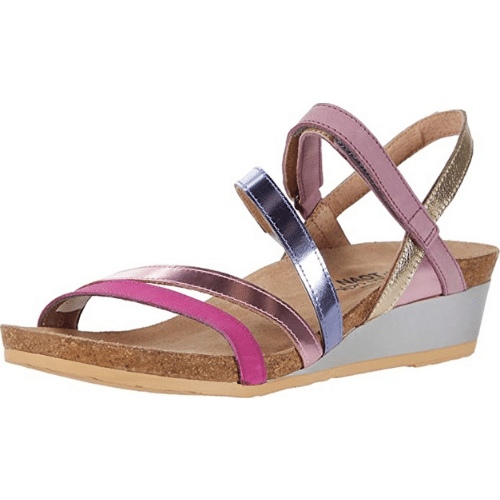 NAOT Footwear Women's Hero Sandal
This is one of those pairs of sandals you'll be reaching for over and over again! Multi stripes with easy slide on would look great with white jeans.
Check Price Here
The Benefits of Strappy Wedge Sandals
One of the main benefits of wearing strappy wedge sandals is their comfort.
Wedges are much more comfortable than traditional high heels because they evenly distribute your weight across your foot and offer more support than a thin heel stiletto would.
This makes them perfect for long day events or nights out when you know you will be on your feet for hours at a time.
They are the best shoe for outdoor wear.
There's nothing like walking on grass or uneven pavement at a winery or a park and teetering on heels.
With wedges, you'll still look amazing and not keel over - a definite plus!!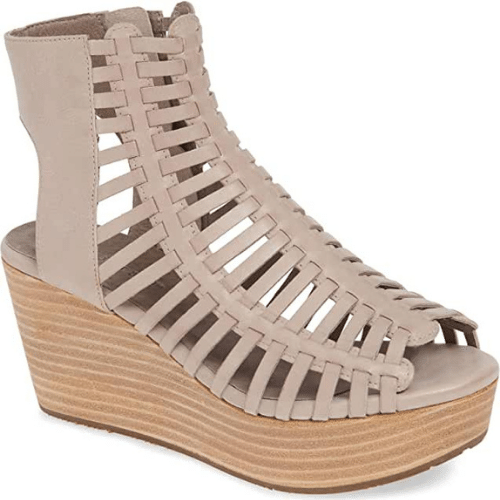 Chocolat Blu Weber - Strappy Wedge Sandal
Strappy gladiator wedge is another winner for go to sandal. Pair it with a denim maxi for a retro cool vibe.
Check Price Here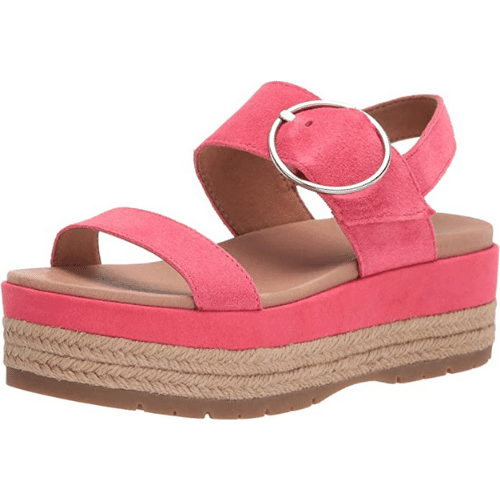 UGG Women's April Sandal
Strawberry sorbet suede wedge by Ugg is so color of the moment! Reviewers love the comfort - one said she hasn't taken them off since she received them! Pair with jeans or a t shirt dress!
Check Price Here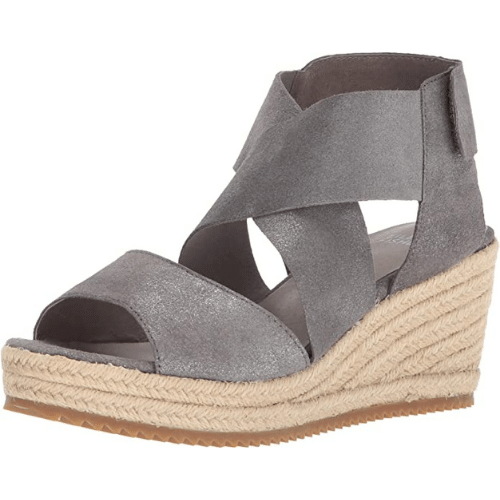 Eileen Fisher Womens Willow 3 Sandal
This pewter metallic shade is a head turner! Wear with a long duster cardigan and jeans for ultimate style!
Check Price Here
Another benefit to wearing strappy wedges over other types of shoes is their versatility.
They can be dressed up with a fab dress or dressed down with jeans and a t-shirt.
No matter what outfit you choose, strappy wedges will always look fashionable and can match almost any color scheme or pattern you choose.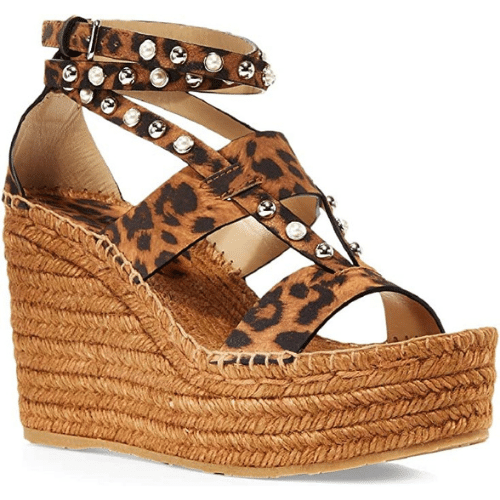 Jimmy Choo Brown Leopard Print Danica
Wow!! My personal fav - but then I do have a thing for leopard prints!! This are a match to anything from jeans to a great tube dress!
Check Price Here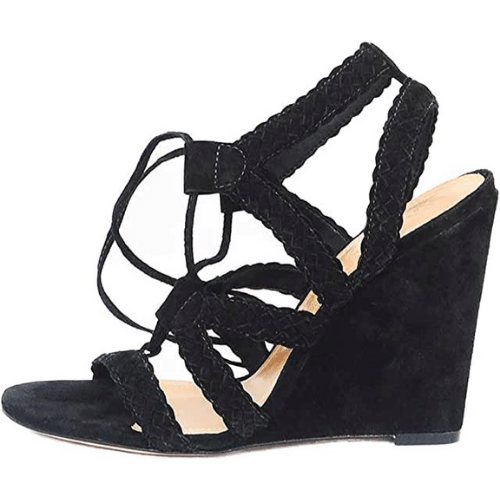 SCHUTZ Angus Black Suede Tie Up Wedge Heel
Super strappy tie up wedges from Schutz Inc are a great pair for formalish events. Try with a halter cocktail dress for your next big night!
Check Price Here
SCHUTZ Nitty Suede Low Wedge Nubuck Sandals
Sweet in a natural suede a match to everything in your spring and summer closet! Pair with shorts or the mini in our wine tasting post!
Check Price Here
Finally, strap wedges provide an effortlessly chic look.
They elevate any outfit while still looking elegant and timeless - meaning they won't go out of style anytime soon!
Plus, they are available in both flat and heeled options so you can find something that works best for your style or occasion without sacrificing comfort or fashion sense.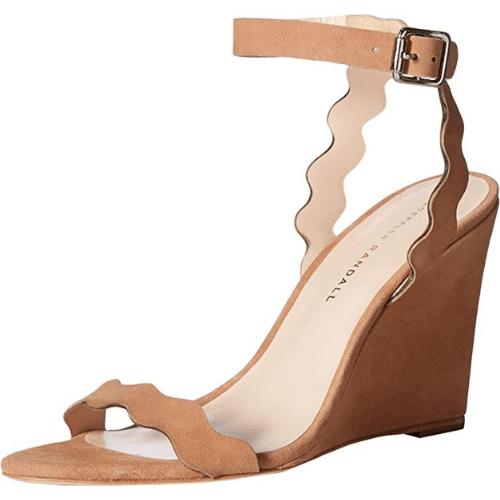 Loeffler Randall Women's Piper-ks Wedge Sandal
Minimal straps, maximum style. Time for a night out with the special someone!
Check Price Here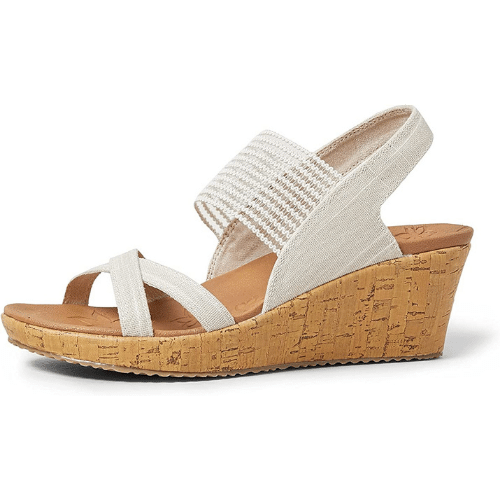 Skechers Women's Beverlee - High Tea Wedge Sandal
A top seller on Amazon, these are as cute as they are comfy! Perfect for everyday and work wear!
Check Price Here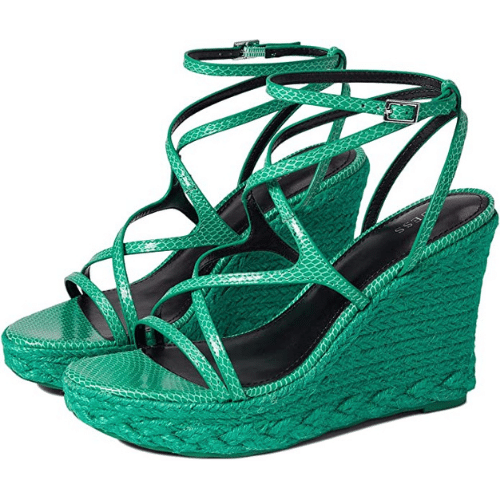 GUESS Women's Hirani Wedge Sandal
Don't you love this vibrant shade?!? Available in 5 fun colors, try them with jeans and a flowery top!
Check Price Here
To sum it up, the strappy wedge sandal should not be overlooked when choosing footwear for any occasion!
Not only are they comfortable enough to wear all night long but also versatile enough to work with any outfit choice – from casual jeans to evening gowns!
Plus, their effortless chicness means that no matter where you go or what you do, these shoes will always have you looking fashionable and timeless!
Women shoppers everywhere should take advantage of this classic staple and invest in some quality pairs to last them through many seasons ahead!
So sort through the items, filter the ones you'd like, click the link, and add them to your bag.
As always, Amazon will ship orders for delivery or pickup in a day or two, so no waiting! Place that order today before there all gone!
We only recommend products we love and think that you will too. We may receive a portion of sales purchased from this article that was written by our Frilly team.
Happy shopping!!