Spring is here and that means it's time to add some floral elements to your wardrobe.
And what better way to do that than with flower rings?
They are the perfect way to elevate any outfit, from casual jeans and a t-shirt to something more dressed up.
Let's explore why the flower ring trend is so popular this season.
A Symbol of New Beginnings
Flower rings are more than just a fashion statement - they are symbolic of new beginnings and fresh starts.
In many cultures, flowers have long been associated with rebirth, renewal, and growth - all things that come with the start of spring. Wearing a flower ring is an easy way to remind yourself that this is a time for change and growth in your life, no matter how small it may be.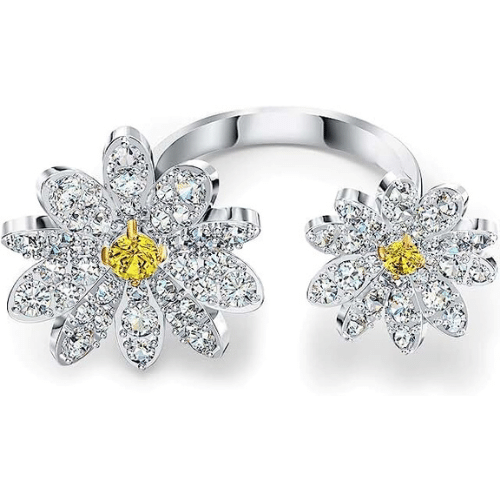 SWAROVSKI Eternal Flower Open Ring Cz
So sweet and sparkly, the Swarovski CZ has it all! Grta for day or night soon to be your fav!
Check Price Here
SWAROVSKI Florere Cocktail Ring with Pink Crystal Flower
Gorgeous flower ring with pink crystals in a gold setting is sure to be a head turner. Great for day or night!
Check Price Here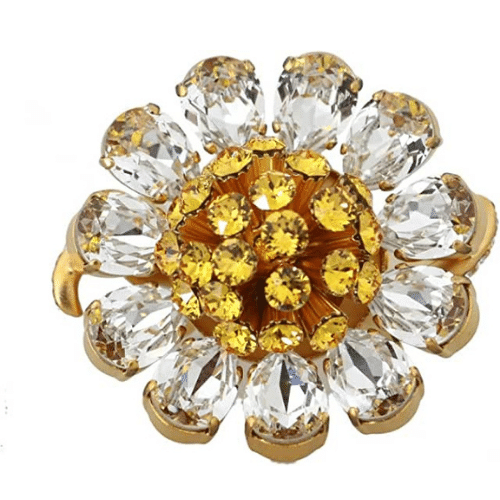 D & G Yellow Crystal Flower Ring
Spectacular Dolce & Gabbana crystal ring is sure to make you swoon! Perfect for your next GNO.
Check Price Here
The Perfect Accessory for Any Outfit
Flower rings come in all shapes, sizes, and styles which makes them incredibly versatile when it comes to styling them with outfits.
Whether you choose a delicate dainty ring or an oversized bold one, there's sure to be something out there that suits your style perfectly.
You can pair these with any look - from everyday basics like jeans and t-shirts to something more dressed up like skirts or dresses. The floral motif will instantly add a touch of femininity and elegance without overdoing it.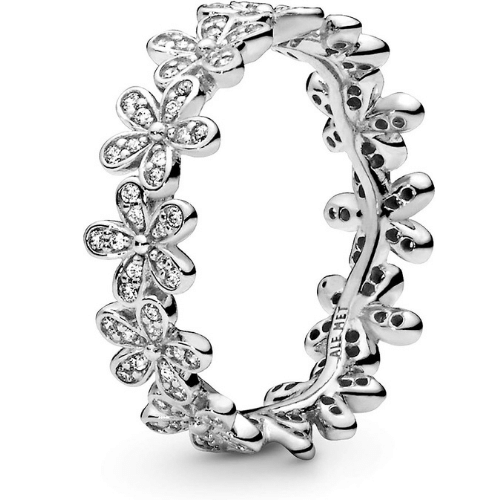 PANDORA Jewelry Daisy Flower Cubic Zirconia Ring
Sweet and shiny, a fun CZ ring coupled with fun daisies! Great for everyday wear!
Check Price Here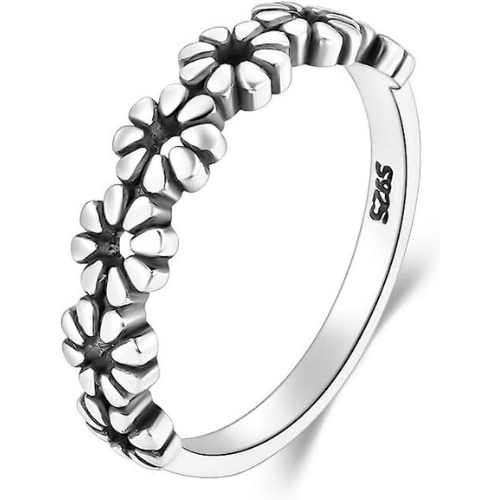 BORUO 925 Sterling Silver Ring, Daisy Flower
Like to be understated? This is for you! Sweet ring of daisies in a sterling ring, your new go to for spring.
Check Price Here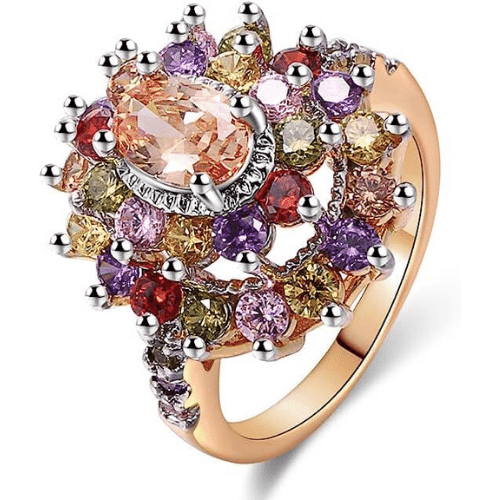 Cubic Zirconia Rhodium Rose Gold Plated Multi-Stone Ring
A champagne CZ with an array of multi color stones, this is a fab heading out to party kind a ring. do forget it when you're headed out for your next vacay!!
Check Price Here
The Ultimate Springtime Statement Piece
If you want your look to really stand out this season then you should definitely consider investing in a flower ring!
This statement piece will draw attention to your hands and make any ensemble pop with its vibrant colors and unique design.
It's also super affordable so you won't break the bank buying one either!
Plus, since they are on-trend right now you can find them at almost any store or online retailer so they're easy to get your hands on!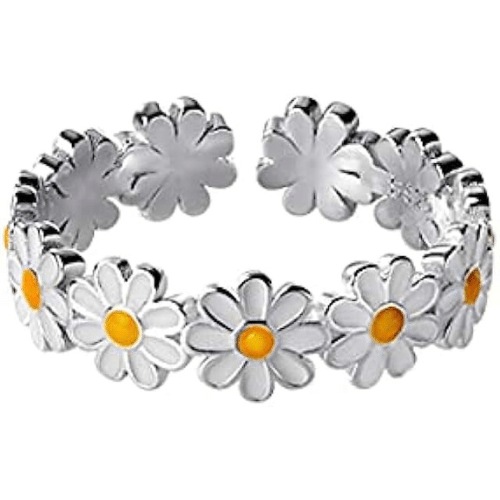 Sterling Silver Small Daisy Flower Rings
We thought you'd love this daisy retro ring!! Pair it with your maxi skirt outfit for throwback fun!
Check Price Here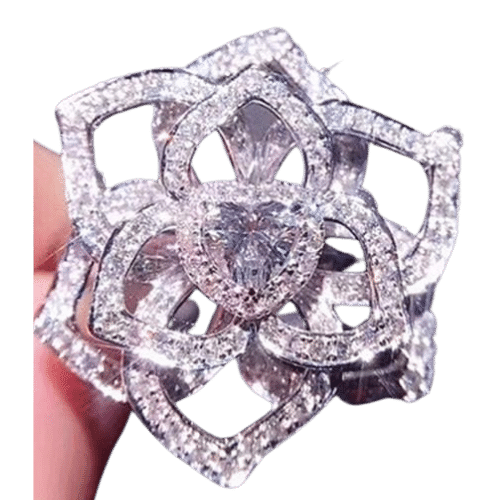 925 Sterling Silver Shining Flower Ring Heart Shape Cubic Zirconia
Heart shaped CZ with CZ flower petals is super dramatic! Great for a date night!
Check Price Here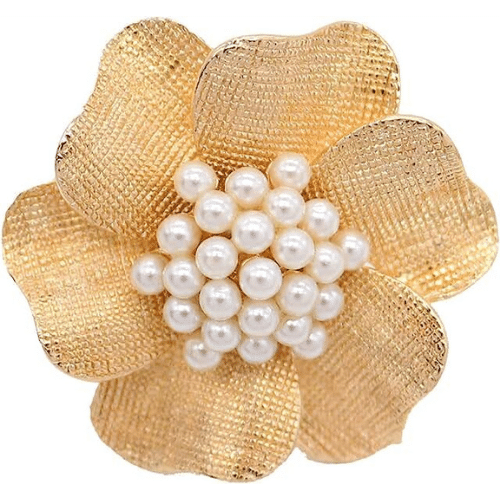 Fashion Adjustable Pearl Crystal Flower Cocktail Statement Ring
And for when you want to make a huge statement, here you go!! This beauty is ultra big, ultra bold and ultra fun. Wear it to your next winery outing for some serious fun!
Check Price Here
If you're looking for an easy way to freshen up your look this spring then flower rings are the perfect solution!
They add a touch of femininity and elegance while still remaining affordable.
Plus, they symbolize new beginnings which makes them even more meaningful during this special time of year.
So go ahead – treat yourself (or someone else!) today!
With so many different styles available, there's sure to be one out there that fits your individual style perfectly!
And before you go, did you get a chance to sign up for our newsletter? Go ahead, it'll only take a sec and you'll never miss a frilly fun fab post!!
We only recommend products we love and think that you will too. We may receive a portion of sales purchased from this article that was written by our Frilly team.
Happy shopping!!