What better way to stay stylish, comfortable, and cool than with a cotton t-shirt dress?
An absolute essential, cotton t-shirt dresses have been dominating the fashion scene since the early 2000s.
From running errands, working from home to dinner dates, these versatile dresses can be dressed up or down depending on what you're up to!
Let's look at why this wardrobe staple should be in your closet.
Why Choose Cotton T Shirt Dresses?
Cotton t-shirt dresses are an excellent choice for those of us who want comfort without sacrificing style.
If you are running errands, you can easily slip on your favorite casual dress without worrying about being too sloppy.
We've all been there, you have on sweats that should be in the rag bin, and you spot someone you'd rather be looking presentable in front of! Do you hide or just throw on your sunnies and pretend you didn't see them???
Plus, these lightweight pieces come in a variety of colors, styles, and silhouettes that can be paired with different accessories to create looks for any occasion depending on your preferences.
Whether it's sneakers for running around or strappy heels for date night, and don't forget the jewelry, there is something for everyone in the world of cotton t-shirt dresses!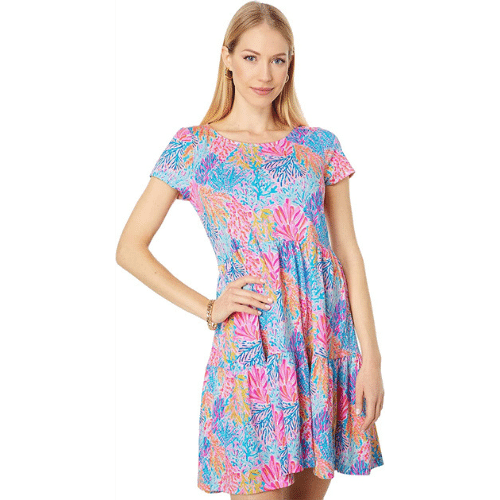 Lilly Pulitzer Geanna Short Sleeve Dress
Beautiful print t shirt dress will have heads turning. This frilly fab dress would be perfect to meet up with friends or to pack for that much needed vacation. Add sandals - done!
Check Price Here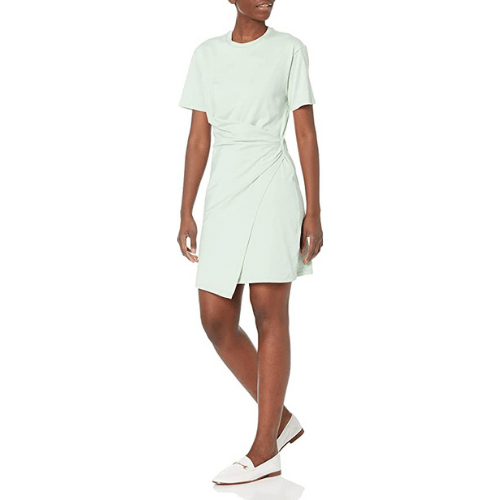 Theory Women's Drape Tee Dress
Love this body shaping drape in a cool mint. The perfect brunch, lunch meet up with friends dress. Pair with flats or sandals. Get this one today, it's sure to sell out!
Check Price Here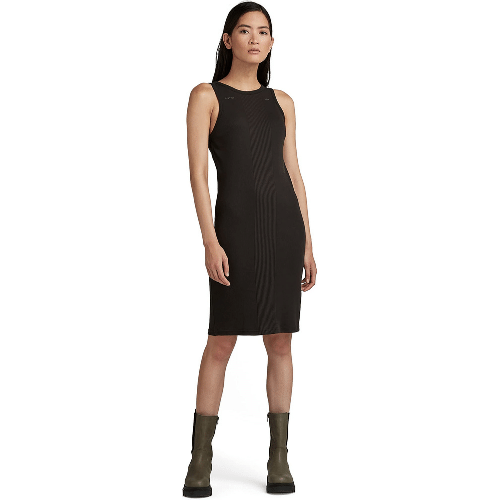 G-Star Raw Women's Engineered Rib Tank Dress
This dress shouts - GNO!!! Try with a pair of chunky boots for an edgy look. This is a must click pic!
Check Price Here
The Benefits of Wearing Cotton Fabrics
Cotton fabrics are ideal for those who prefer breathable materials that keep them cool during hot weather months.
When it's cooler, they're perfect for layering under a sweater or jacket.
They are also lightweight yet durable enough to withstand multiple washes and wears—so you can feel confident that your favorite piece won't show signs of wear and tear after just one use.
Plus, they are soft against the skin making them super comfortable to wear all day!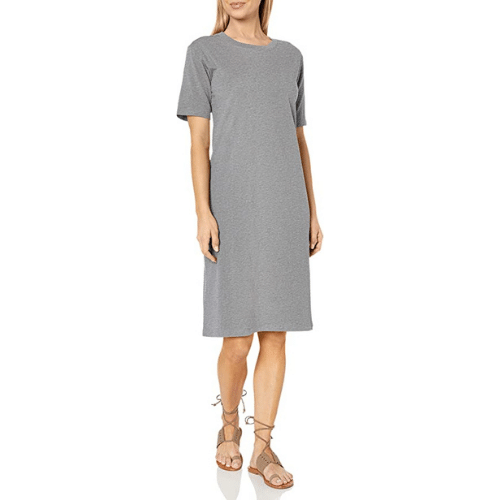 Pendleton Women's Deschutes Cotton Tee Dress
Super comfy, very well made, simple t shirt dress. Pair with sneakers for a comfy look.
Check Price Here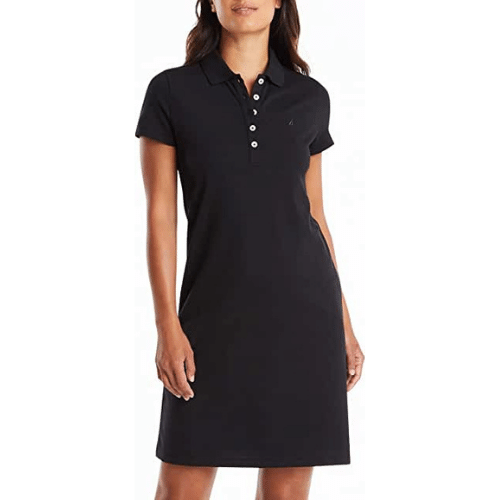 Nautica Women's Easy Classic Short Sleeve Stretch Cotton Polo Dress
Classic polo styling in a dress. As appropriate for work as it is for after work drinks. Pair with sandals and a pop of color with a green handbag, you'll look preppy fab!
Check Price Here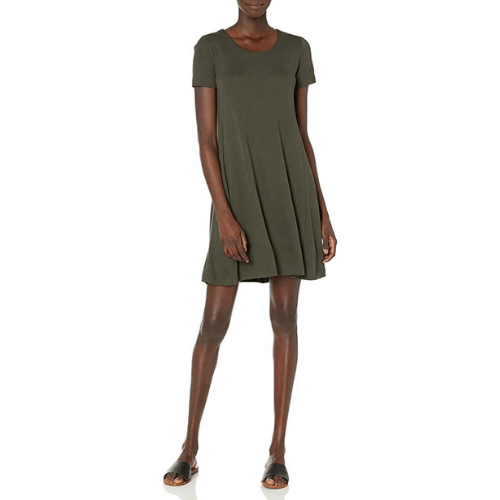 Daily Ritual Pima Cotton and Modal Short-Sleeve Scoop Neck Dress
With its swingy flare, this dress would be great for a day of shopping! Available in six great shades and from sizes xxs to xxl.
Check Price Here
How To Style Cotton T Shirt Dresses
Cotton t-shirt dresses can be styled for any occasion; from beach vacations to business meetings simply by changing up the accessories!
A pair of sandals and statement earrings will instantly elevate your look from everyday casual to evening chic while adding a blazer and loafers will make it appropriate for office environments.
The possibilities with this wardrobe staple really are endless!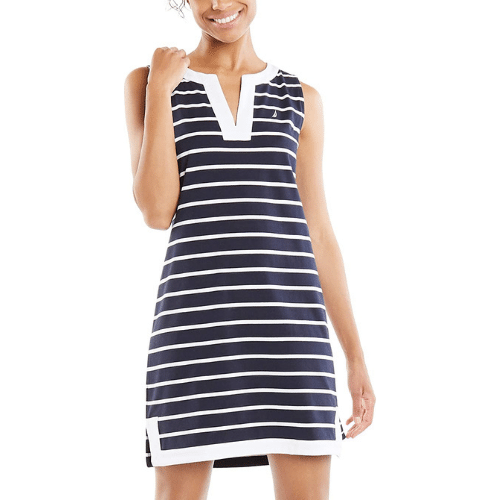 Nautica Women's Breton Stripes Sleeveless V-Neck Stretch Cotton Polo Dress
Can't you see yourself in this dress sitting outside at a beachside cafe with friends? Me too!! Pair with sandals and bring along a long duster sweater when the sun sets and it cools down!
Check Price Here
Calvin Klein Women's Comfortable Short Sleeve Midi Logo T-Shirt Dress
Why would you wear jeans to work on Friday when you can wear this beauty? Pair with mules and you'll be ready for after work fun!
Check Price Here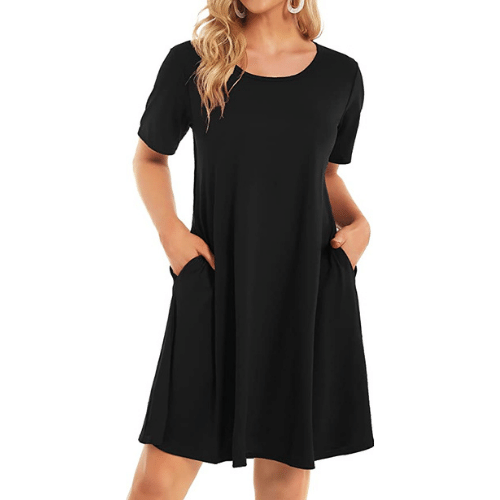 Elescat Tshirt Swing Dress
Too pretty to be called basic, this sweet swing dress has pockets! Great for running errands, heading out for coffee, or glammed up for a night out! It would be fun with platform loafers.
Check Price Here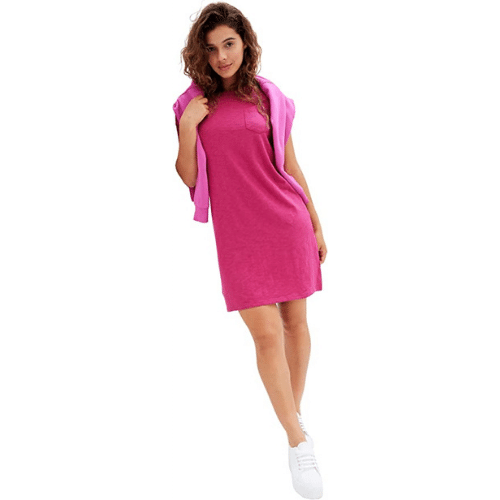 GAP Women's Pocket T-Shirt Casual Dress
Great bright shade that is on trend. This dress is available in sizes from petite to tall, xxs to xxl, and will look great on everyone. Add sandals or sneaks and try a fun crystal necklace!
Check Price Here
Investing in a cotton t-shirt dress is an easy way to add some versatility to your wardrobe.
Not only do these pieces offer comfort, style, and performance but they also come in a variety of colors and silhouettes so you can find something that suits your style perfectly.
We did the browser website search for you, using our filter techniques, analytics and came up with 10 great choices we hope you'll love. Actually we searched through magazines, emails, ads, and went shopping!!!
So go ahead and treat yourself to some much-needed retail therapy; get yourself a quality cotton t-shirt dress today, the only thing left to do is add your personalization to make the look yours!
How are you liking our site? A little request, add a comment, click and share on social media, and help spread the Frilly Style posts! Thank you!
We only recommend products we love and think that you will too. We may receive a portion of sales purchased from this article that was written by our Frilly team.
Happy shopping!!
cookies