Today we are going to take a close look at the beautiful and intricate designs of Lizzie Fortunato jewelry.
Lizzie Fortunato is a handcrafted statement jewelry line designed by twin sisters Elizabeth Bregman and Kathryn Brosnan.
The line has been featured in InStyle, Glamour, Lucky, and New York Magazine's The Cut, just to name a few!!
Lizzie was a jewelry designer and with the help of sister Kathryn, launched this amazing company in 2008.
Both now work together with their team in NYC creating gorgeous pieces inspired by travels around the world!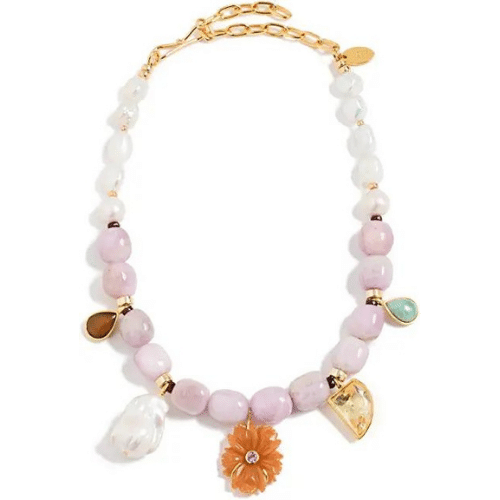 Lizzie Fortunato Women's Basque Necklace in Lavender
Isn't she beautiful? This statement piece will adorn your neck regally. Pair it with your beige outfit and go from bland to frilly fab in an instant!
Check Price Here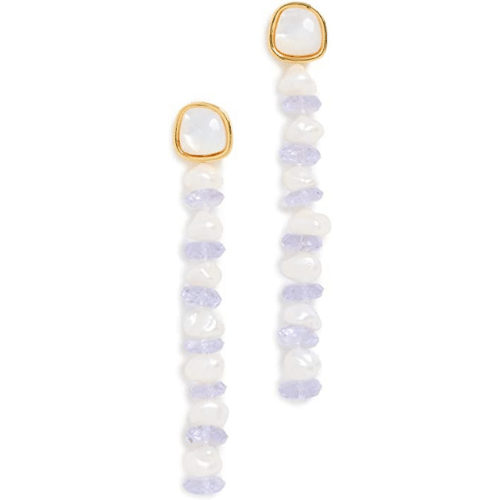 Lizzie Fortunato Women's Wisteria Column Earrings
Pearl and amethyst beads combine to make a winning pair! Try these beauties with a white silk blouse outfit and be sure to turn heads!
Check Price Here
The first thing you notice about Lizzie Fortunato necklaces and earrings is the detail.
Each piece is handmade with the highest quality materials.
The designers use a mix of semi precious materials, glass beads, 24k gold-plated brass, and enamel in their collection.
What sets Lizzie Fortunato apart from other costume jewelry brands is the level of detail in each piece.
You can see this in unexpected materials like beading, the tassels, and the overall design of each necklace and earring.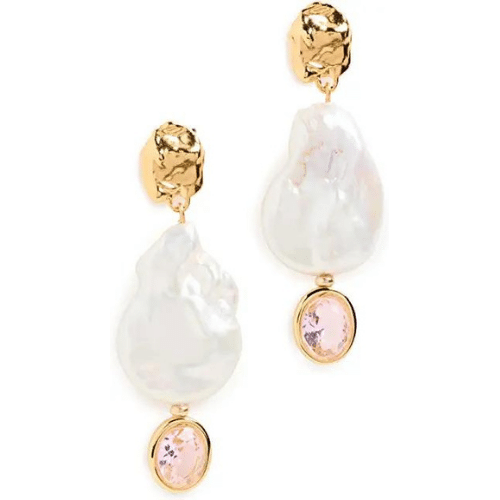 Lizzie Fortunato Women's Lovell Earrings in Rose
Fresh water pearls and crystals adorn these gorgeous earrings. Wear them for a special night out!
Check Price Here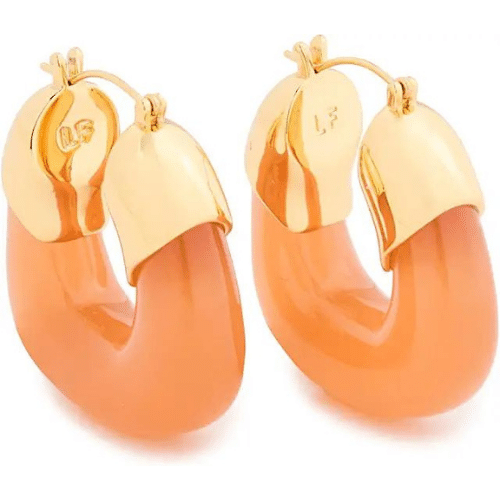 Lizzie Fortunato Women's Resin Hoops In Melon
These sweet melon and gold earrings are perfect for spring and summer. Try them with a spring fling dress and your outfit is complete!
Check Price Here
In addition to being well-made, unique accessories, Lizzie Fortunato necklaces and earrings are also very versatile.
The accessories can be dressed up or down depending on the occasion.
For example, the "Sienna Collar" necklace can be worn with a casual outfit for a lunch date or with a more formal outfit for a wedding or other special event.
The "Wisteria" earrings are another example of a versatile piece that can be worn day or night by fashion forward women.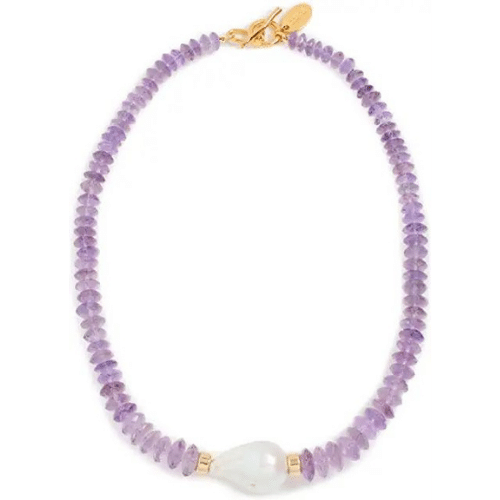 Lizzie Fortunato Women's Calypso Necklace in Iris
Fresh water pearl and ameythst beads create a work of art. Tuck this into your suitcase, or wear it on your travels to your fun vacation getaway!
Check Price Here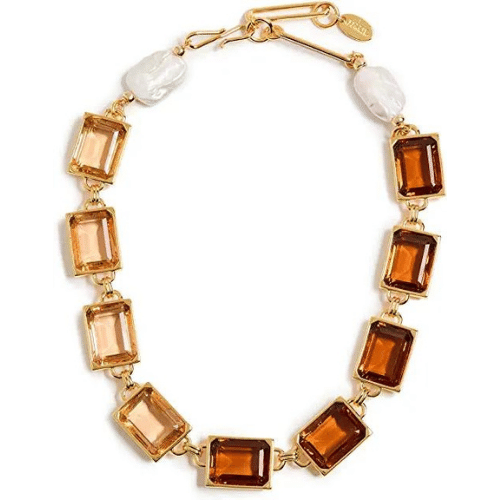 Lizzie Fortunato Women's Sienna Collar
Glass stones, baroque pearls all tied together in gold is a stunning addition to your jewelry box, but then again, we'd display it!! Paired with a date night outfit you'll be ready to shine!
Check Price Here
If you are looking for high-quality, well-made unique jewelry, then you should definitely check out Lizzie Fortunato necklaces and earrings.
The pieces are beautiful and detailed, and they can be dressed up or down depending on the occasion.
Whether you are looking for a special gift category for someone else or for yourself, Lizzie Fortunato is sure to have something that you will love!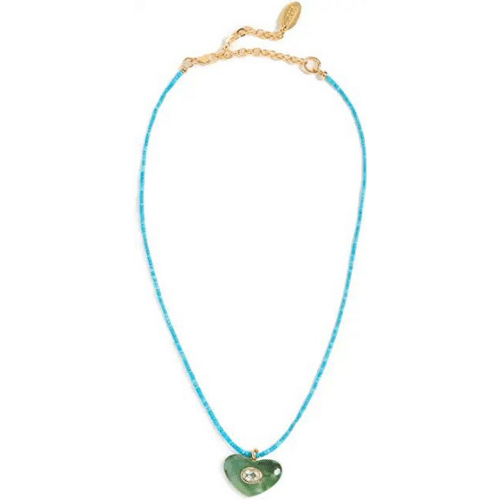 Lizzie Fortunato Women's Martina Heart Necklace in Sea
Turquoise beads and a jade green heart with an inlayed green amethyst is sure to steal your heart! Style this with a maxi and tee combo to make the outfit pop!
Check Price Here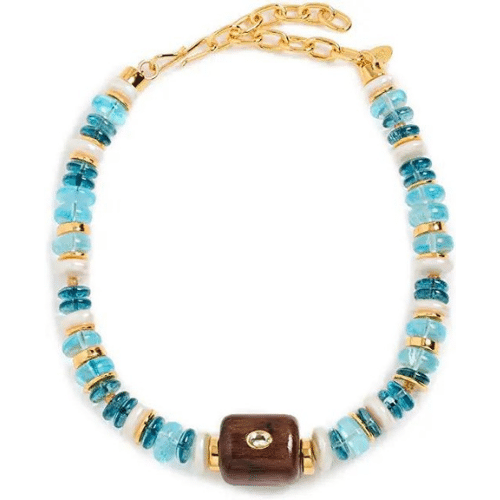 Lizzie Fortunato Women's Blue Moon Collar
This piece has it going on with a wood pendant, amethyst stone in a bezel setting, freshwater cultured pearls, blue quartz, sky blue topaz dyed quartz, and hessonite garnet beads. This necklace is summer around your neck! Wear it with a long sleeve mini for your next fun night out.
Check Price Here
They also now have some great leather goods- will post about them soon!
And before you go, did you get a chance to sign up for our newsletter? Go ahead, it'll only take a sec and you'll never miss a frilly fun fab post!!
We only recommend products we love and think that you will too. We may receive a portion of sales purchased from this article, and sometimes samples to try products, that were written by our Frilly team.
Happy shopping!!
sale