A white silk blouse is a timeless classic.
It is the perfect wardrobe staple for any woman, no matter her age, style, or size.
In this blog post, we will discuss why a white silk blouse is such an essential piece of clothing and how you can find the perfect one for your wardrobe.
The Versatility of the White Silk Blouse
The beauty of the white silk blouse lies in its versatility. With a single piece of clothing, you can create a variety of looks depending on how you choose to accessorize it.
You can pair these women's tops with tailored trousers and heels for a chic office look or dress it down with jeans and sneakers for a more casual vibe.
They also look great when paired with skirts and dresses and with fab jackets.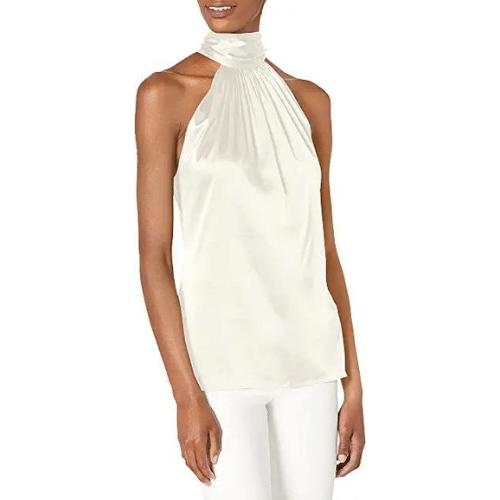 Ramy Brook Women's Lori Sleeveless High Neck Top
This dramatic neck is as appropriate for under a suit jacket as it is paired with a sequin skirt! Try it with an animal print skirt for a fun date night!
Check Price Here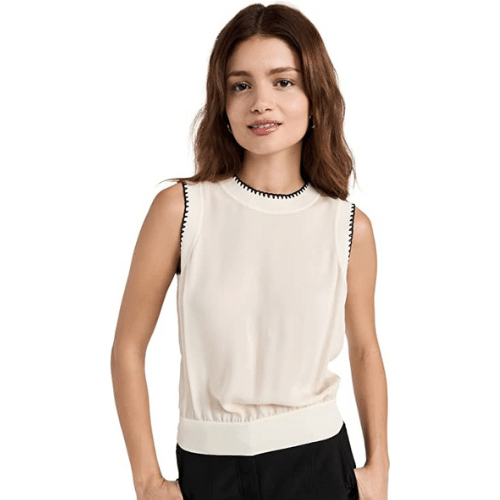 Theory Women's Rib Shell Top
It's all in the details with this fab shell with trend of the moment thr black trim! Pair with a classic black skirt and heels for a classic look with a twist!
Check Price Here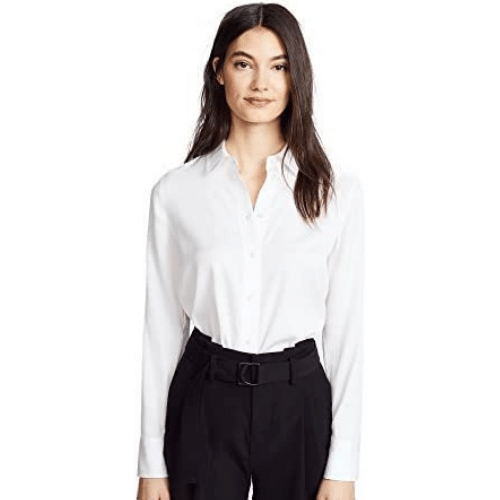 Vince Women's Slim Fitted Blouse
A classic white blouse in an amazing quality silk from designer Vince Camuto. As easy paired with trousers as your favorite pair of jeans!
Check Price Here
Finding Your Perfect Fit
When it comes to finding the perfect fit, there are several factors to consider.
First and foremost, pay attention to the material; silk should be lightweight and breathable so that you can stay comfortable all day long.
Second, think about what kind of neckline suits your body type best—round necks look great on most figures while v-necks elongate your frame if you're looking for something more flattering.
Equipment Women's Slim Signature
A familiar button blouse look with front pockets. Pair with green jeans for a fun outfit to run errands and look amazing!
Check Price Here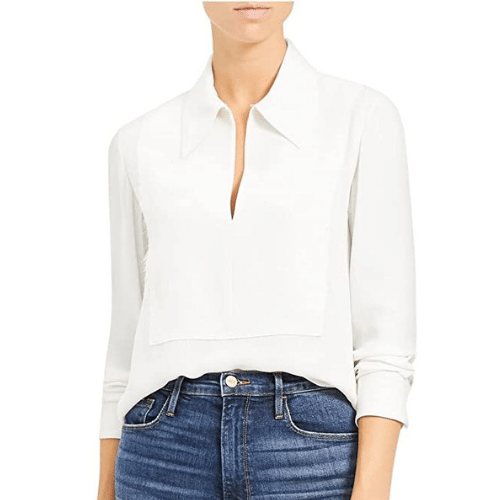 Theory Women's Yoke Popover Blouse
Classic silk with a fun vibe. This would look fab with wide leg pants on your way to meet friends for coffee!
Check Price Here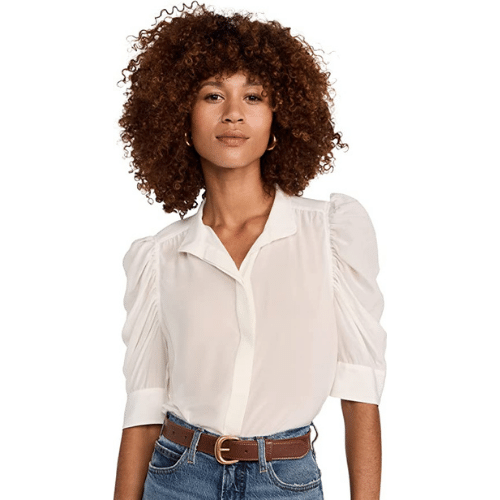 FRAME Women's Gillian Blouse
How can you not love this frilly and fun silk blouse?? I think its a sign I must have it! Pair with a denim maxi for a fun night out.
Check Price Here
Button downs, or is it button ups, whatever, they look perfect on everyone!
Finally, consider how well the blouse fits; it should be loose enough that you can move freely but not too baggy that it looks sloppy.
Look for a streamlined fit that makes you give yourself a double-take when you're trying it on!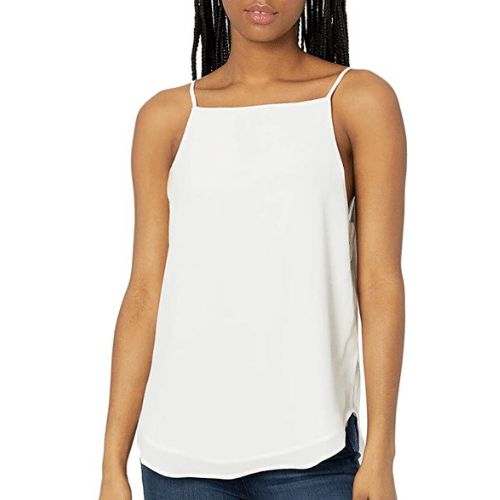 Equipment Women's Isabeau Cami
Sweet cami with a square neck is as great as a layering piece as it is for a hot summer night. Wear it with your choice of bottom and a fab tweed jacket.
Check Price Here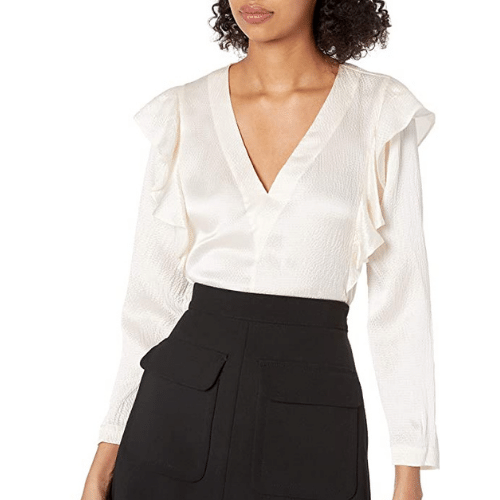 Rebecca Taylor Women's Long Sleeve Silk Ruffle Top
Romantic ruffles define this silk blouse that is sure to be your new fav. Slimming v-neck would look fab with the sequin skirt in our spring capsule post!
Check Price Here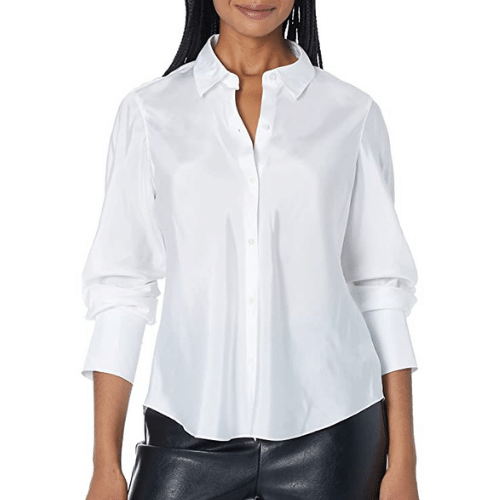 Rebecca Taylor Women's Silk Blouse
Sometimes you simply look at a top and know exactly the perfect pair. This beauty says leather (or faux leather) pants. You're welcome!!
Check Price Here
A white silk blouse women is an essential piece of clothing for any woman's wardrobe.
Its versatility allows you to create multiple looks without having to invest in multiple pieces of clothing, making it an excellent value purchase.
Whether you're looking for something stylish for work or something simple for everyday wear, you'll find that a white silk blouse has got you covered!
So go ahead and make sure this timeless classic is part of your wardrobe today!
We've made it simple for you, we did the shop part for you, simply add to your bag, check out, and your gorgeous picks should ship to you in a business day or two!!
We only recommend products we love and think that you will too. We may receive a portion of sales purchased from this article that was written by our Frilly team.
Happy shopping!!