Are you looking for a new fun handbag that will get you serious compliments?
Whether you're a fashion-forward woman or someone who likes to stay ahead of trends, it's time to add a green handbag to your stash of purses.
Let's take a look at why green handbags are the must-have accessory of the season.
Go Green with Handbags
Green is one of the trendiest colors this year and when it comes to accessorizing, green handbags are the way to go. From vibrant lime greens to classic emerald tones, there are plenty of shades and styles that will match whatever look you're going for.
And what better way to show off your fashion sense than with an eye-catching green handbag?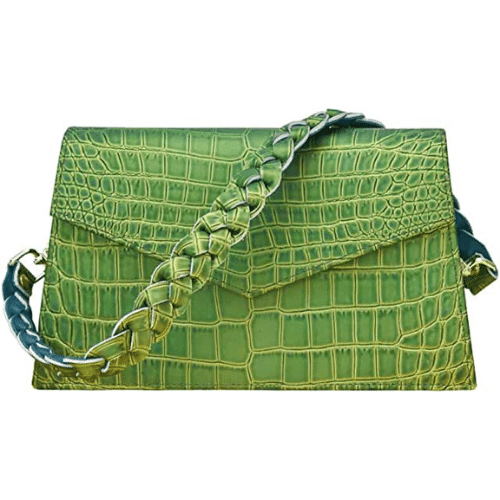 Anima Iris Zaya
Gorgeous vibrant green leather purse with yellow undertones is a stunner and perfect for you! Try it with a date night outfit.
Check Price Here
Brahmin Large Duxbury Satchel Satchel Bag
The large duxbury satchel is a great everyday bag with convertible shoulder strap and plenty of interior space. Carry your iPad along with your favorite essentials and pair with a great black dress!
Check Price Here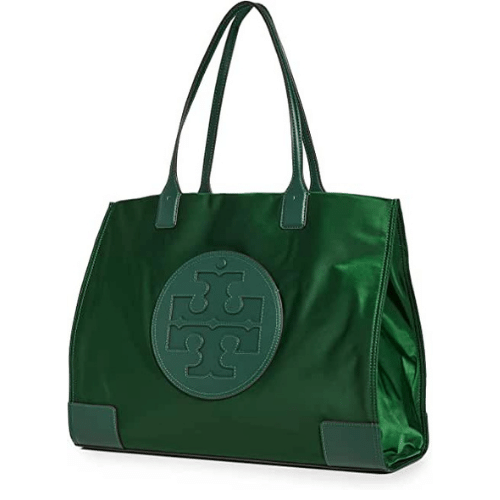 Tory Burch Women's Ella Tote
LOve this vibrant green tote, perfect for a day of shopping.
Check Price Here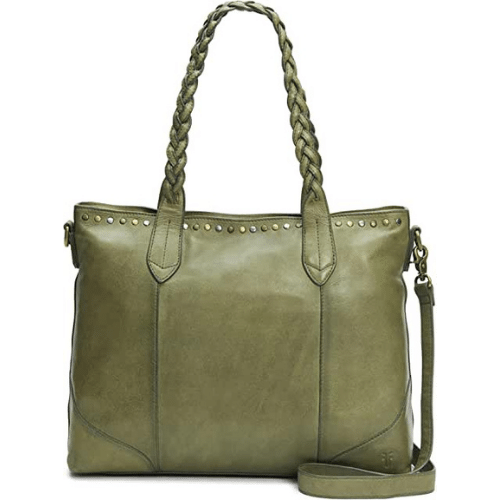 Frye Soraya Shopper
Super roomy tote in a beautiful shade of sage would make a perfect purse for workdays.
Check Price Here
Sophisticated Green
This season green handbags are the epitome of sophistication, bringing an added element of effortless class to any ensemble.
Whether you choose a classic olive green, a bold grass green, or a more subtle sage green there is something for everyone. Green purses help to complete an outfit and reinvigorate an otherwise monochrome look for anyone's wardrobe.
Plus, green pairs nicely with most other colors which makes it the perfect accessory no matter what your look may be. Invest in one this season and see how it makes your outfit pop!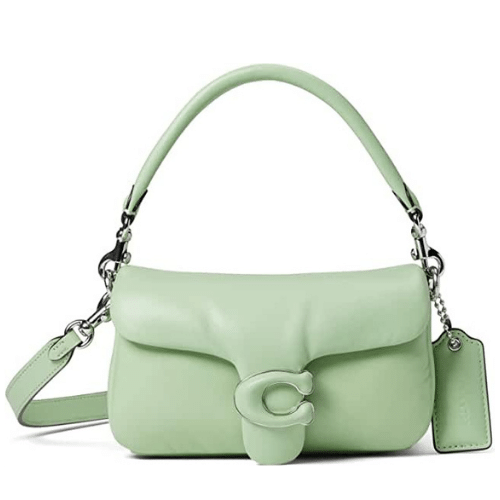 COACH Leather Covered C Closure Pillow Tabby Shoulder Bag 18
Reimagined 70's purse in a cool shade of pistachio is a keeper! Pair it with a pastel dress for a fresh spring look!
Check Price Here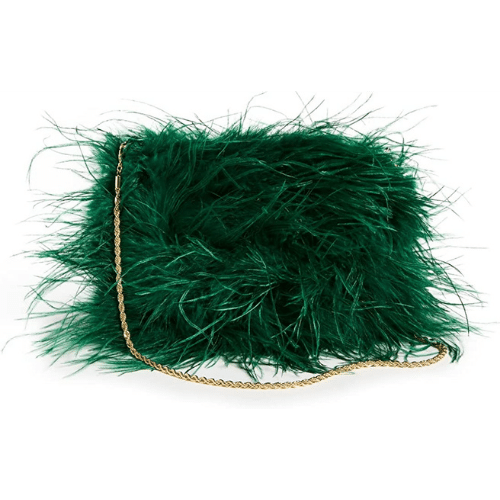 Loeffler Randall Women's Mini Feather Pouch
Yes, you do need this frilly and fun ostrich feather purse in emerald green. Pair it with a tube dress for a fun night out!
Check Price Here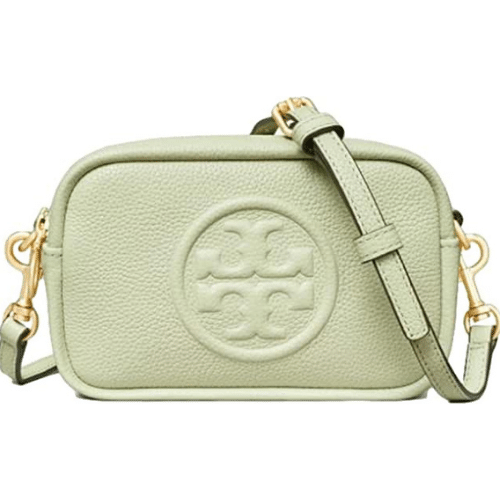 Tory Burch Perry Bombé Mini Crossbody Bag, Pine Forest
Classic Tory Burch crossbody in a fresh for spring shade. Combine it with your spring capsule wardrobe and you're ready for anything!
Check Price Here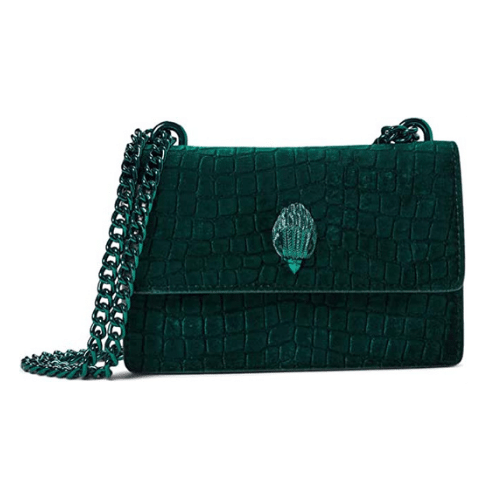 Kurt Geiger London Shoreditch Small Crossbody
Stunning fabric crossbody with Kurt Geiger's signature rhinestone eagle in deep green is a great addition to your daily wear. Try it with denim on denim for a pop of color.
Check Price Here
Green Goes With Everything
The great thing about green is that it goes with almost everything!
You can pair it with classic black or white outfits for an eye-catching contrast or opt for something more adventurous like pastel colors or jewel tones.
Whether you prefer boho chic or classic minimalism, there's no doubt that adding a pop of color with a green bag will give your look extra flair.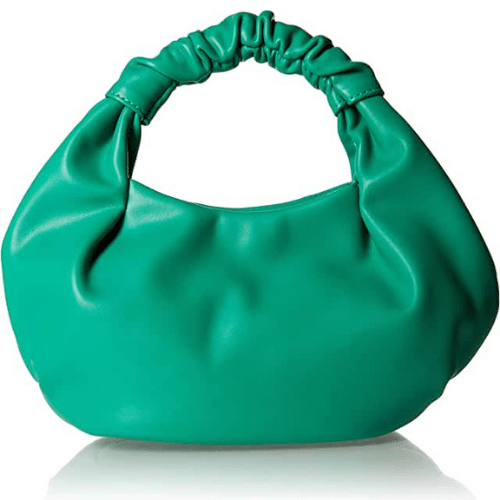 The Drop Women Addison Soft Volume Top Handle Bag
Ultramarie green ruched purse makes a statement! Wear it with your sweats outfit to elevate your look!
Check Price Here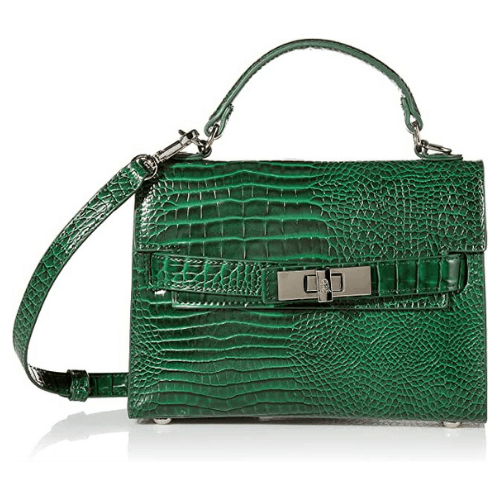 Steve Madden Steve Mdden Dignify Croco Top Handle Bag
When you need a little bag this is the one you'll be reaching for time and time again! Perfect for a day at a winery!
Check Price Here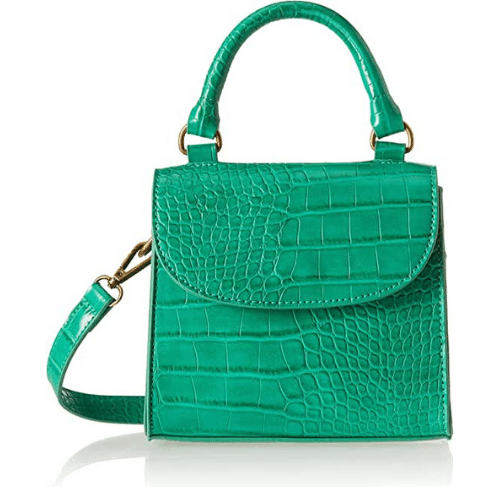 The Drop Diana Top Handle Crossbody Bag
The Drop has some really fab styles at amazing prices - try this beauty with a GNO mini dress!
Check Price Here
Green handbags are the perfect accessory for any woman who wants to make her wardrobe stand out this season.
Not only do they come in an array of stylish shades and options, but they also come in a variety of materials!
Plus, they go with practically anything so you can easily find something that suits your style for work or play, or both!
So if you're looking for something fresh and unique this season, then don't forget to add some green into your wardrobe – starting with a new handbag!
We hope you enjoyed the browse, and we hoped we helped you sort through the tons of results you would get by searching yourself and filter out the ngs!
Pickup your fav and add it to your purses collection today!
We only recommend products we love and think that you will too. We may receive a portion of sales purchased from this article that was written by our Frilly team.
Happy shopping!!
llc