The black work dress is a wardrobe staple for any working woman.
It's the go-to piece that can be dressed up or down, depending on the occasion—and more importantly, it exudes confidence and poise.
From business professional dresses to business casual dresses we've created a selection of the perfect pieces for office dresses.
Let's take a look at why the black work dress is such an invaluable asset to your wardrobe.
The Versatility of Black Work Dresses
One of the most attractive aspects of a black work dress is its versatility.
Depending on how you accessorize, you can take your outfit from a business casual work dress to let's have some fun after work dress in no time.
If you are heading out after work to meet friends for drinks, simply add some statement jewelry, a pair of strappy heels, and a bold lip, and voila!
You now have an effortlessly chic look fit for any occasion.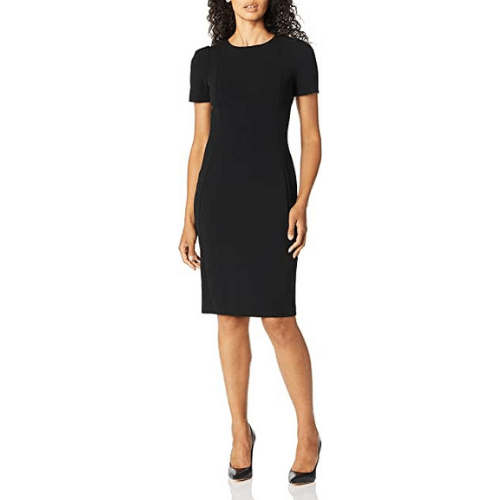 Calvin Klein Short Sleeved Seamed Sheath
This short sleeve, scoop neck dress features a fitted knee-length style and exposed zipper closure in the back. Classic and perfect for that important meeting.
Check Price Here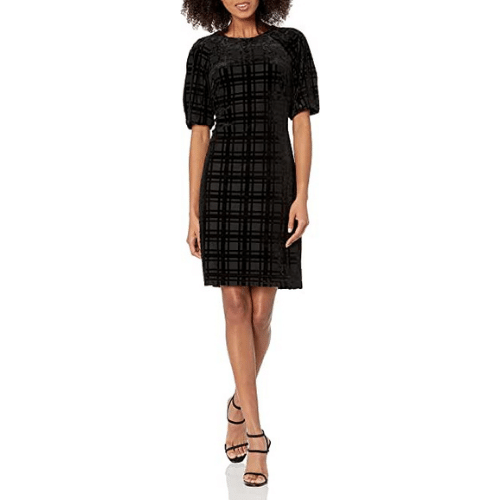 Tommy Hilfiger Women's Shift Dress
Velvet burnout plaid fabrication; zipper closure at center back. Reviewers love this dress for its great fit and gorgeous look!
Check Price Here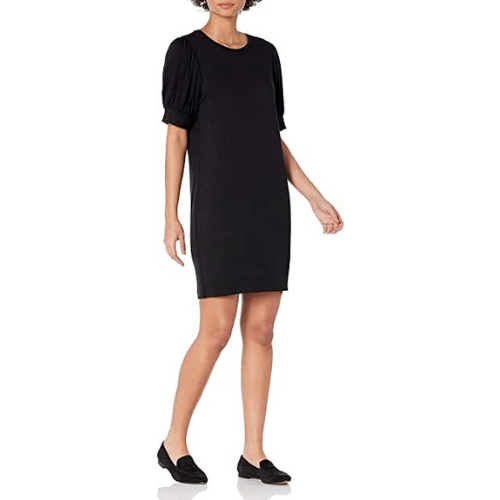 Daily Ritual Women's Supersoft Terry Relaxed-Fit Short-Sleeve Puff-Sleeve Dress
This simple tee dress can be dressed up or down creating quite the statement. And when you check the price, you will add it to your cart straightaway!!
Check Price Here
Another great way to make your black dress stand out is to layer it with different textures and fabrics.
Think blazers, leather jackets, and shawls – all these elements will help break up the monotony of having an entirely black ensemble.
You can also use shoes as a great way to bring color into your look without taking away from the overall sophistication and power of your dress.
A bright pair of pumps or ankle boots can really turn heads!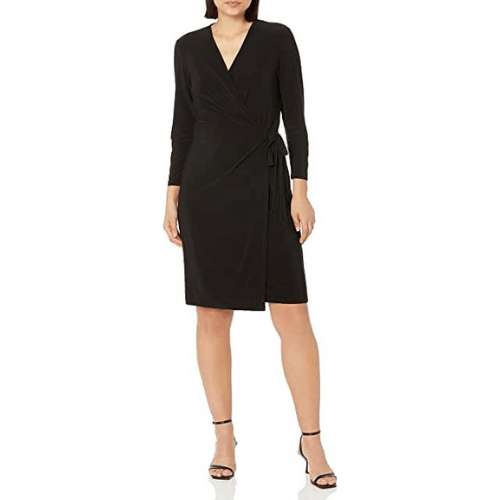 Anne Klein Women's Classic V-Neck Faux Wrap Dress
Faux wrap dress with a side tie detail makes a great choice. This is a favorite for work to dinner dates!
Check Price Here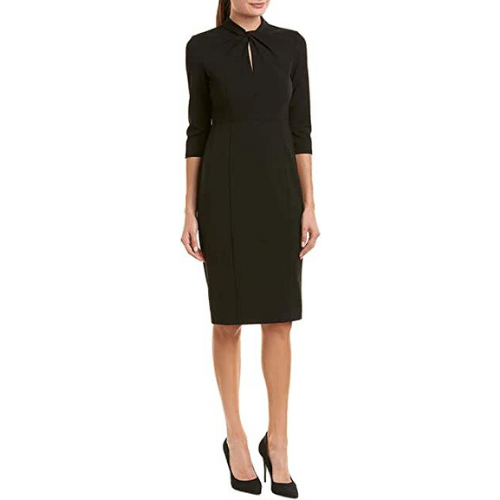 Donna Morgan Women's Stretch Crepe 3/4 Sleeve Twisted Neckline Sheath Dress
Stretch crepe 3/4 sleeve twisted neckline sheath dress is perfect for that important meeting. Professional, classy and the reviewers love the fit!
Check Price Here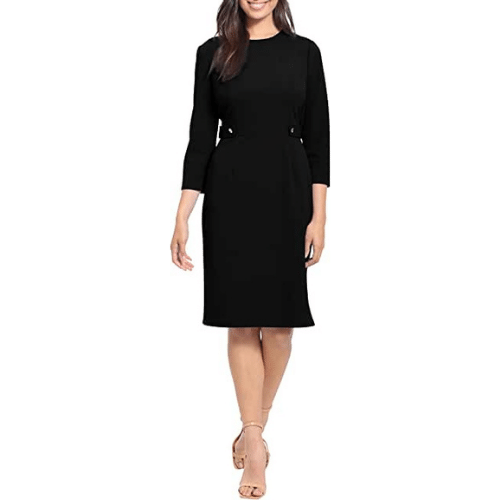 London Times Women's Work Office Business Sheath Dress with Button Waist Detail
Jewel neck, 3/4 sleeves, princess seams in bodice, waist band with tabs at sides with functioning buttons, and princess darts at waist. This is sure to be your new go to office dress.
Check Price Here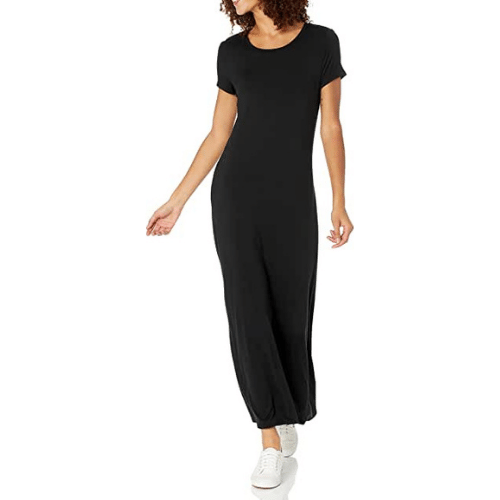 Amazon Essentials Women's Short-Sleeve Maxi Dress
Perfect basic dress for when you just need to throw something on but look put together. Add accessories and you'll look amazing!
Check Price Here
The Styling Options are Endless
Black dresses come in so many shapes and sizes that there is something for everyone's style needs.
Whether it's a sheath dress with pleats and ruffles or a number with bell sleeves; there are countless ways to make sure you find the perfect silhouette for you.
And don't forget about accessories!
Scarves, belts, and patterned tights can help create interesting textures that will keep your look fresh every day–without sacrificing professionalism in any way.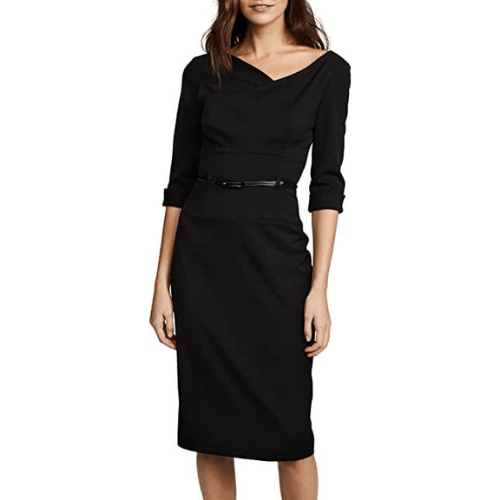 Black Halo Women's 3/4 Sleeve Jackie O Dress
This sheath dress is tailored in a sophisticated three-quarter sleeve silhouette with figure-flattering appeal. As appropriate for the office as it is alluring for evening.
Check Price Here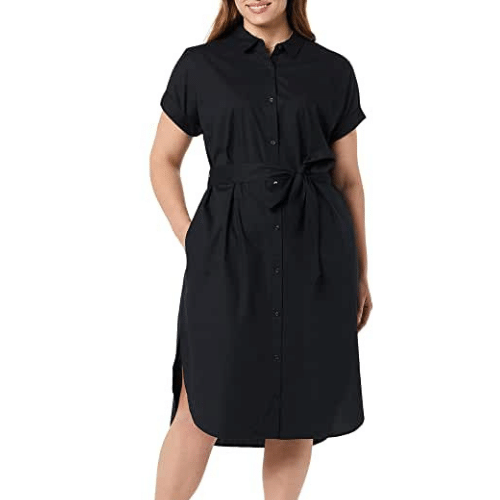 Amazon Essentials Women's Short Sleeve Button Front Belted Shirt Dress
Love this everyday casual dress for, well everyday! When there;'s a chill pair with boots and a sweater, when it's warm sneaks and fun jewelry!!
Check Price Here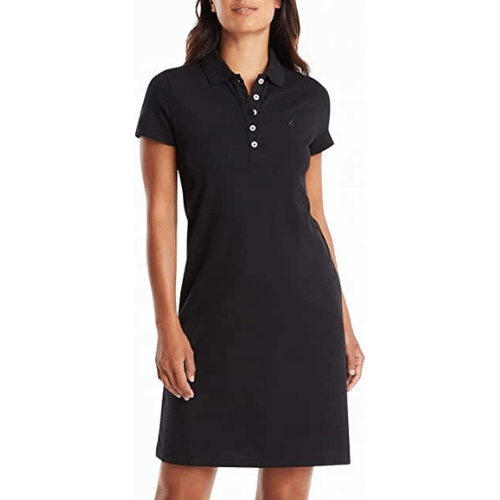 Nautica Women's Easy Classic Short Sleeve Stretch Cotton Polo Dress
And another one of those casual work dresses that works in so many ways and seasons. Flattering and versatile- add it to your shopping bag!
Check Price Here
The power of wearing a black work dress should not be underestimated; work dresses for women are a timeless classic piece that has remained popular over decades because its styling options are practically limitless.
Whether it's dressing it up or down; layering fabrics; adding bright colors with accessories or finding just the right silhouette – women everywhere know how to make this timeless item their own unique style statement for any occasion!
With so many options available today, there's no reason not to invest in at least one good-quality black dress for your professional wardrobe today!
We only recommend products we love and think that you will too. We may receive a portion of sales purchased from this article that was written by our Frilly team
Happy shopping!!