When it comes to holiday dressing, there's nothing like a pair of dazzling, sparkly earrings.
They can instantly pull an outfit together and give you a touch of glamour no matter the occasion.
Whether you're attending a holiday party, a family get-together, a wedding or just want to dress up your everyday look, these types of earrings will add that extra something special to any outfit.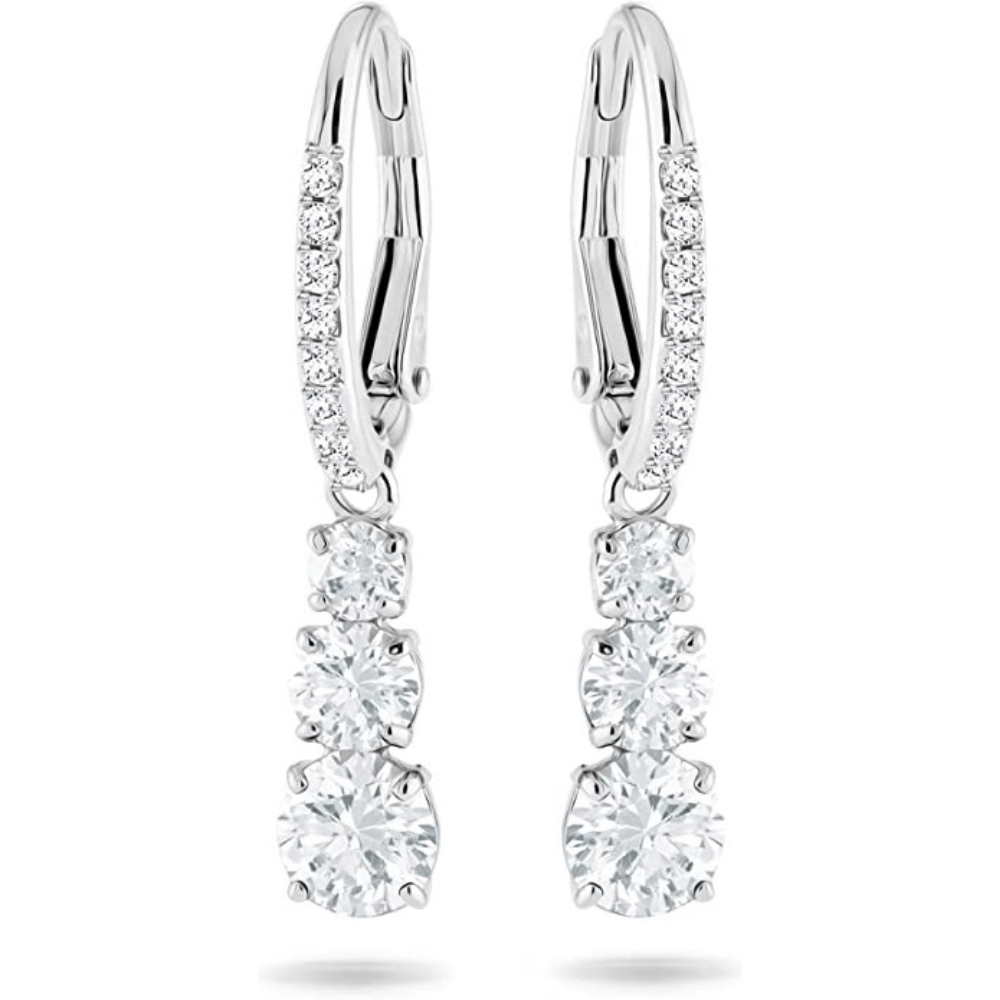 Swarovski Attract Trilogy Crystal Earrings
The Attract Trilogy drop pierced earrings combine the precision and quality of Swarovski crystals with a rhodium plated setting, for a romantic and refined accessory. Vividly sparkling: A trio of clear crystals are embellished with pavé and rhodium plating in this scintillating design that is timelessly elegant and will be a treasured keepsake.
Check Price Here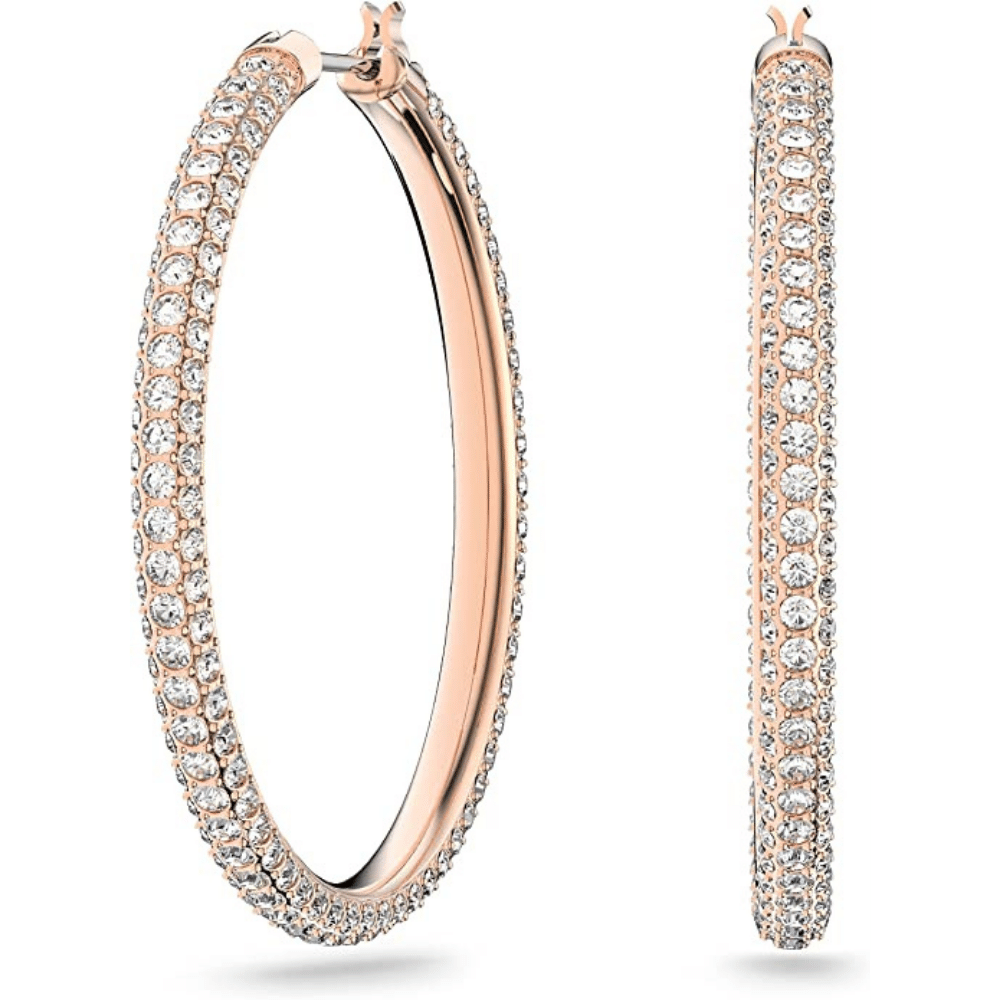 Swarovski Stone Crystal Earrings
Simple and timeless: These rose-gold tone plated hoops combine the precision and quality of real sparkling Swarovski crystals with a classically beautiful design that makes them a stunning accessory. Subtle and elegant these hoops features the Swarovski pavé sparkle, crafted in rose-gold tone plated metal for a touch of luxurious fashion.
Check Price Here
Types of Sparkly Earrings
Sparkly earrings come in many different styles and shapes so there's something for everyone.
From delicate studs to bold hoops, the possibilities are endless.
A few popular styles include chandelier earrings which feature multiple strands of sparkling gems or pearls; statement earrings which often have a large stone at the center surrounded by smaller accents; and drop earrings which hang down from your ears in various lengths ranging from subtle to dramatic.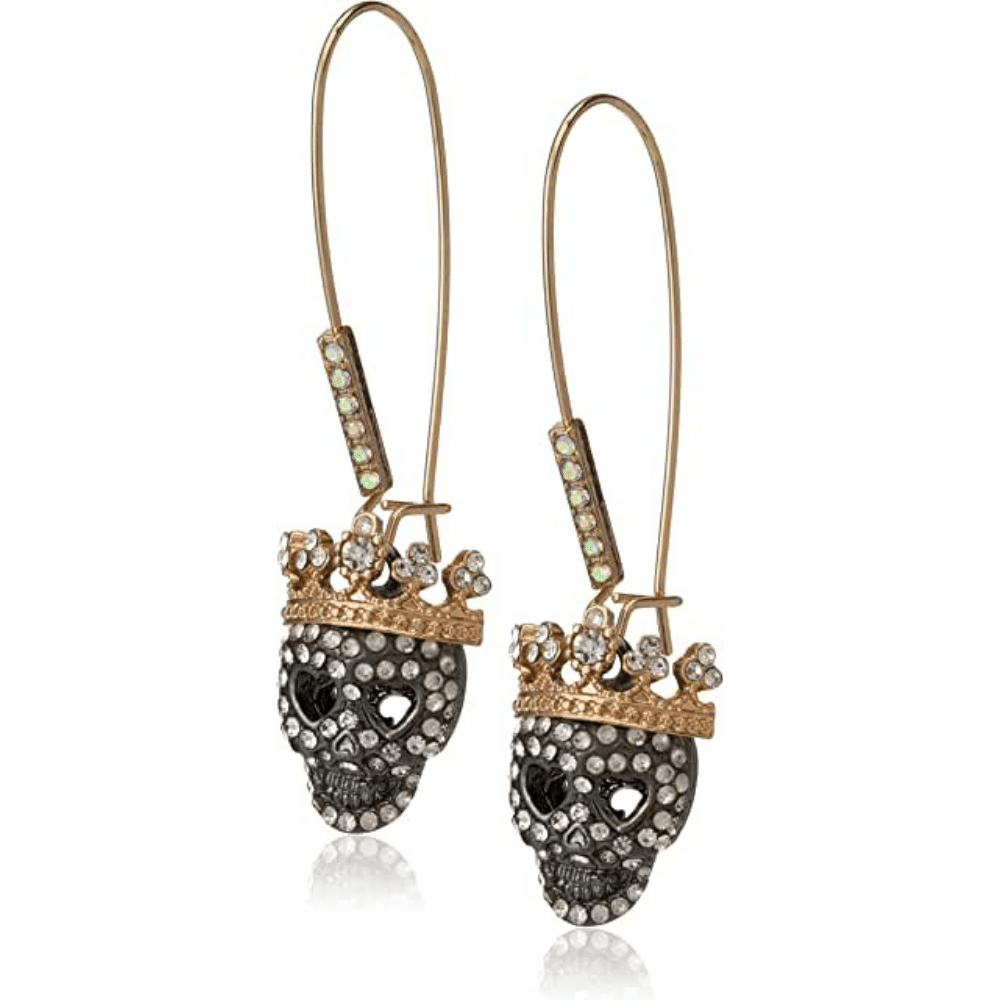 Betsey Johnson Pave Skull Dangle Earrings
Dangle earrings featuring long ear wire with stones, and sleek skull drop embellished with pave stone accents and regal crown detail. Earrings are set in gold and hematite-tone metal with a shepherds hook closure. These would look fantastic with one of these faux leather legging outfits!
Check Price Here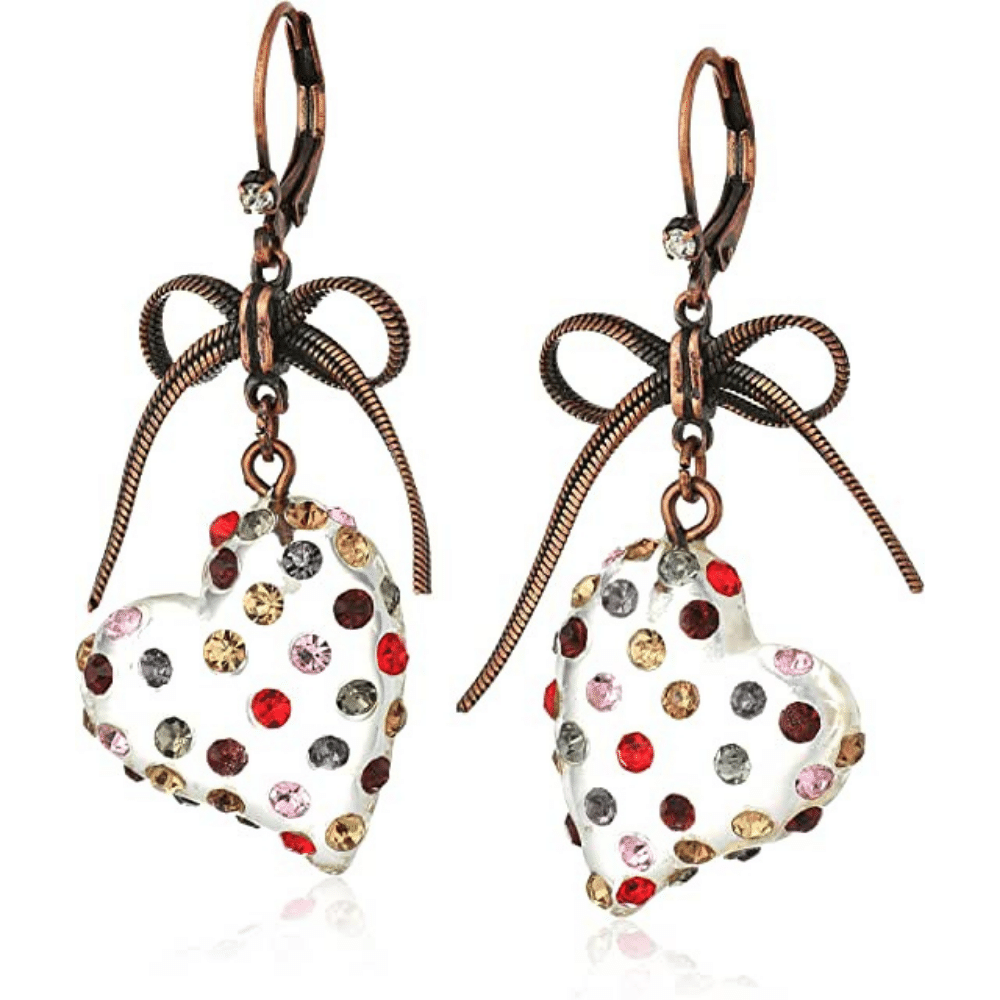 Betsey Johnson Multi Lucite Heart Drop Earrings
Dangle earrings featuring bow and delicate chain with clear lucite heart drop embellished with mixed multi-colored stones. Earrings are set in light copper-tone metal with a lever back closure. Reviewers love these for their bold appearance yet lightweight feel.
Check Price Here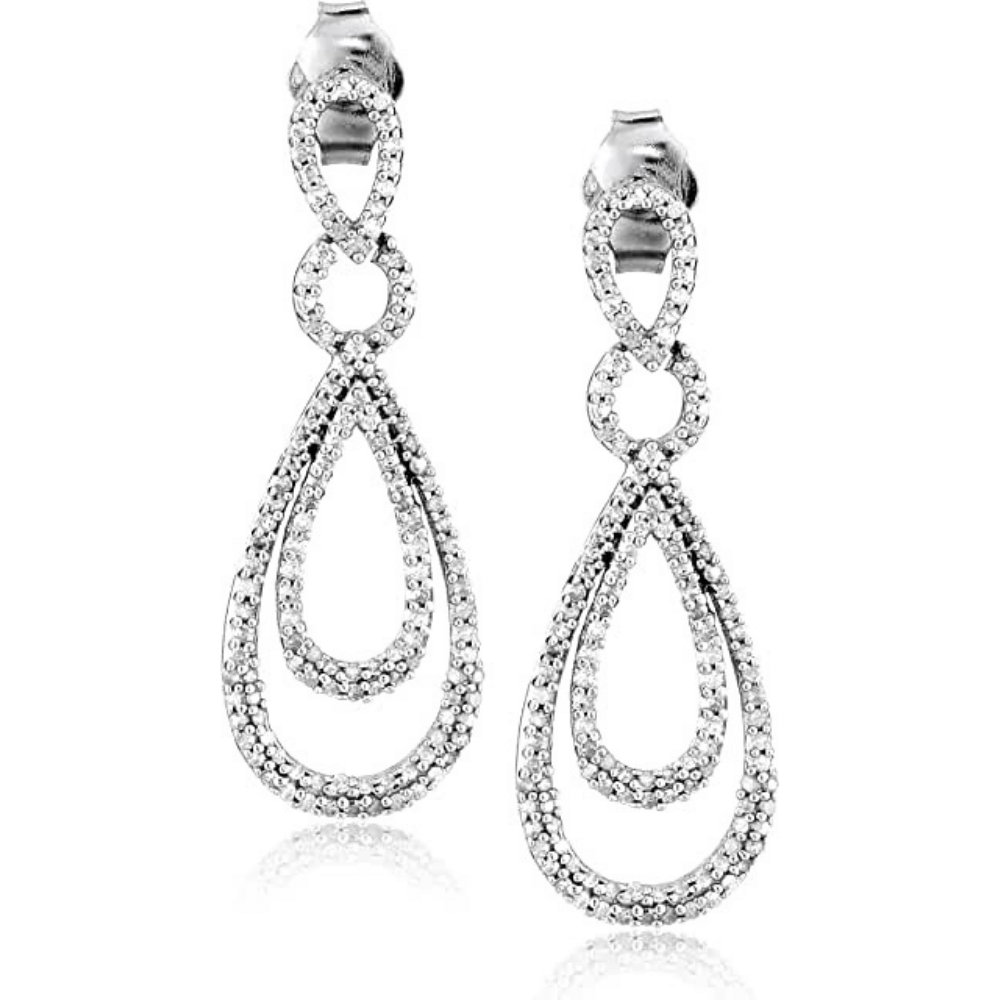 Amazon Collection Sterling Silver Diamond Drop Earrings (1/2 cttw)
Elegant Sterling Silver diamond drop earrings. Carat weight listed is the total for all stones. All of the Amazon diamond suppliers confirm that they comply with the Kimberley Process to ensure that their diamonds are conflict free. Gorgeous, affordable luxury.
Check Price Here
You can also choose between classic diamond (or faux diamond) studs or opt for colored stones such as rubies, emeralds, and sapphires in different sizes and cuts.
You can try clear or colored crystals too!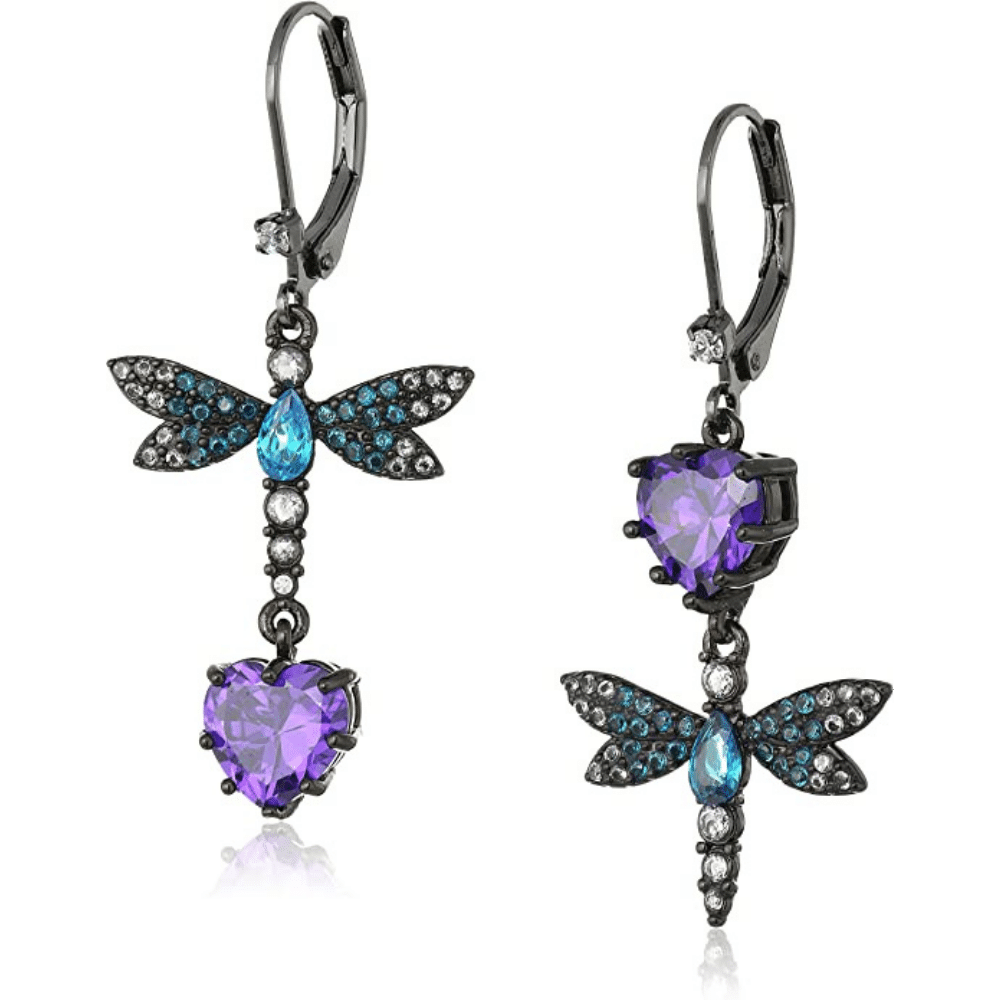 Betsey Johnson CZ & Butterfly Double Mismatch Drop Earring
Mismatched drop earrings featuring purple colored CZ heart-shaped stone and butterfly embellished with delicate blue stone accents. Earrings are set in hematite-tone metal with a lever back closure. Perfect for the women in your life!
Check Price Here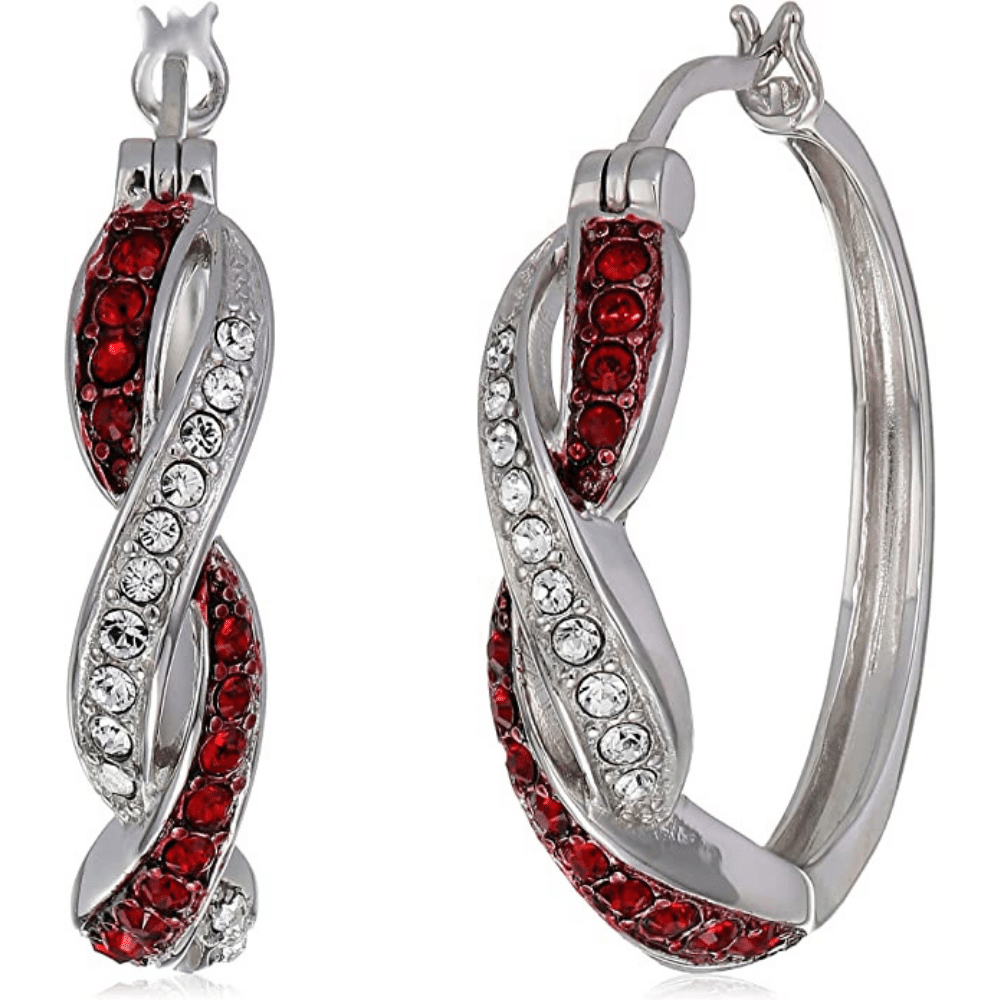 Amazon Collection Rhodium Plated Sterling Silver Ruby-Colored and White Swarovski Crystal Twisted Hoop Earrings
Hoop earrings featuring a twist design with Siam red and clear Swarovski crystals pave set in 925 sterling silver. Swarovski Elements crystals used to create this unique jewelry design. Click post closure. Hand-crafted in pure .925 Sterling Silver; Rhodium plating added to enhance shine and durability.
Check Price Here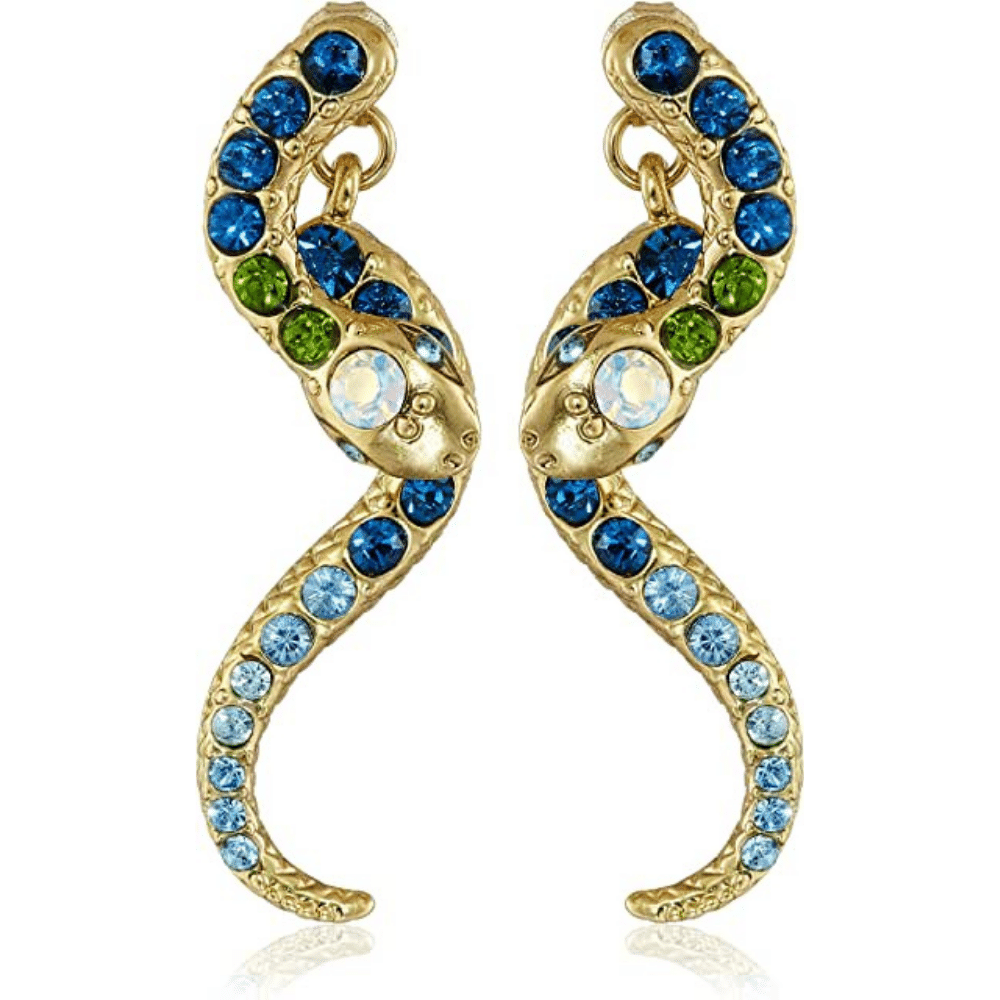 Betsey Johnson Pave Crystal Snake Front & Back Linear Earrings
Slithering snake front-back earrings embellished with mixed blue tonal colored pave stone accents. Earrings are set in gold-tone metal with a post back closure. Gold-tone metal with glass
Check Price Here
Not only do these stones look beautiful but you can also choose birthstones for those who want something more personal.
And if you don't want to go too flashy, gold or silver-plated pieces are always an option for those looking for more subtle sparkle.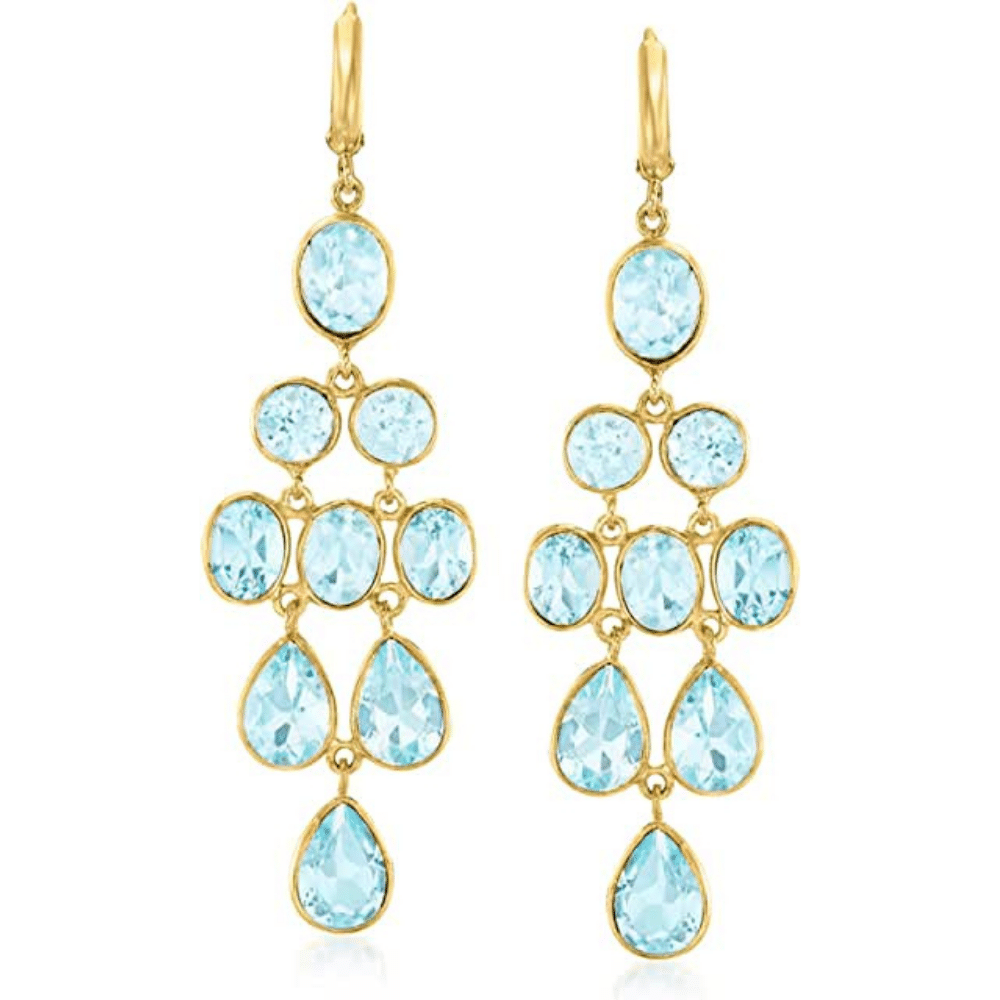 Ross-Simons 33.50 ct. t.w. Sky Blue Topaz Chandelier Earrings in 18kt Gold Over Sterling
Oval shape blue topaz, round shape blue topaz and pear shape blue topaz. Polished 18 kt yellow gold over sterling silver. Includes jewelry presentation box and 30-day, 100% money-back guarantee. Due to the naturally occurring characteristics of gemstones, each is unique and may exhibit imperfections such as inclusions , blemishes and cloudiness, as well as color variations.
Check Price Here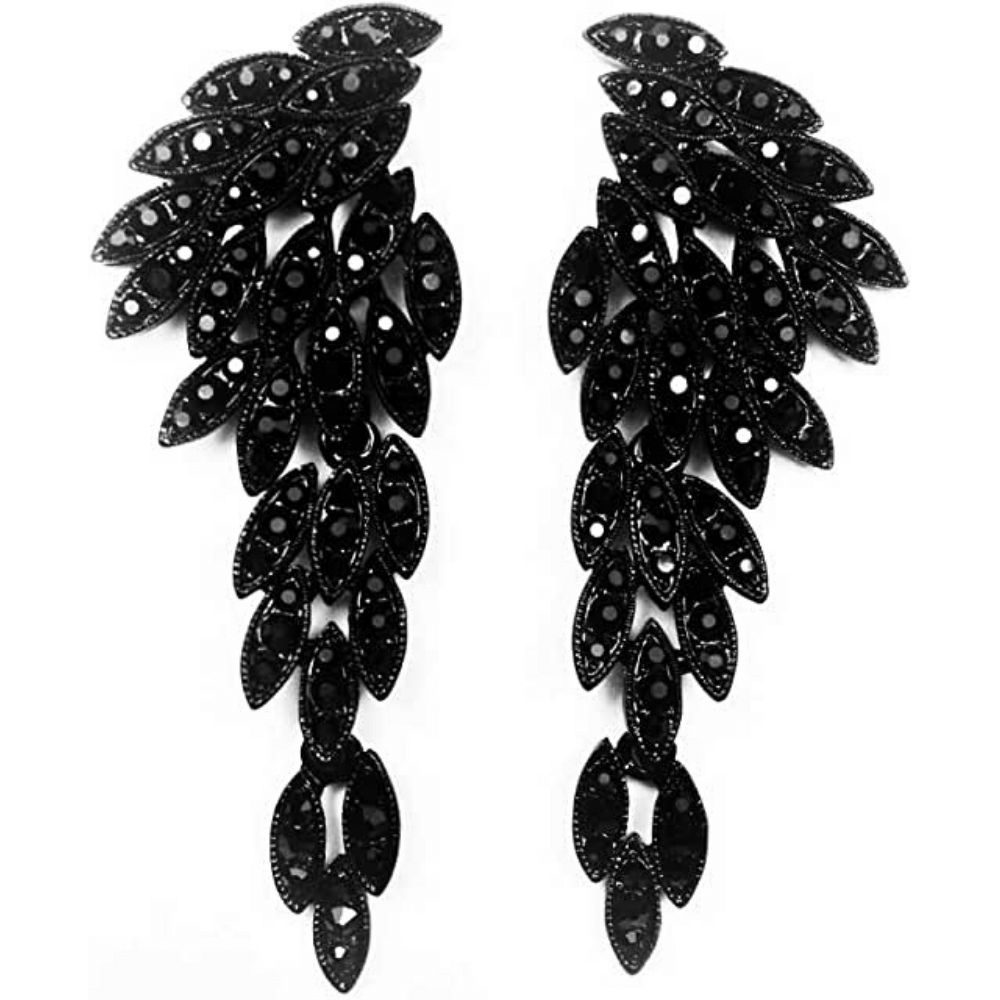 Art Deco 1920's Great Gatsby Angel Wings Eagle Wings Gothic Earrings
Looking for party earrings? Studded with dazzling rhinestone crystals in gold, rose gold, silver, black, amethyst, and iridescent aurora borealis for an eye-catching sparkle, this stunning pair is sure to stand out. With each wing articulated into 3 segments, it sways side to side with every movement, creating a dramatic look. Pair them with a great cocktail dress for a very sexy evening!
Check Price Here
Mix & Match Your Look
One great thing about sparkly earrings is that they are versatile enough to be worn with casual or formal looks. If you're headed out on the town, try pairing them with a dresses and heels. For an everyday fun look, team them with jeans and a sweater — they'll add just the right amount of shine without being too over the top. You can even mix things up by wearing two different pairs at once. Or add your favorite necklace to get a maximalist look!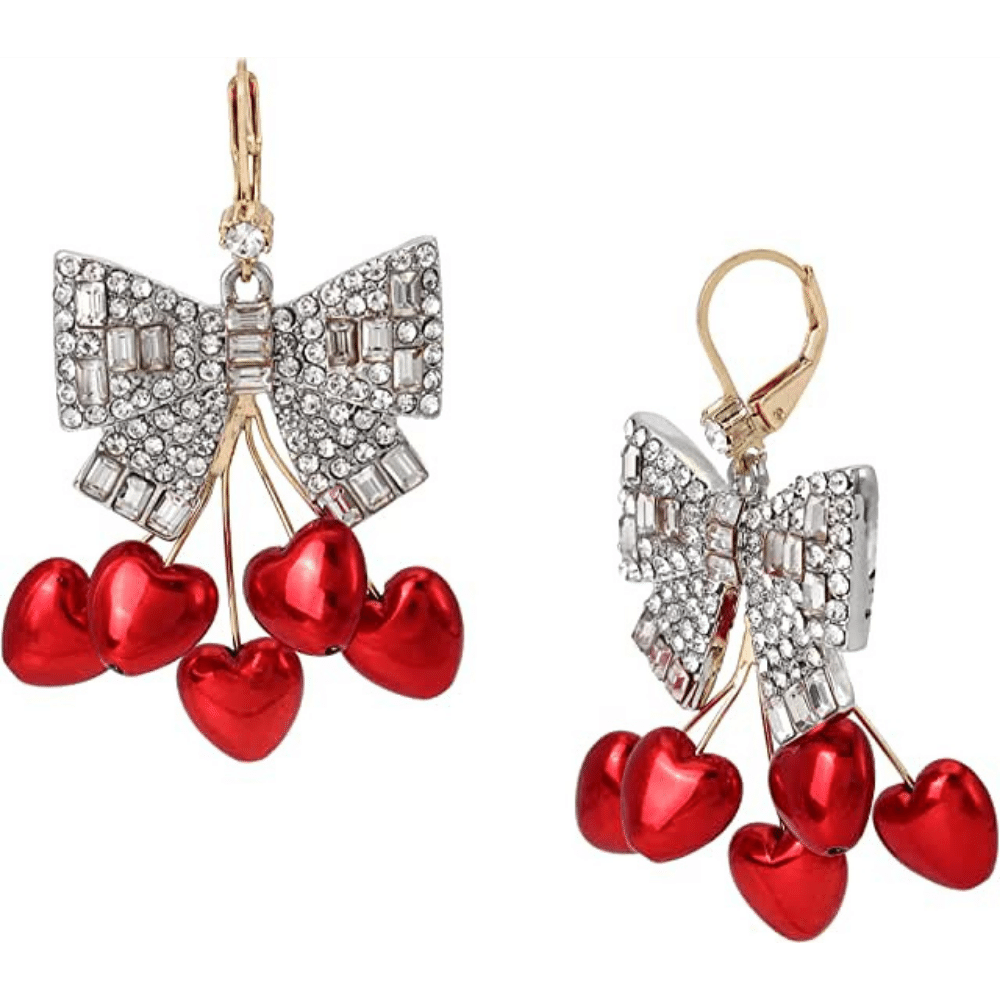 Bow & Heart Chandelier Earrings
Chandelier earrings featuring glistening crystal stone bow with vibrant red heart burst. These whimsical earrings are set in gold-tone metal and have a lever back closure. Aren't they a fab pair of earrings?
Check Price Here
Give the gift of sparkly earrings for the holidays, check back often there may be a sale!
Whether you prefer authentic or man-made, there's something perfect out there for every look and budget.
With their timeless elegance and versatility, it's easy to see why these pieces are one of the best accessories around this time of year—and beyond!
So put on your favorite pair today and get ready to shine bright all season long! Shop now as many of these earrings sell out quickly.
We only recommend products we love and think that you will too. We may receive a portion of sales purchased from this article that was written by our Frilly team.
Happy shopping!!
rights
settimgs
live