Beach Wear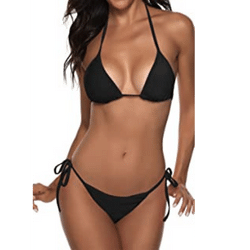 String Bikini / Coverup / PomPom Slides / Panama Hat /  Tote / Turkish Towel
This season, make a statement with this sexy 2 piece swimsuit. Whether you're hitting the beach or the pool, this bikini will have you looking and feeling your best.
With its flattering design and classic black, this bikini is perfect for any woman who wants to feel confident and sexy for your beach getaway summer. Make a statement at your next pool party or beach vacation in our stunning string bikini.
Purchase your very own women's two-piece swimsuit today!
Ready to turn up the heat on your next beach vacation?
This sexy sheer mesh coverup is perfect for turning heads at the tiki bar, beach, or pool. With a deep v-neck and open back, it's sure to make you feel confident, stylish, and beautiful as you strut your stuff.
You'll love how this dress flows in the wind and wraps around your body like a second skin. It's also long enough to keep you covered up – but not too long that you can't show some leg!
Shop this coverup dress now!
Feeling fun and flirty?
These sandals are perfect for your summer vacation! With a playful pom-pom accent, they add personality and style to any outfit.
Choose black or one of the many colors available– there's something for everyone.
Slip into something trendy and comfortable and buy your own pair of Cape Robin Dandelion Sandals today!
Sun worshippers, this is the hat for you!
Not only does this Panama Straw Hat provide UPF 50-rated protection, but it's also sexy and stylish. With its all-around wide brim, it will shade your face and neck from the harsh sun, and keep your hair nicely tucked away.
You'll love how packable this straw sun hat is - perfect for taking on summer vacation. And with its sexy tone vibe, you'll be sure to turn heads when you wear it out.
Shop your FurTalk Panama Straw Hat today!
Ready to hit the beach?
Bring a touch of luxury with you to the sand and surf with our Turkish Beach Towel. Made of 100% Turkish cotton, these towels are oversized for your comfort at 38" x 71". They're also OEKO TEX certified, ensuring that only natural dyes were used in their production. And the quick dry-sand free-prewashed technology means you can spend less time worrying about your towel and more time enjoying yourself.
These beach towels are soft, lightweight- perfect for any seaside outing. Plus, they come with a complimentary pouch so you can take them on the go. Make sure to pack one in your bag before your next vacation!
Shop for a Casaverse Turkish Beach Towel today!
The perfect bag to take with you on all of your adventures.
Whether you're going on a weekend getaway or hitting the beach, this extra-large utility tote has enough space to hold it all.
Not only is the fabric lightweight and strong, but it's also water resistant and easy to clean - making it the perfect cute bag for any adventure.
Purchase your very own SCOUT Original Deano today!


Yoga Retreat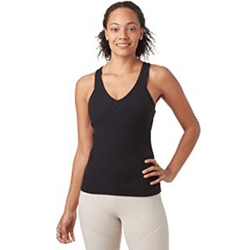 Alo Tank / Alo Capris / Alo Jacket / Gaiam Mat / NB Nergize / HydroCell Water
You deserve the best of the best when it comes to your workout gear and that's why we chose the Alo Elevate Tank.
The Elevate Tank is made with performance rib and has a plunging neckline, crisscross back and body-forming fit with awesome stretch. So not only will you look chic in this tank but you'll also feel amazing as you work up a sweat.
We love it with capris or 7/8 leggings, so why not click on the link and get yours for your yoga retreat today! You won't regret it.
These airbrush capris are the perfect addition to your yoga wardrobe style.
With a flattering high-waisted fit and comfortable flat locked seams, these capris will keep you looking and feeling great during your workout.
The nylon and spandex blend provides stretch and support, while the gusset with a lining ensures a snug fit that won't ride up. You'll love the sexy look and feel of these airbrush capris.
Purchase your Alo Airbrush Capri's today!
You need this cute jacket in your life.
With a sexy color-blocked design and a comfortable fit, this jacket will take you from the studio to the street in style.
You'll love the half-zip closure that makes it easy to get in and out of, as well as the drawcord waist that helps you adjust the fit to your liking. And don't forget about the ribbed mock neck and cuffs – they add an extra touch of luxury to this already fabulous jacket.
Purchase your Alo City Girl Track Pullover studio-to-street jacket today on our website!
Looking for a lightweight and durable yoga mat?
Gaiam Print Yoga Mats are perfect for anyone looking for excellent cushioning and superior grip. Made of non-toxic PVC, these mats are also 6P-free - meaning they're free of harmful chemicals like DEHP, DBP, BBP, DINP, DIDP, and DNOP.
Not only will you be getting a great product when you buy a Gaiam Print Yoga Mat, but you'll also receive a free downloadable yoga workout to help get you started. Tone up your body and increase your flexibility with the best yoga mat on the market today.
Purchase your Gaiam Print Yoga Mat now!
Looking for a new, comfortable sneaker to take your workouts up a notch? I'm on my second pair of these amazing fun sneaks, my puppy loved them too!
Look no further than the New Balance Women's FuelCore Nergize Sport V1 Sneaker. This cute, stylish, and functional shoe is perfect for anyone who wants to feel their best while getting active. With its sleek design and lightweight construction, you can easily take these sneakers from the yoga studio to breakfast without missing a beat.
The NB Nergize Sport comes with Memory Sole Comfort Inserts for an extra layer of cushioning that will keep your feet feeling great all day long. You won't have to worry about soreness or blisters when you wear these shoes – they're designed to support and comfort your feet through any workout.
Purchase your own pair of New Balance Women's FuelCore Nergize Sport V1 Sneakers today!
Love the environment and want to help out?
HydroCell is made of 100% virgin sourced stainless steel that is resistant to oxidation, rusting, and corrosion. Not only is it safe for you and the environment, but it also keeps your drinks cold for 24 hours or hot for 8 hours.
With all these features, HydroCell sets the standard for water bottles. It comes in a variety of colors and styles to fit your yoga retreat vacation. You can even purchase different caps to match your mood or outfit!
Order your HydroCell water bottle today!

City Tour Day to Night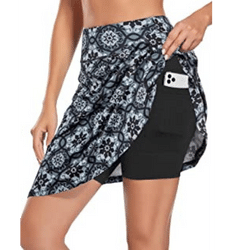 Skort / T Shirt / Fit Flops / Gold Sandal / Gold Dress / JM Evening Pouch
Do you want to look put together for a day of touring a new city but want to be comfortable too? The Koralhy Athletic Skort fits the bill!
Is it a skirt or is it shorts, it's a skort! This skort is not only stylish athleisure wear but also extremely comfortable to wear. It's made with lightweight and moisture-wicking material that will keep you cool and dry all day long.
Not only does the skort provide great coverage but it also comes with an adjustable inner waist cord that will give you a max snug fit. The best part, is pockets on the leg, 2 side pockets to store essentials like phone, card and another hidden waist pocket convenient for you to hold keys, coins, and other necessary items. You might be able to go hands-free!
Purchase the Koralhy Athletic Skort today.
Frilly ladies, need a new go-to top?
Geifa's casual T-shirt is perfect for vacation. Dress it up or down – it's chic, versatile, and timeless.
This T-shirt will make you feel confident and beautiful. It's the perfect addition to your wardrobe for any occasion.
Purchase your Geifa T-shirt today!
Slip into something sparkly, fun, and comfortable this season with Lulu slides.
With a microfiber front strap and pearlized metallic faux leather, these slides are perfect for dressing up or down.
Fit Flop's legendary super cushioning, pressure-diffusing Microwobbleboard™ midsoles will make you feel fabulous day or night. You can walk forever in these gorgeous sandals!

Purchase your new Lulus today!
The perfect dress vacation outfit for a night out in the city?
You want something that's sexy and shows off your curves, right? Well, look no further than the Ty Front NK Shirt Mini Dress. It's a combination of our classic NK Shirt and effortless Classic Dress, so you know it's going to be comfortable and stylish.
With its bonded collar, cuffs, and front placket, this dress adds structure while defining your waistline. Plus, the front tie gives it an extra dose of sexiness. You're going to love how good you feel in this dress - trust us! And with all that sparkle, accessories are optional.
Purchase the Ty Front NK Shirt Mini Dress today!

You deserve the best of the best, and that's what you'll get with Loefler Randall Slides.
With a crinkled metallic weave fabric and rubber heel patch, these high fashion shoes are perfect for your city vacation night out.
The knotted upper gives them a sexy edge that will make you stand out from the rest.
You won't regret buying these shoes – they're worth every penny.
You deserve to feel confident and beautiful in whatever you wear, and with the chic dress above and these shoes, you will. They add just the right amount of glamour to your outfit, so you can feel like a million bucks no matter where you go.
Buy now and experience the amazing feeling of wearing Loefler Randall Slides.
Looking for a unique and sexy evening bag?
Look no further than the Jessica McClintock Logan Mesh Evening Pouch. This ball mesh evening pouch is dual purpose – it can be worn as a women's handbag or an elegant clutch. It's just the right size for a night out, and the gold makes your outfit complete.
You'll love the convenience of this bag – use the strap to wear it hands-free or tuck it discreetly into your purse when you want to hold it as an elegant clutch. With its stylish design, this bag is perfect for any formal occasion.
Purchase your very own Jessica McClintock Logan Mesh Evening Pouch today!
Hope you find something chic, trendy and perfect for your summer 2022 vacation!
Until next time XOXO!!