Asymmetry has become a staple of modern fashion—a trend that is not only sexy but also undeniably eye-catching.
With the emergence of asymmetrical skirts, the fashion world has seen a resurgence in one of its most beloved wardrobe staples.
But why are these skirts so popular?
Let's explore the many reasons why asymmetrical skirts have become a must-have for any fashionable woman's wardrobe.
The Beauty of Asymmetry
Asymmetric skirts come in all shapes, sizes, and styles. From high-low hemlines to wrap skirts with uneven panels, there is something for everyone.
What makes these designs so unique is their ability to create an interesting silhouette without being overtly flashy or garish.
They may look simple at first glance, but they can easily elevate even the most basic ensemble with their unexpected charm.
Whether it's an A-line skirt or a maxi skirt, asymmetry allows you to be daring without sacrificing comfort or elegance.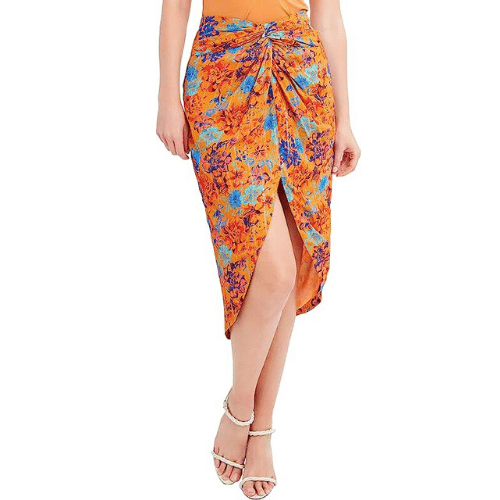 BCBGMAXAZRIA Bodycon Asymmetrical High Low Hem Midi
A bright pop of color and fun asymmetrical cut makes this stretchy skirt a must buy. Pair it with a tee and sandals for spring and summer fun!
Check Price Here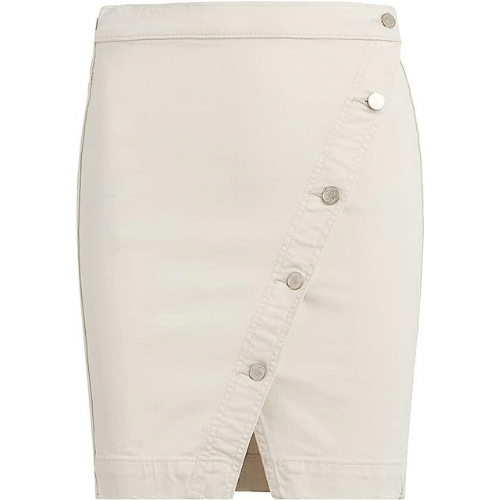 HUDSON Women's Asymmetrical Knee Length Pencil Skirt
Super cute denim asymmetrical cut is a great choice for casual days. Pair with an easy going floral and sandals!
Check Price Here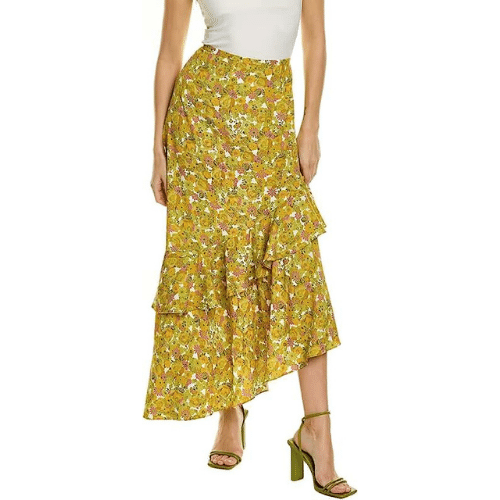 Ted Baker Asymmetrical Midi Skirt
Time to dance!! Fun and flirty, pair with a solid tee or tank add heels and jewelry for a night out!
Check Price Here
Easy to Style
One of the best things about asymmetrical skirts is their versatility; you can dress them up or down depending on the occasion.
For more formal occasions, pair your asymmetrical skirt with a structured blouse and pointed heels for a classic look with an edge.
Alternatively, pair it with a casual tee and sandals for an effortless weekend style that still turns heads wherever you go!
And don't forget accessories—a bold necklace can take your outfit from ordinary to extraordinary in just seconds!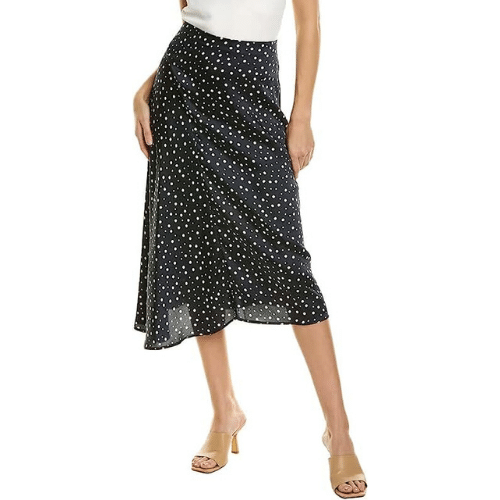 Vince Asymmetrical Skirt
Classic black with white dots is the perfect warm weather skirt for work or work to after work dinner! Add a top, a jacket if it's cool and a great pair of sandals!
Check Price Here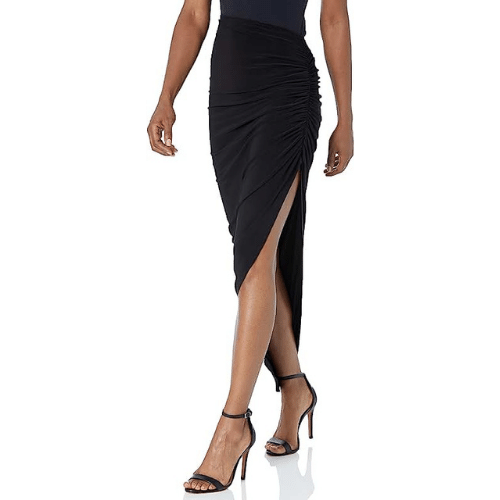 Norma Kamali Women's Side Drape Long Skirt
Bring on the sexy!! For those sizzling nights, what a better outfit than a super sexy skirt paired with a cami and sky high heels??!!??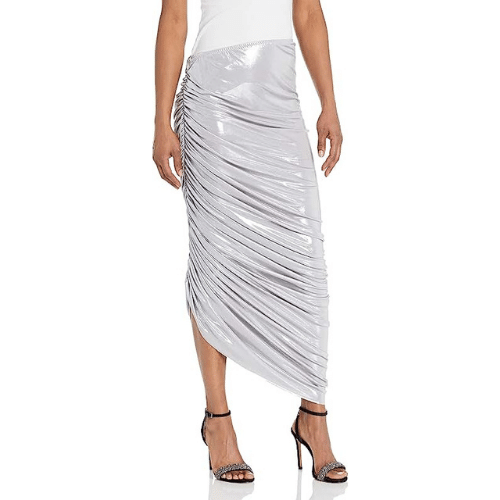 Norma Kamali Women's Diana Long Skirt
Shine baby, shine! This metallic skirt is for the bold among us! Wear it out with the girls for your next GNO fun!
Check Price Here
The Perfect Balance Between Comfort and Chic
Asymmetric skirts provide the perfect balance between comfortable and chic; they allow you to express yourself without compromising on comfort or style.
From midis to minis and everything in between, there's an asymmetrical skirt out there for every occasion—which means no matter what your style is, you'll always have something stylish and unique to wear!
Whether it's for work or play, there's an asymmetric skirt out there that will suit your needs perfectly!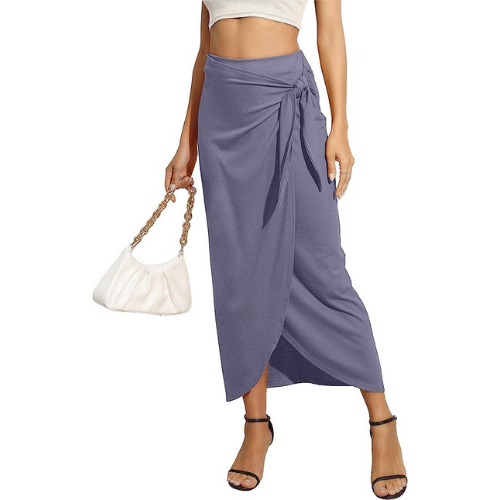 Witsmile Women's Maxi Skirt High Waist Wrap
Sweet with a wrap style, this is a super fun every day skirt. Pair with sandals or sneaks and you're looking amazing!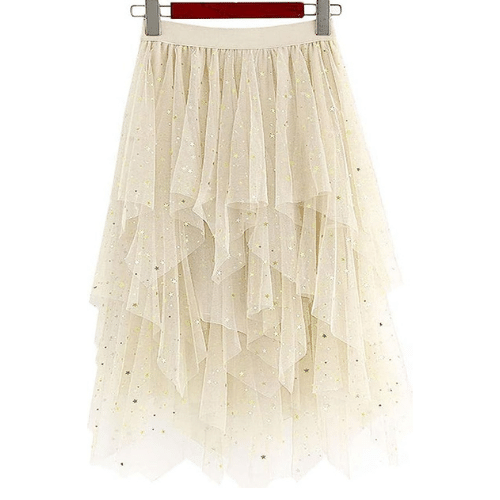 LBKKC Women's Tulle Skirt Asymmetrical Midi Tea-Length
Balletcore is having a moment and if you're going for it, why not in this great asymmetrical version? Lots of movement plus added sparkly glitz, what's not to love?
Check Price Here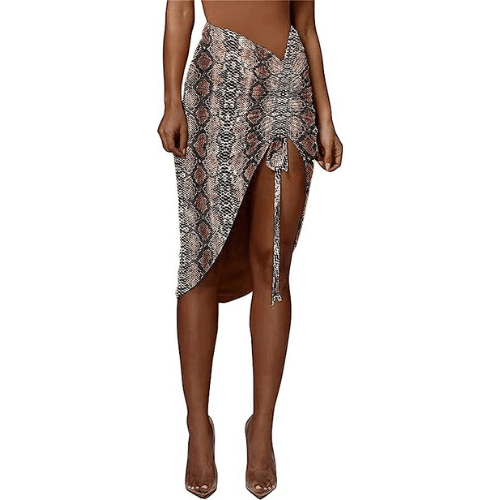 PRIMODA Women's Asymmetrical Bodycon Drawstring
Hot date?? This is the fit! Pair it with a cropped tank or tube top and heels. His eyes will only be on you!
Check Price Here
Asymmetrical skirts are quickly becoming one of the most sought after pieces in women's fashion due to their versatility and subtle elegance.
From high-low hemlines to wrap skirts with uneven panels, these designs provide an interesting silhouette without being overly flashy or garish—allowing women to make a bold statement while still looking sophisticated and chic.
So don't be afraid to add some asymmetry to your wardrobe this season; you'll look amazing!
And before you go, did you get a chance to sign up for our newsletter? Go ahead, it'll only take a sec and you'll never miss a frilly fun fab post!!
We only recommend products we love and think that you will too. We may receive a portion of sales purchased from this article that was written by our Frilly team.
Happy shopping!!