The tweed jacket is an iconic fashion statement that can be worn in many different ways.
Reinvented for women's wear in the 1920's by the incredible Coco Chanel, these timeless coats are as relevant today as they were in the 1920s.
Whether you are dressing up for work or throwing on a casual, relaxed look for everyday wear, there is a tweed jacket outfit just for you.
Let's explore the many ways to style this timeless piece.
The Classic Look:
The classic look of a tweed jacket is perfect for formal occasions such as business meetings or meeting up with friends for a formalish occassions like showers or holidays.
Pair it with tailored trousers and a crisp white shirt, and add accessories like silk scarves, pearl necklaces, or earrings. Finish the look with some simple but stylish shoes, such as loafers or Oxfords.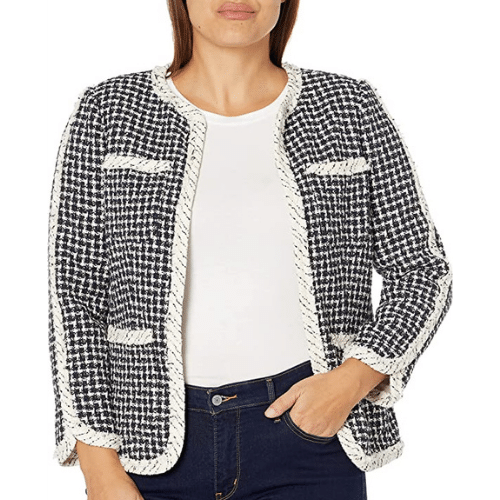 Rebecca Taylor Women's Tweed Jacket
Gorgeous black and white tweed is a fab all year round jacket. Style it with black slacks or a skirt and don't gorget the pearls!
Check Price Here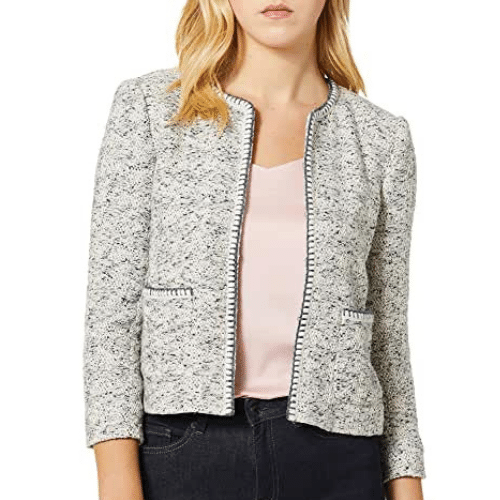 Rebecca Taylor Women Speckled Tweed Jacket
Gray and white speckled with go with everything in your closet from stretch pants to skirts. We're sure this will be your next go to jacket!
Check Price Here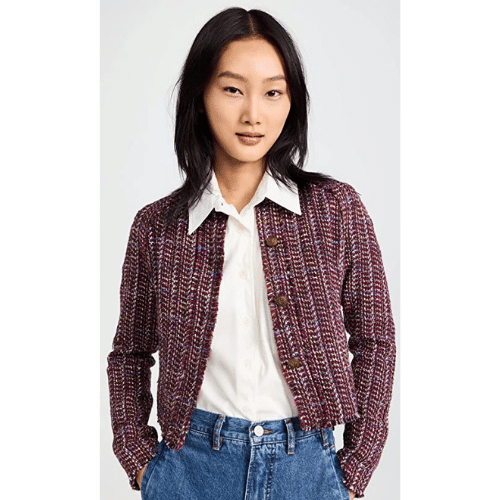 rag & bone Women's Marisa Tweed Jacket
This Rag & Bone jacket is sure to turn heads. Pair this rich toned beauty with white slacks and a lace top for a super fresh look!
Check Price Here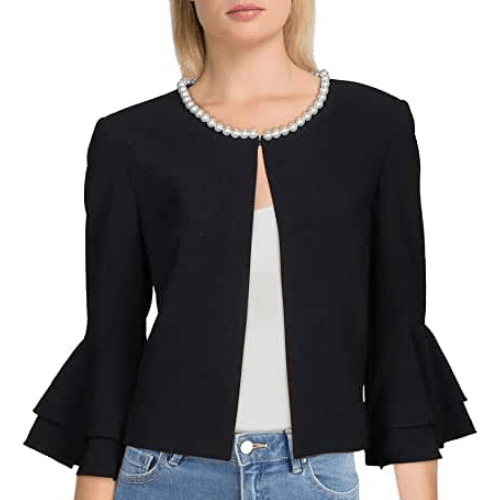 Tahari ASL Women's Pearl Neck Ruffle Sleeve Jacket
Okay, we cheated a little, but we don't think you'll mind. Not tweed, but in the same silohuette, this gorgeous pearl trimmed jacket is waiting for a party. A skirt, trousers would both look amazing. Don't forget a great pair of earrings!
Check Price Here
The Relaxed Look:
Just because the tweed jacket is traditionally associated with formal wear doesn't mean it can't be dressed down to create an easygoing look.
Pair your tweed jacket with jeans or wide-leg pants and a t-shirt or tank to create an effortless daytime ensemble that's cool yet sophisticated.
You can also take this look to the next level by adding statement jewelry and fun shoes to give your outfit some extra oomph.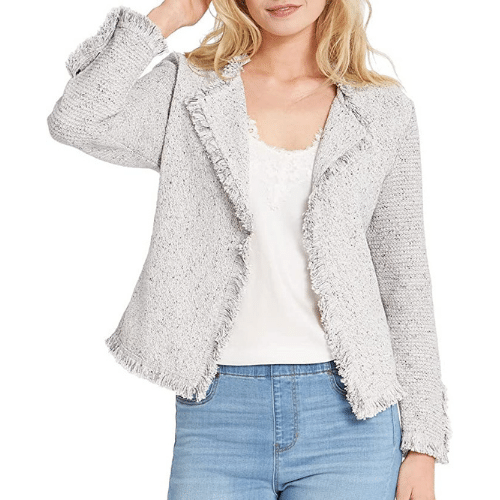 NIC+ZOE womens Fringe Mix Jacket
This classic styling would up your everyday game! Pair it with your fav jeans for a fun and together look!
Check Price Here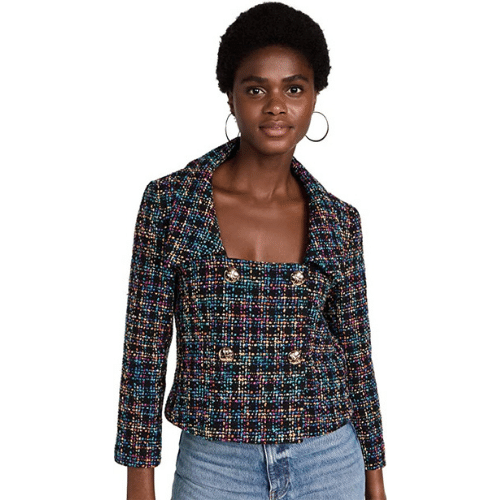 Amanda Uprichard Women's Jovie Blazer
Love the colors on this buttoned tweed jacket. We'g pair with leggings and heels for a GNO!
Check Price Here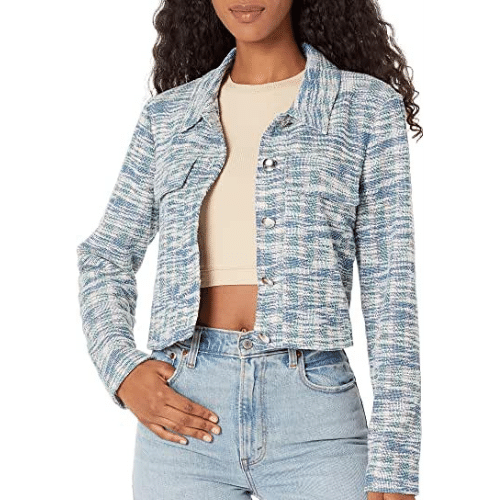 BCBGeneration Women's Relaxed Long Sleeve Button Down Tweed Jacket
Paired with a tank top and jeans this will have you looking amazing when your out shopping and then on to meeting up with friends!
Check Price Here
The Casual Look:
If you're looking for something even more casual, try pairing your tweed jacket with leggings and boots for an edgy yet comfortable style that looks great anywhere from lunch dates to weekend errands.
Choose muted colors like navy blue or olive green when selecting your tweed jacket—not only will these shades match any leggings or boots you have in mind, but they will also add a sense of sophistication to your ensemble.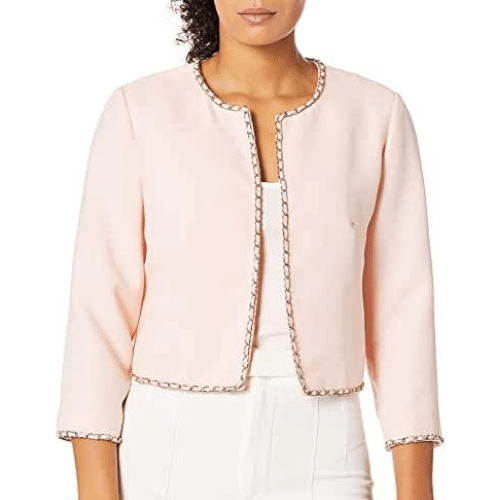 Karl Lagerfeld Paris Women's Tweed Jacket with Chain Detail
Pretty in pink with this fun chain detail cropped jacket. White jeans and a green handbag will have you looking great and ready for anything!
Check Price Here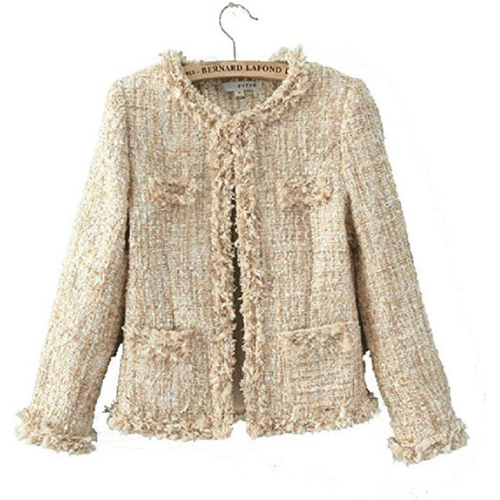 Tweed Sequin Plaid Check Jacket
Sequins and tweed - what's not to love?? Head out to brunch in style paired with our spring capsule finds for a variety of amazing outfits!
Check Price Here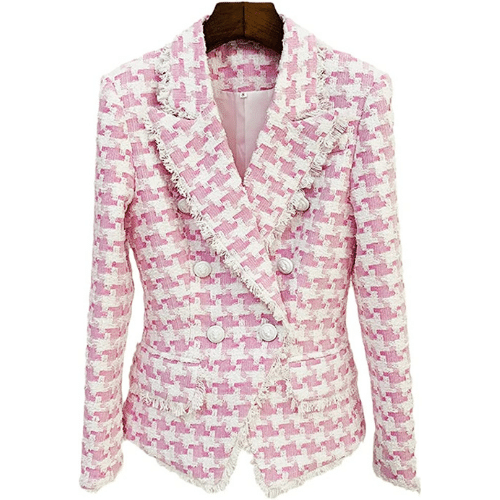 Winter Designing Thick Plaid Woven Fabric High Street Quality Bodycon Chin Tweed Jacket Women Blazer
With a slightly longer styling than the rest, this fun tweed jacket would look great paired with green jeans and a fab pair of mules!
Check Price Here
No matter what occasion you are dressing for—whether it is formal or casual—a tweed jacket outfit can provide you with both comfort and style that will last throughout the years. From timeless classics to modern takes on traditional styles, there's no shortage of options when it comes to styling this must-have item in your wardrobe!
No need to search, we did that for you and we've noticed some of the vendors offer markdowns and sale offers.
So go ahead and give the classic tweed jacket look a try today—you'll look amazing!
We only recommend products we love and think that you will too. We may receive a portion of sales purchased from this article that was written by our Frilly team.
Happy shopping!!