Ah, the cable-knit turtleneck. It's an iconic classic piece of clothing that has been around for decades and is loved for its warmth and versatility. But it can be hard to know how to style this timeless piece so that you look stylish and put together.
We're here to help! Let's take a look at how to wear a cable knit turtleneck in a way that speaks to your style.
Layer it Up
One of the easiest ways to make the most out of your cable knit turtleneck is by layering it with other pieces like shirts, jackets, or blazers.
For example, try wearing your cable knit turtleneck underneath a crisp white shirt with jeans and boots for an effortless yet polished look.
Or pair your cozy turtleneck with an oversized blazer and sleek trousers for something more modern and sophisticated.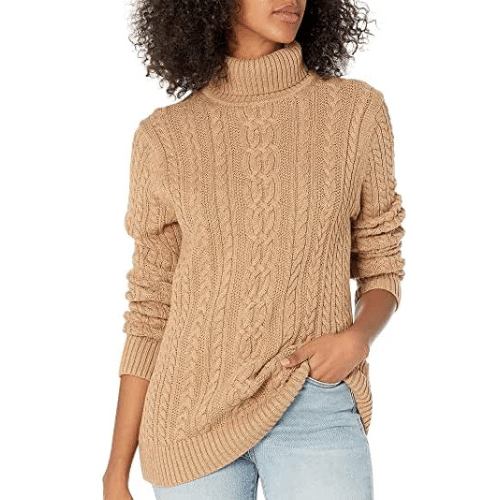 Amazon Essentials Women's Fisherman Cable Turtleneck Sweater
100% Cotton for comfort. Close-but-comfortable fit with easy movement and super-soft natural fiber midweight yarn. This is a classic essential that can be dressed up or down a pefect addition to your closet!
Check Price Here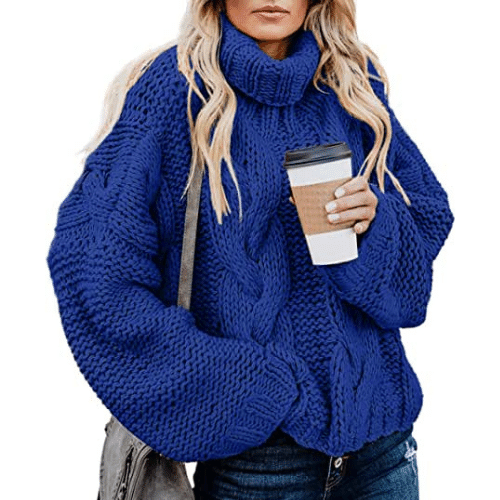 Dokotoo Womens 2022 Winter Fall Solid Turtleneck High Neck Balloon Long Sleeve Sweaters
Embrace chilly days in this chunky cable-knit turtleneck. A bold cable knit amplifies the vintage attitude of this slouchy, casual-chic sweater. You'll be in style walking down hthe streets of NY or strolling in the country!
Check Price Here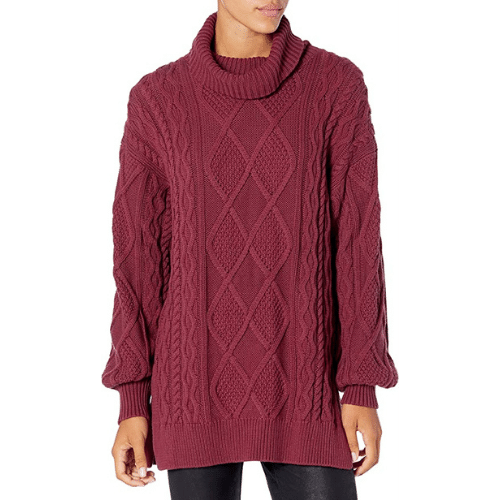 The Drop Women's Blanche Oversized Side Slit Cable Stitch Turtleneck Sweater
Get comfortable with an easy fall look in this slouchy oversized sweater, which merges chunky cable detailing and a turtleneck. This slouchy silhouette with side slits looks particularly good with a pair of leggings.
Check Price Here
Make it Formal
Your cable knit turtleneck doesn't have to be relegated solely to casual looks; you can also dress it up for formal occasions if you want something more polished than a traditional dress or suit jacket.
For instance, try wearing a classic black or navy blue turtleneck over an elegant slip dress for an elevated look that will keep you warm during those cooler evenings.
If you're feeling daring, go even further by adding statement jewelry pieces or bold colors into the mix!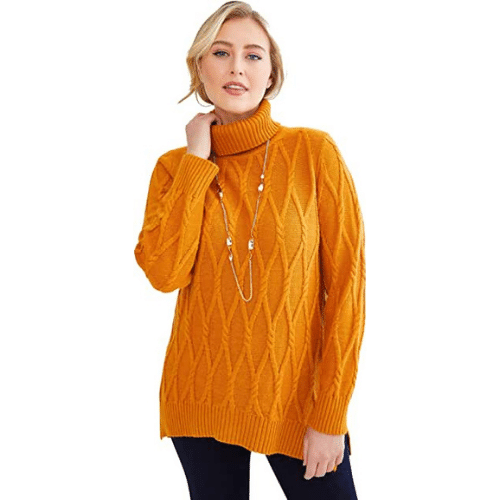 Jessica London Women's Plus Size Cable Turtleneck Sweater
The piece to pick when you want to add a little something extra to your knitwear collection. This slouchy turtleneck with a classic cable-knit design is finished off with a high-low hem that lends an effortlessly-chic look. Pair with pull on pants for a comfy yet pulled together look.
Check Price Here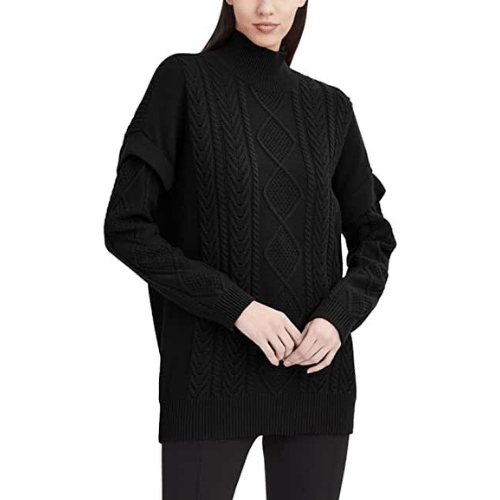 BCBGMAXAZRIA Women's Long Sleeve Turtleneck Sweater
This sweater is the perfect addition to any closet. It would look great with a denim maxi or try it over a ribbed dress.
Check Price Here
kensie Women's Fuzzy Yarn Cable Knit Turtleneck Sweater with Scalloped Hem
What's not to love with the bell sleeves and scalloped hem? Perfect with a pair of faux leather pants.
Check Price Here
Accessorize With Confidence
Accessories are key when it comes to styling any outfit, but they are especially important when styling a basic piece like a cable knit turtleneck because they can really help elevate the look.
Try pairing your sweater with statement earrings or necklaces for some extra oomph, or add in colorful scarves or hats if you want something more subtle but still impactful! Not sure where to start?
Just remember that less is often more when it comes to accessorizing—just pick one statement piece and let it do all the talking!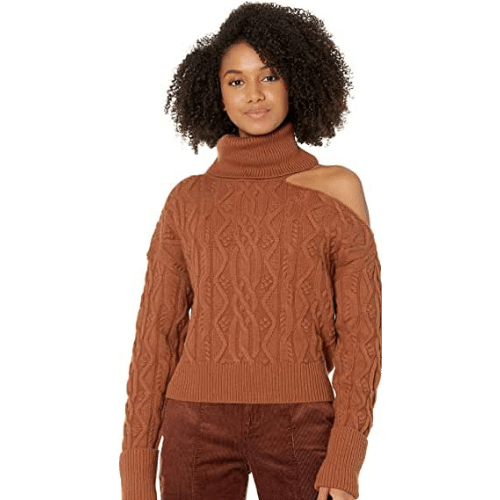 PAIGE Women's Cropped Cable Knit Turtle Neck Shoulder Baring
Cozy meets modern with this bestselling Raundi Sweater, which updates a classic turtleneck silhouette with a shoulder-baring design that's a little unexpected and incredibly chic. Relaxed with an easy cropped fit, a cable knit design and made with adjustable cuffs and a fold-over turtleneck, this soft and cozy wool blend sweater in a gorgeous rich caramel shade is exceptionally comfortable.
Check Price Here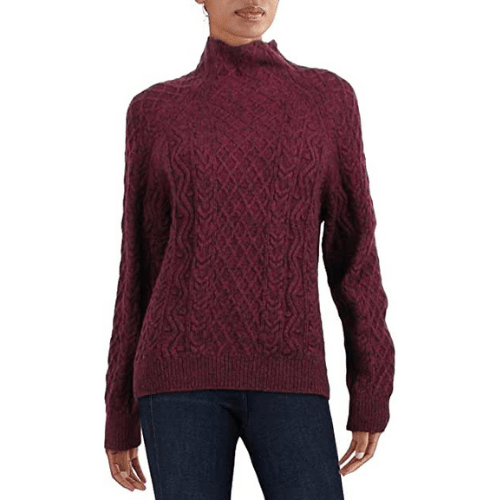 Vince Womens Merino Wool Cable Knit Turtleneck Sweater
Famous for their effortless sophistication, Vince uses the finest quality fabrics to create their luxury staples. This Vince Turtleneck Sweater is crafted with 53% Merino Wool/28% Nylon/19% Cashmere. Pure luxury!
Check Price Here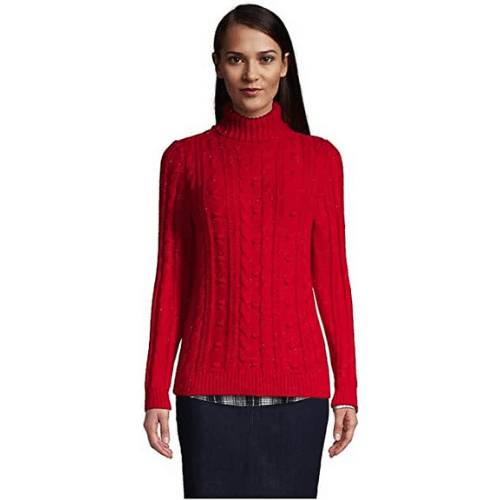 Lands' End Women's Cozy Lofty Bobble Turtleneck Sweater
The familiar brand with a great product and fab shade of red. This with look great on the weekend paired with an oversized flannel shirt - super cozy!
Check Price Here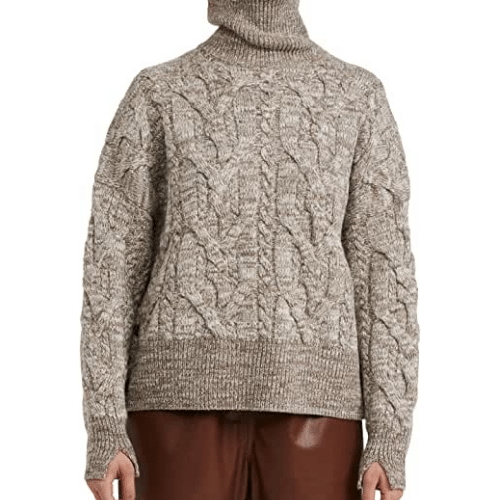 rag & bone Women's Nora Cable Turtleneck
Crafted in heavyweight wool and featuring classic cable-knit detailing, this Rag & Bone sweater is a must-have turtleneck to take into chilly temps. Pair it with a great leather skirt.
Check Price Here
Your search for cable knit turtlenecks the classic pieces that are perennially stylish and perfect for keeping warm during colder months is over. We hope we helped you discover great pieces you can browse and click to purchase!
So much easier than going to tons of stores.
Save time and instead of searching through department stores, shop in the comfort of your home your total savings will also be measured in the time you save. Add what you like to your bag and your saved selection will be shipped to you in no time.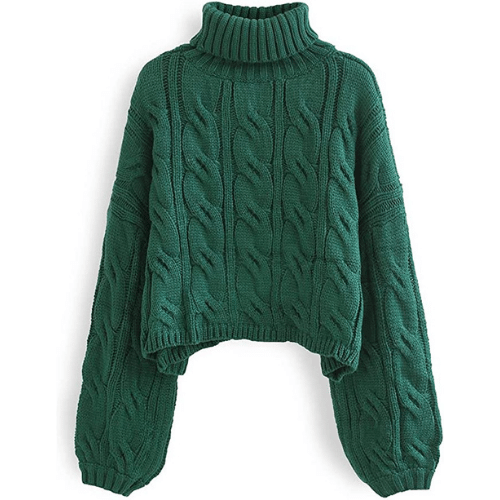 CHICWISH Women's Green Turtleneck Braid Knit Dropped Shoulders Crop Sweater
A wear-everywhere sweater is what you'll need in this winter. The cropped length pairs well with high waisted jeans or leggings.
Check Price Here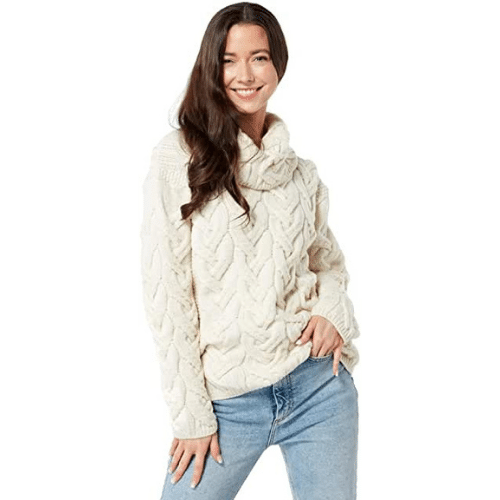 Supersoft Irish Merino Wool Chunky Cable Knit Cowl Sweater for Women Made in Ireland
Cowlneck sweater with a chunky cable knit pattern. Made from 100% Supersoft merino wool, which is less itchy than regular wool. This sweater will look as great on the streets on New York as in the country lanes of Vermont!
Check Price Here
Cable Knit Turtlenecks can easily be dressed up or down depending on how you choose to style them—try layering them over shirts and jackets for something more casual, or add in eveningwear pieces like slip dresses or skirts for something dressier.
Don't forget about statement accessories either—they're key when it comes to making any look stand out from the crowd!
With these tips in mind, we hope you feel confident in styling your own cable knit turtlenecks this season!
We only recommend products we love and think that you will too. We may receive a portion of sales purchased from this article that was written by our Frilly team.
Happy shopping!!