If there's one thing that will instantly elevate your wardrobe, it's printed sweaters.
Whether you prefer a bold pattern or an understated motif, these pieces are essential if you want to stand out from the crowd.
Not only do they add visual interest and texture to any ensemble, but they also make a statement without screaming for attention.
Let's take a closer look at why printed sweaters are so fashionable this season.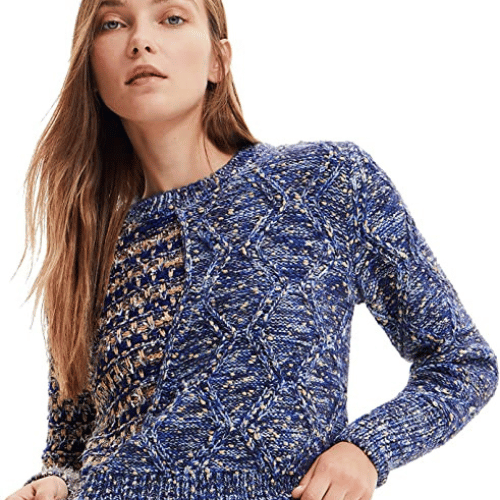 Desigual Women's Casual Sweaters
Blue with metallic threads, this sweater will keep away the chill while looking fab. Pair with jeans for a casual look.
Check Price Here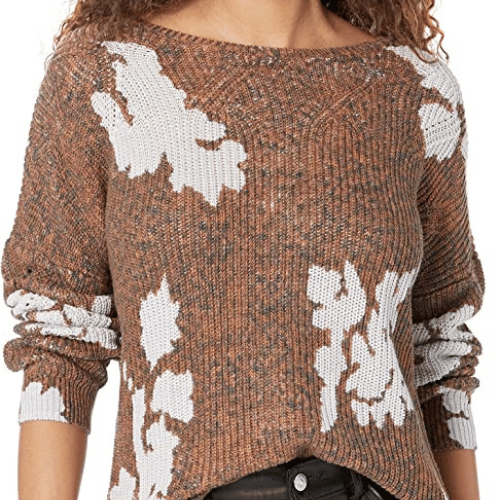 NIC+ZOE Women's Scattered Florals Sweater
An elegantly abstract floral pattern printed on a midweight shaker knit. Look closer and pick up the pointelle stitch detailing and the small flecks of color spun right into the yarn. Great paired with a faux leather skirt.
Check Price Here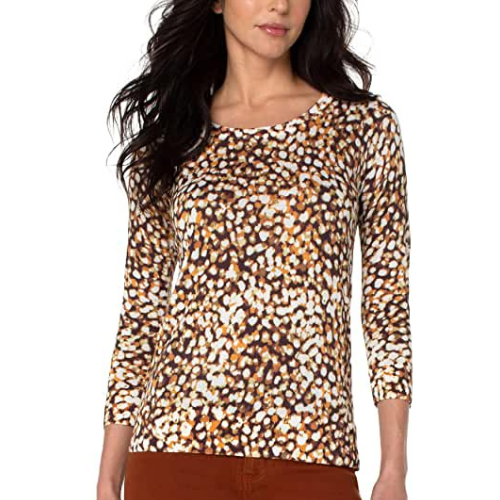 Liverpool Printed 3/4 Sleeve Sweater
Liverpool Printed 3/4 Sleeve Sweater is a stylish addition to your wardrobe, perfect for flaunting effortlessly. Top it off with a great maxi coat to keep the seasons chill at bay.
Check Price Here
Style Meets Comfort
Printed sweaters offer the perfect balance between comfort and style. They're made out of soft, breathable materials like wool, cotton, and cashmere that feel luxurious against your skin.
Plus, their neutral colors and subtle patterns make them easy to dress up or down depending on the occasion.
Whether you're headed to brunch with friends or dinner with family, you can count on printed sweaters to keep you looking chic yet comfortable all day long.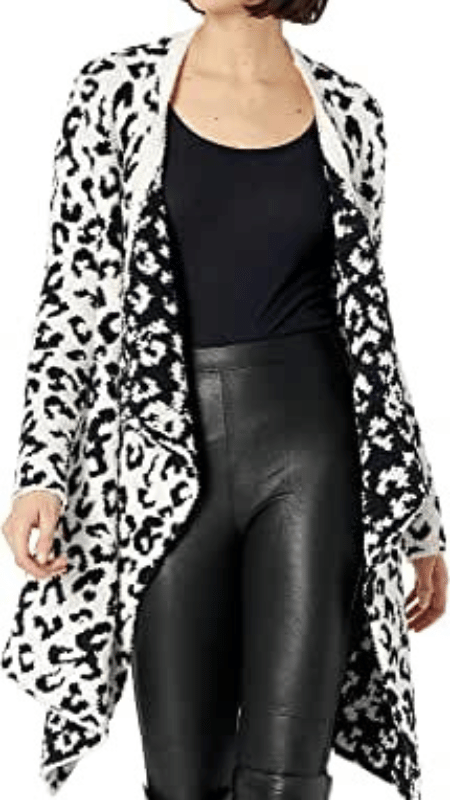 UGG Women's Phoebe Wrap Cardigan
Made from a fluffy sweater knit, this cardigan will keep you warm and stylish all season long. Wrap yourself in the Phoebe for work, weekend, and everything in between. Pair it with leggings and over the knee boots for a frilly fab look!
Check Price Here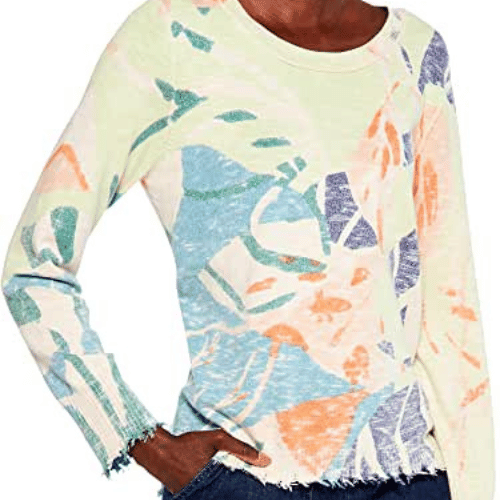 NIC+ZOE Women's Soft Meadow Sweater
An abstract, nature-inspired print that's filled to bursting with little details. We love the fringe along the hem that adds character to the look. A pair of boho jeans would make a great outfit.
Check Price Here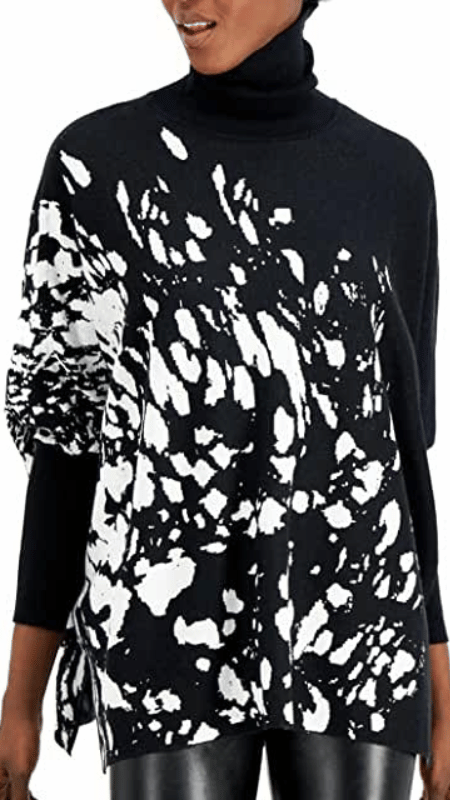 Alfani Womens Splatter Pullover Sweater
Gorgeous paint splatter pattern in a cotton blend top. Great with coated jeans.
Check Price Here
Timeless Versatility
One of the best features about printed sweaters is their versatility; no matter what trends come and go throughout the seasons, these pieces never go out of style.
They can be paired with everything from jeans and sneakers for a casual look to skirts or trousers for something more polished.
And with so many prints, colors, and styles available on the market today, there's something for everyone when it comes to printed sweaters!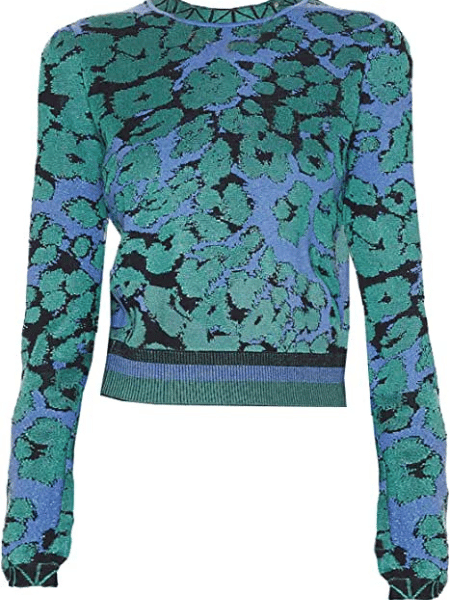 DVF Diane Von Furstenberg Women's Blue Turquoise Nellis Floral Sweater Top
Amazing turquoise floral sweater by the fabulous DVF. Pair it with jeans and a great moto jacket.
Check Price Here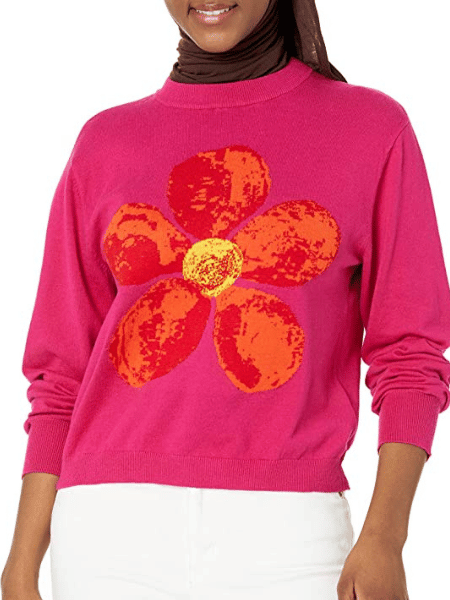 Desigual Women's Casual Sweater
Naif style with a large intarsia flower in yellow and orange tones. Straight-cut jumper made from fine-knit cotton screams fun! Paired with white denim, you will be turning heads!
Check Price Here
Wear as a Statement Piece
As mentioned earlier, wearing a printed sweater is all about making a statement without screaming for attention.
If you want to stand out from the crowd in an elegant way, consider pairing one of these stylish garments with solid-colored bottoms like classic black trousers or white jeans.
It's an effortless look that will surely turn heads wherever you go!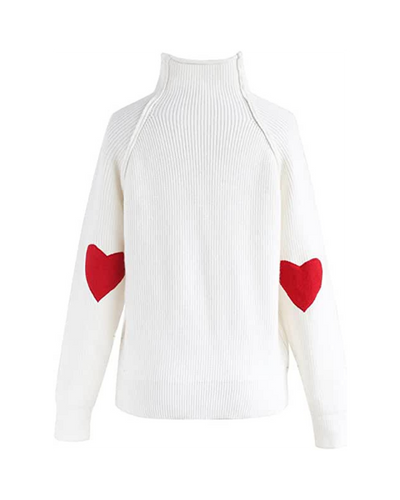 CHICWISH Women's Long Sleeve Heart Shape Patched Pullover
Cropped turtleneck with heart patches on the elbows is a super cute look! Pair with high waisted jeans and a faux fur coat!
Check Price Here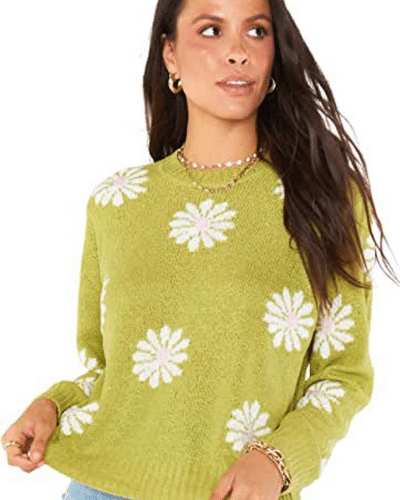 Show Me Your Mumu Women's Seasons Change Sweater
In this season's favorite green, with white flowers, you'll look cute while staying comfy. Pair this sweater with your favorite Mumu denim & favorite sneakers.
Check Price Here
Printed sweaters are back in fashion this season—and for good reason! These timeless pieces offer just the right balance between comfort and style while still making a statement without being overly loud or obnoxious.
Pair them with everything from classic trousers to white jeans for an effortlessly chic look that will have everyone wondering where you got such fabulous style!
So what are you waiting for?
Get shopping for your new favorite printed sweaters today!
We only recommend products we love and think that you will too. We may receive a portion of sales purchased from this article that was written by our Frilly team.
Happy shopping!!