Ready to rock 90s style???
With a surge of 90s-inspired trends emerging this season, women shoppers everywhere are embracing their inner Baywatch babe with the return of retro-style swimsuits.
Think high-cut legs, that give your legs added length, bright neon colors that shout summer, and fun florals and metallics in barely there styles to show off that body you've worked so hard for!
We've put together a group of great swimsuits that we hope will give you inspiration to shop this cute trend!
One Piece Wonders
This season, single-piece swimsuits have made a triumphant return. Forget about bikinis or tankinis; when it comes to making a statement at the beach or poolside this summer, nothing says "90s" quite like a good old-fashioned one-piece.
From high-cut legs to plunging necklines, even denim one piece suits were all the rage.
This classic look has been modernized for today's women with bold colors.
If you're looking for an eye-catching addition to your swim wardrobe, then look no further than these one-piece wonders!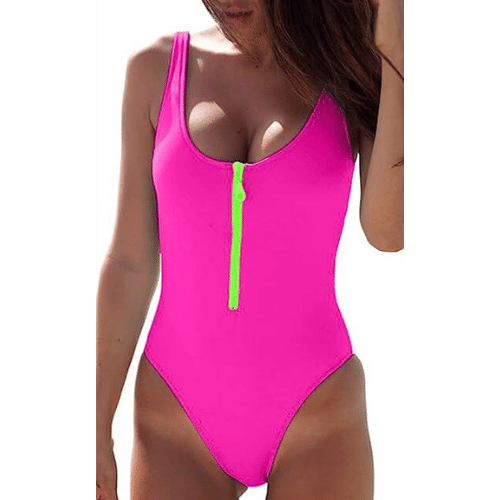 CHYRII Women Sexy Zipper Front Low Back High Cut One Piece Swimsuit
Super sexy front zip with backless design and high cut legs is a true 90s throwback!! Reviewers love the fit and you will too!!
Check Price Here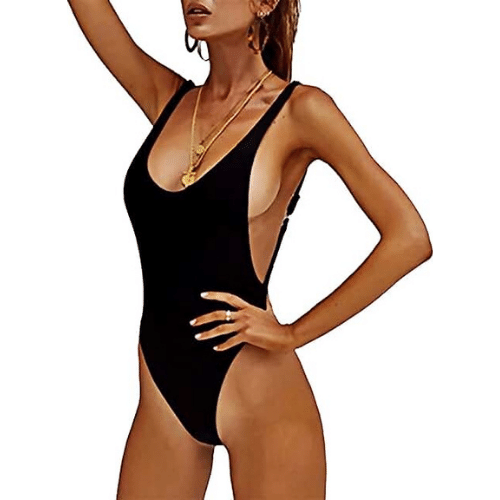 PRETTYGARDEN Women One Piece Swimsuit U Neck
Very very sexy u neck with high cut legs and adjustable straps will have all heads turning to you!! It even has a bit of tummy control! Grab your Havaianas and you are ready for the beach!
Check Price Here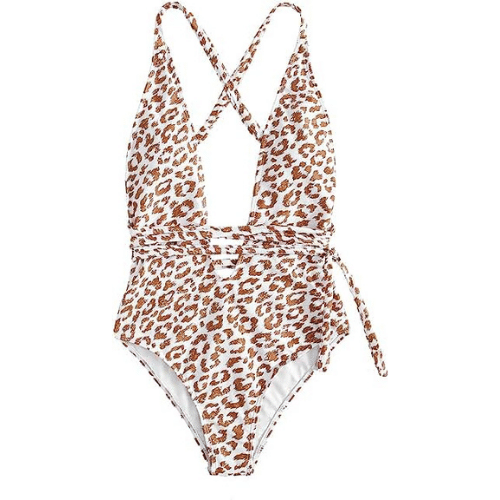 SweatyRocks Criss Cross Tie Knot Front Deep V Open Back Leopard One Piece
Reviewers love this suit! Super plunge and high legs with added support keep the girls happy and you looking amazing!
Check Price Here
A Splash of Color
What screams "90s style" more than bright colors? Women everywhere can now make a splash at the beach with neon green or bubblegum pink two-piece sets that turn heads wherever they go.
The best part?
These vivid hues perfectly complement any skin tone and will help you stand out from the crowd!
So why not try something new and add some color to your rotation?
You never know – you might just find your new favorite shade!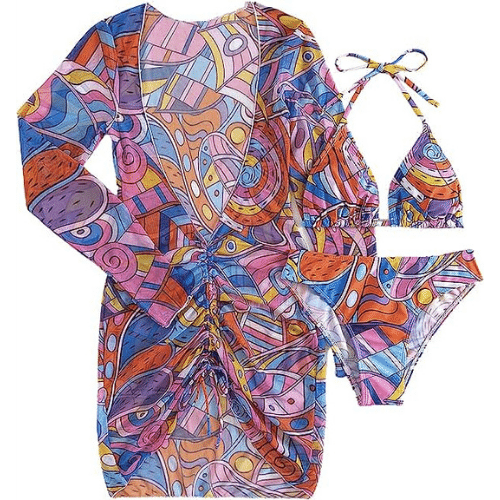 SOLY HUX Women's Triangle Halter Bikini Bathing Suit with Cover Up
Fab retro print in a 3 piece set is sure to turn heads. Reviewers love the fit and the attention! Add sandals and head out the door!
Check Price Here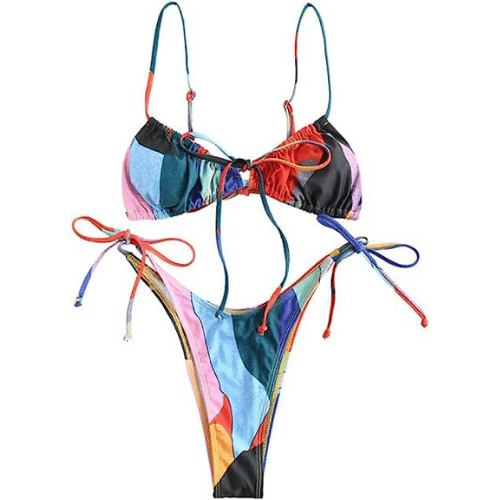 ZAFUL Womens High Cut Thong Bikini Set
Daring and retro, this high cut thong makes a statement. Reviewers love the fit, and you will rock this too!!!
Check Price Here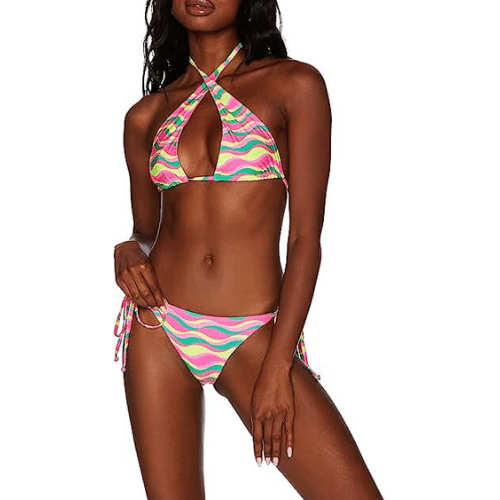 A Touch of Glamour
For those seeking something more glamorous than colorful prints and pop culture references, there's always the option of adding a bit of sparkle to their look.
This summer, glittery accents are all the rage on two pieces as well as one pieces.
Whether it's a hint of shimmer on straps or sequins along hemlines – there's something for everyone when it comes to glitzy poolside attire!
Add some bling to your wardrobe with these glamorous options – after all, who doesn't love a touch of sparkle?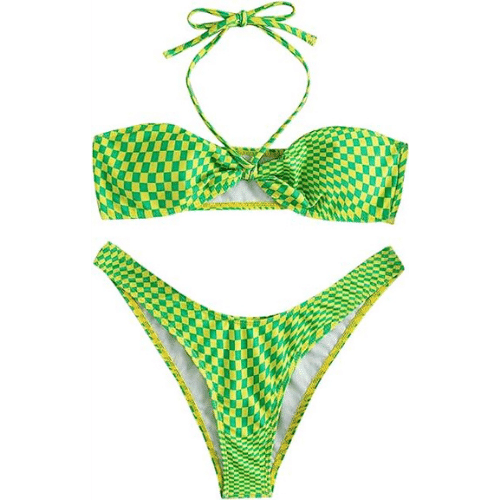 SOLY HUX Women's Criss Cross Halter Bikini
Neon bright, super cute cheeky bikini is a fun retro option. Add a coverup and head to the beach!
Check Price Here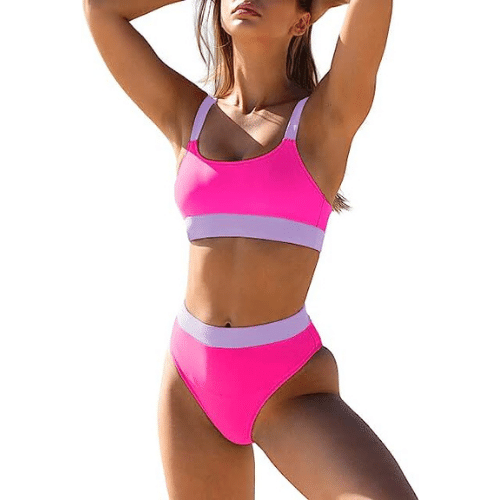 ZINPRETTY High Waisted Bikini Set
A little more coverage but still with great impact this neon suit comes in a bunch of other neon shades if pink isn't your thing!
Check Price Here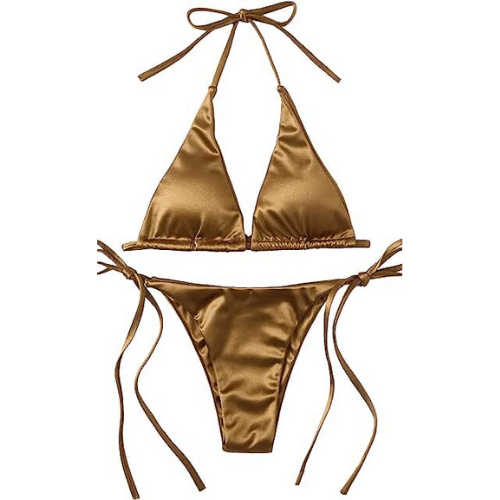 SOLY HUX Metallic Halter Bikini
Metallic is in - we love the gold but it does come in a whole bunch of other metallic shades. Stash it in your suitcase for your next getaway!
Check Price Here
Who would have thought that such an iconic trend could make such an impressive comeback?
Yes, the 90s decade swimsuits are definitely in this summer!
So whether you prefer traditional one-pieces or flashy two pieces – don't be afraid to embrace bold colors and subtle glamour for a look that will turn heads wherever you go!
Make sure you get ready for beach season with some vintage-inspired looks – because nothing says summer quite like 90s-inspired swimwear!
And before you go, did you get a chance to sign up for our newsletter? Go ahead, it'll only take a sec and you'll never miss a frilly fun fab post!!
We only recommend products we love and think that you will too. We may receive a portion of sales purchased from this article that was written by our Frilly team.
Happy shopping!!