Nothing screams chic quite like off-the-shoulder blouses.
It's comfortable, it's stylish, and it is perfect for any occasion.
Whether you are looking to add a bit of flair to your workday wardrobe or simply want to make a statement at a night out on the town, the off-the-shoulder top is the way to go this season.
The Versatility of Off-the-Shoulder Tops
Off-the-shoulder tops offer incredible versatility in terms of style and outfit combinations.
Try pairing an off-the-shoulder top with a skirt for a more feminine look or with a pair of jeans for something more casual.
No matter what you choose, you will be sure to look sophisticated and pulled together.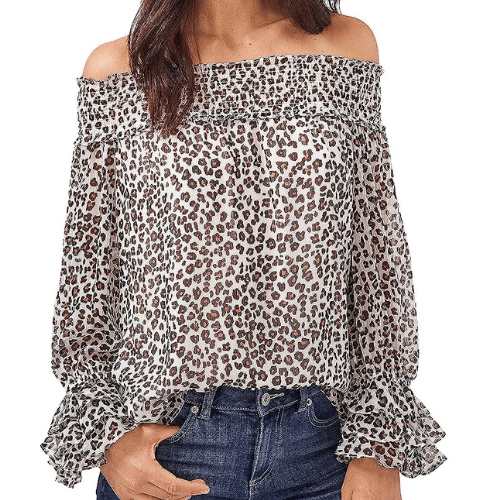 CeCe Off-The-Shoulder Leopard Cluster Smocked Blouse
Sexy leopard print with fun ruffles at the sleeves is a great day or night choice. Wear with jeans for a great look!
Check Price Here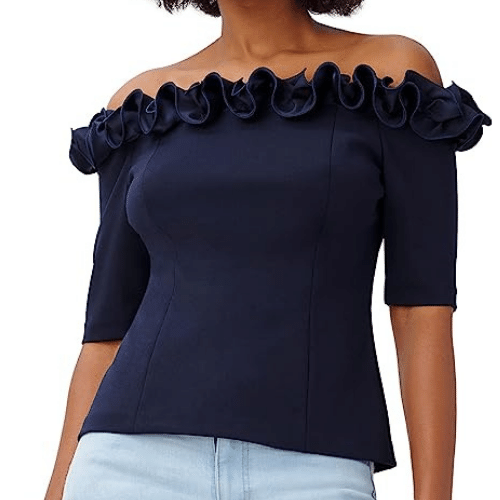 Adrianna Papell Women's Crepe Rosette Top
Gorgeous rosettes adorn the neckline creating a beautiful top. Wear it out for your next brunch with a white denim skirt!
Check Price Here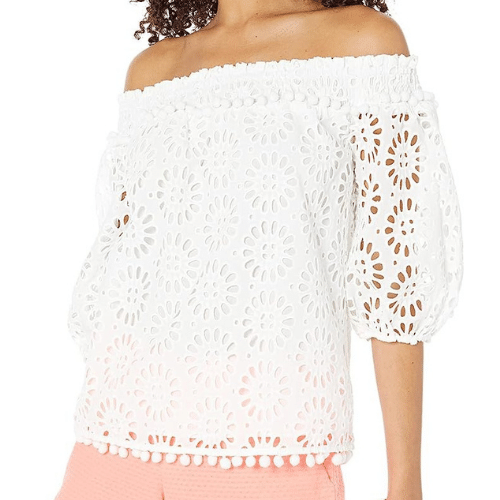 Lilly Pulitzer Raylee Top
Pretty eyelet lace off the shoulder is so sweet for spring! Pair it with a floral skirt for a fab look.
Check Price Here
When choosing an off-the-shoulder top, there are a few key elements that you should consider. First, always select one that fits properly—that means no gaping necklines or awkward armholes! Second, pay attention to the fabric—you want something that feels good against your skin but also looks great when paired with other pieces in your wardrobe. Lastly, pick one with interesting details such as ruffles or lace accents; these small touches can elevate an otherwise basic piece into something truly eye catching.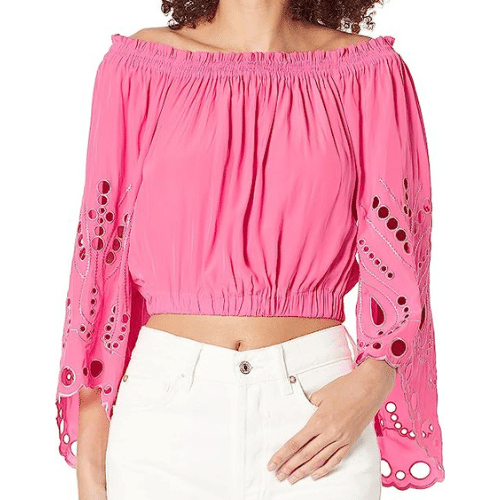 Ramy Brook Women's Kory Off Shoulder Embellished Top
With its cutout sleeves and rose color, this is an eye catching top! Try it with a denim maxi for a boho vibe.
Check Price Here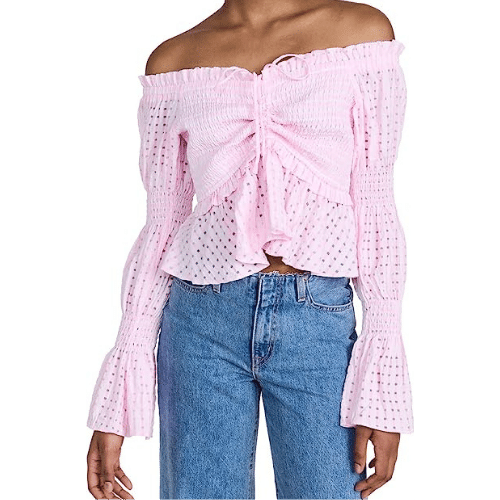 English Factory Women's Off The Shoulder Smocked Top
With its ruched front and pale pink color, this is a fab choice for an off-the-shoulder! Try is with cropped jeans for your next night out!
Check Price Here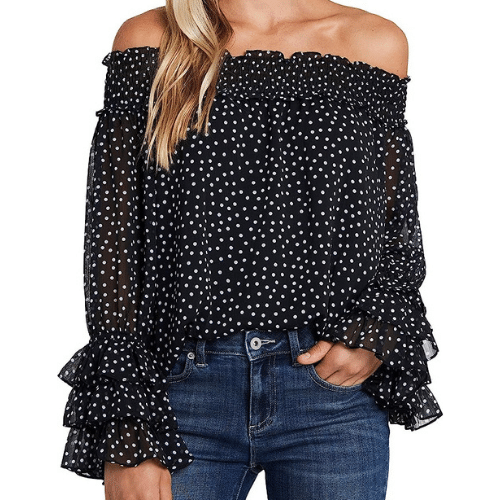 CeCe Off-The-Shoulder Blouse Duet Mini Dot Blouse
The perfect date night top, this has it all from the sexy off-the-shoulder look to the flirty ruffled sleeves. Pair it with black straight leg jeans for effortless style.
Check Price Here
Accessorizing Your Off-the-Shoulder Top
No outfit would be complete without the right accessories!
To make your off-the-shoulder top really stand out, add some bold jewelry such as statement earrings or chunky necklaces.
Or you can stick to simple studs and add a statement bracelet.
You can also opt for scarves or belts for added texture and interest.
Finally, don't forget your shoes!
Sandals are always a good choice but if you're feeling adventurous why not try some knee-high boots?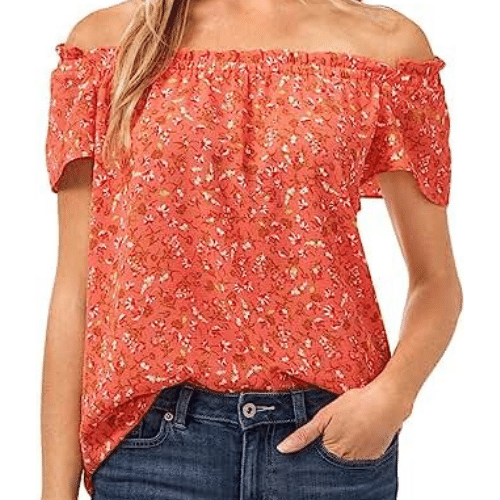 CeCe Short Sleeve Square Neck Floral Blouse Bay Coral MD
Hot coral in a short sleeve is a fab find for everyday. Pair with your fav jeans or shorts and add braided sandals for a fun look!
Check Price Here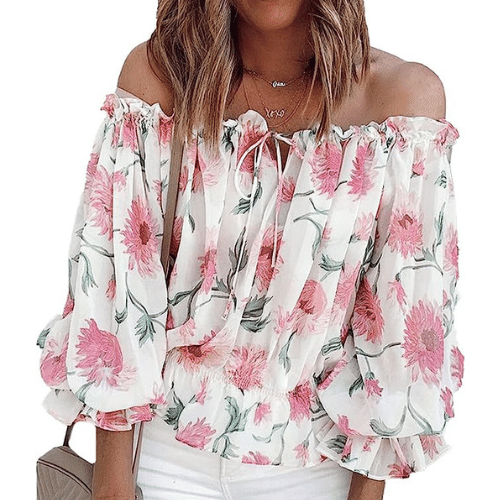 BLENCOT Women's 3/4 Ruffle Sleeve Off Shoulder Chiffon Blouse
Pretty floral with peplum waist is super flattering and a reviewer favorite! Pair with white jeans for a fun look.
Check Price Here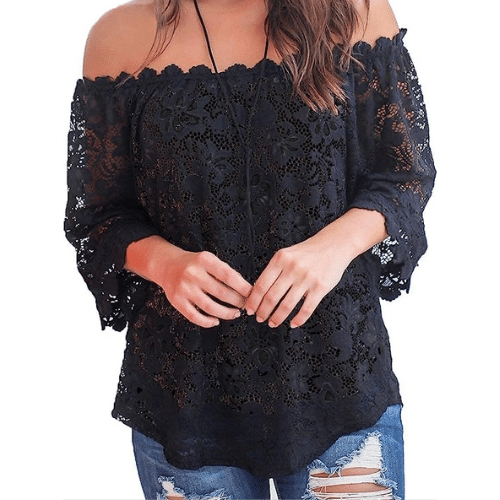 MIHOLL Women's Lace Off Shoulder Shirt
Off-the-shoulder and lace a frilly and fun combo! Perfect for a night out, pair with jeans and add your fav heels!
Check Price Here
If you're looking for an easy way to update your wardrobe this season then look no further than the off-the-shoulder top!
This timeless piece has been around for decades and yet still manages to stay on trend year after year.
With its versatility and endless possibilities for accessorizing – it is no wonder that this must-have item continues to remain popular amongst fashionistas everywhere!
So don't wait any longer – get shopping today and find yourself the perfect off-the-shoulder top!
And before you go, did you get a chance to sign up for our newsletter? Go ahead, it'll only take a sec and you'll never miss a frilly fun fab post!!
We only recommend products we love and think that you will too. We may receive a portion of sales purchased from this article that was written by our Frilly team.
Happy shopping!!