If you're looking to spruce up your wardrobe for the upcoming spring season, look no further than the perfect blouse.
A timeless addition to any ensemble, a well-crafted blouse can add an air of sophistication and class to almost any occasion.
Whether you're headed to the office, for a night out on the town, or just running errands around town, here are a few reasons why you should consider a spring blouse refresh to your wardrobe this season.
Functionality and Comfort
A great blouse is a versatile piece of clothing that can be dressed up or down depending on your mood or occasion.
From silky satin to lightweight cotton and everything in between, there is an endless array of fabrics and styles available when it comes to finding the perfect blouse.
And because they are so comfortable and easy to wear, they make a great choice for those days when you want something stylish but don't want to put in too much effort.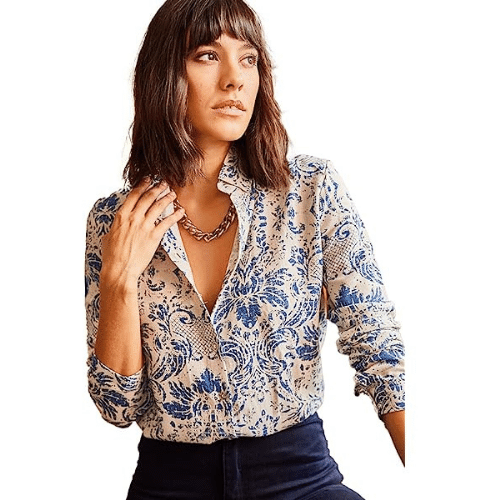 Casual Long Sleeve Button Down Shirt
Pretty blue print will be your work week go to for an easy style. Pair with pnats or a skirt and a few accessories and you'll look fab!
Check Price Here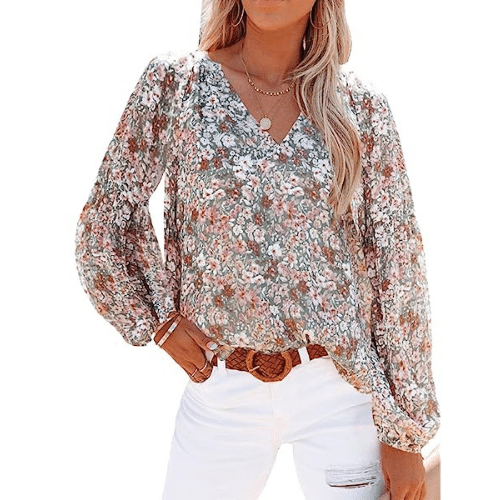 SHEWIN Women's Casual Boho Floral Print
Floral fun, this boho top is a great addition to your spring louse refresh! Pair with a denim maxi for an on trend look!
Check Price Here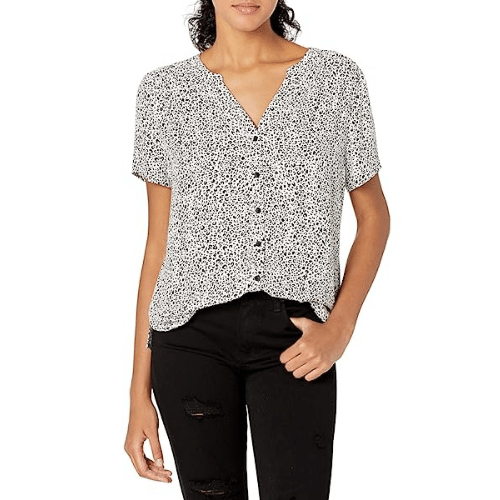 Amazon Essentials Women's Short-Sleeve Woven Blouse
Tiny leopard print is another one of those wear to work fun outfits! Pair with black skirt when you need an extra bit of style.
Check Price Here
Elevates Any Outfit
We all know that one item in our closet that makes every outfit better—the perfect blouse is that item for many women.
It has the power to take a basic pair of slacks from drab to fab in mere seconds by simply adding a beautiful print or color.
With its ability to instantly elevate any ensemble, it's no wonder why so many women turn to their trusty blouse time after time.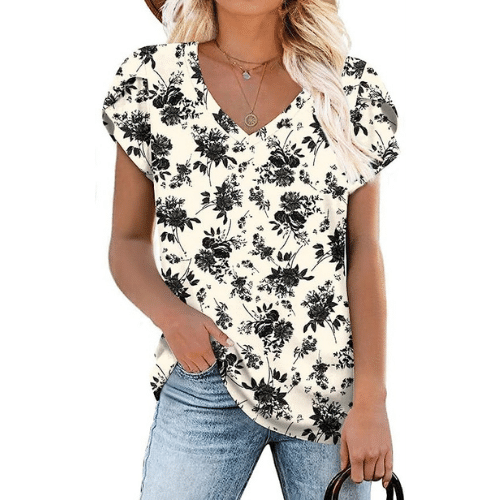 CATHY Womens Short Sleeve Casual T-Shir
Technically not a blouse but the black floral makes this a great everyday kind of top! Pair with jeans, a skirt or shorts and go do what you need to do!
Check Price Here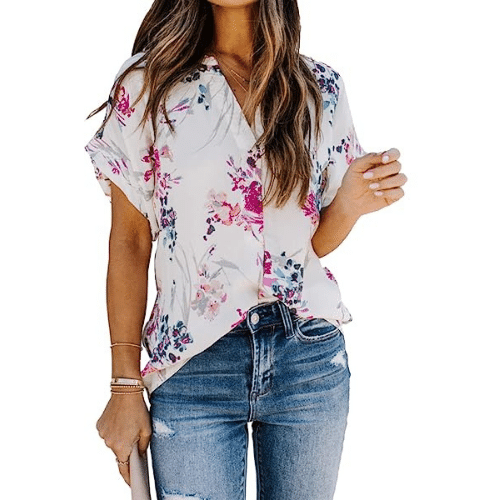 Allimy Women Summer Casual Split V Neckline Chiffon Blouse
Flirty and light, this is a great blouse for those warmer days. Pair with jeans or slacks for a great spring look.
Check Price Here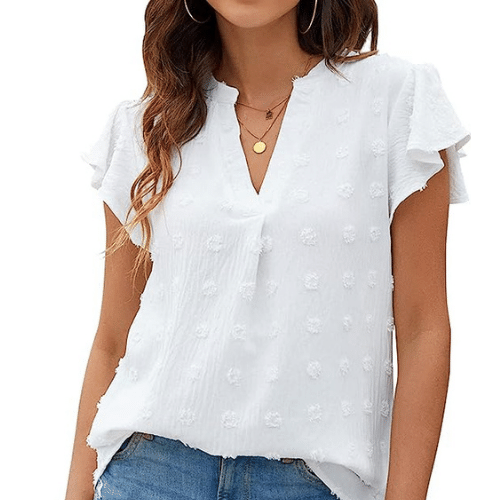 Blooming Jelly Womens White Blouse V Neck Ruffle Sleeve
You can never have enough white blouses and this one belongs in your closet! Perfect for just about any occasion, the dots add extra interest! Pair with a floral midi.
Check Price Here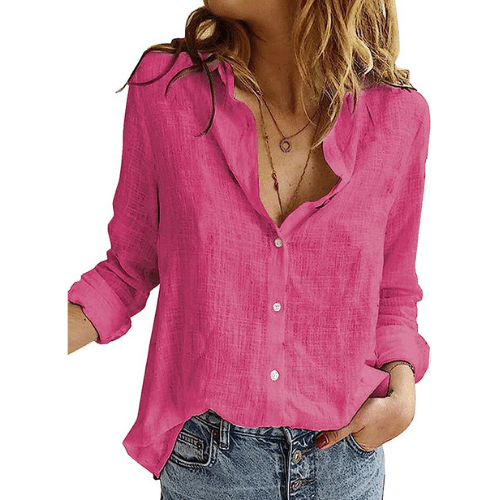 Astylish Womens V Neck Roll up Sleeve Button Down Blouse
Gorgeous shade of rose will perk up any plain old pair of black or blus slacks! Also fun with jeans!
Check Price Here
Versatility
The beauty of owning multiple blouses is that they are incredibly versatile pieces of clothing.
They can be worn with skirts, jeans, trousers—pretty much anything!
And depending on how they are accessorized or layered, they can easily transition from day-to-night looks with ease.
Many styles can be worn year-round by just switching out different accessories like scarves and jackets as the weather changes.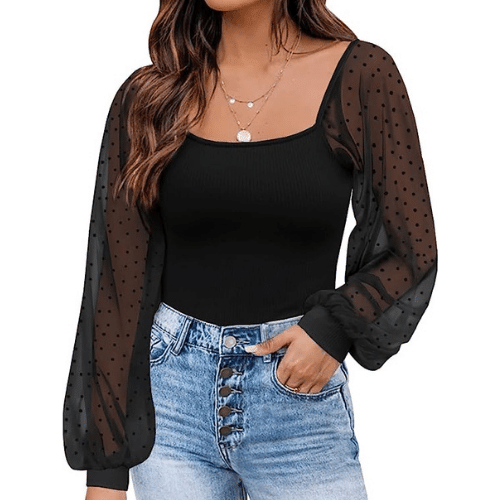 DOROSE Womens Mesh Long Sleeve Shirts
Need a day to night refresh?? Look no further tahnn this gorgeous black blouse with organza sleeves. Pair it with a maxi and when you head out, change up your jewelry and add heels!
Check Price Here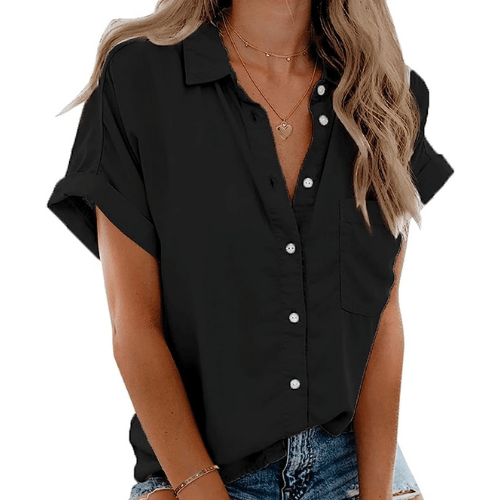 Beautife Womens Short Sleeve Shirt
Reviewers agree, this is a fun work shirt. Nott too tight, not too long, its basic silhouette is streamlined and professional.
Check Price Here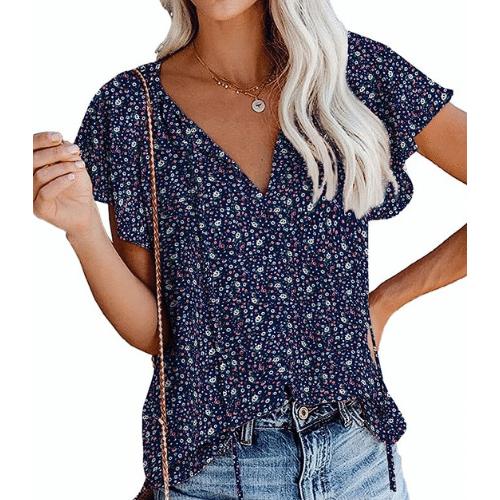 SimpleFun Women's Boho Tops Floral
With thousands of 5 star reviews, this boho blouse belongs on your buy now list!! Wear with jeans or a white denim skirt.
Check Price Here
If you're looking for something timeless yet fashionable this spring season, then look no further than the perfect spring refresh blouse!
They come in countless styles and fabrics so there is something for everyone; plus they offer comfort and versatility which makes them ideal for any occasion!
So go ahead it's time to shop and give your wardrobe an instant refresh this spring with some beautiful new blouses, find the items you like in your size and drop them into your cart!
Hurry before the ones you choose are out of stock, your orders will arrive in no time!!
And before you go, did you get a chance to sign up for our newsletter?
Go ahead, and enter your email, it'll only take a sec and you'll never miss a frilly fun fab post!!
We only recommend products we love and think that you will too. We may receive a portion of sales purchased from this article that was written by our Frilly team.
Happy shopping!!