Spring is finally here with warmer days, longer nights, and of course—eyelet tops.
The eyelet top is a classic wardrobe staple that every woman should own.
These lightweight blouses are perfect for transitioning to the warmer months while maintaining your style standards.
As perfect for a trip to the country as for a day at work, these womens eyelet belong in your shirt side of your closet!
But with so many options out there, how do you know what's right for you?
Don't worry—we have your back!
This short guide will help you navigate the world of eyelet tops so that you can find the perfect ones for you to rock this season.
Let's dive in!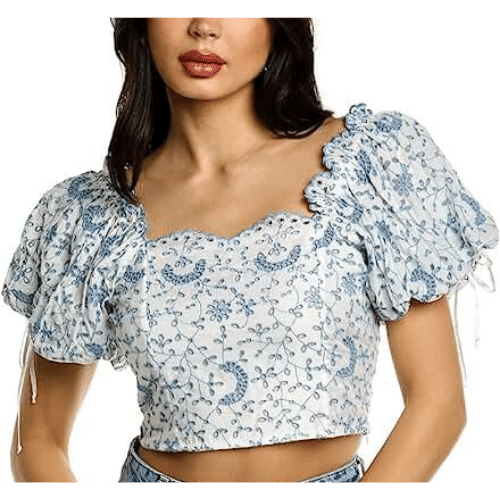 LOVESHACKFANCY Women's Melina Eyelet Top
Gorgeous cropped eyelet top in shades of blue is sure to turn heads! Pair with white flare jeans for an on trend look.
Check Price Here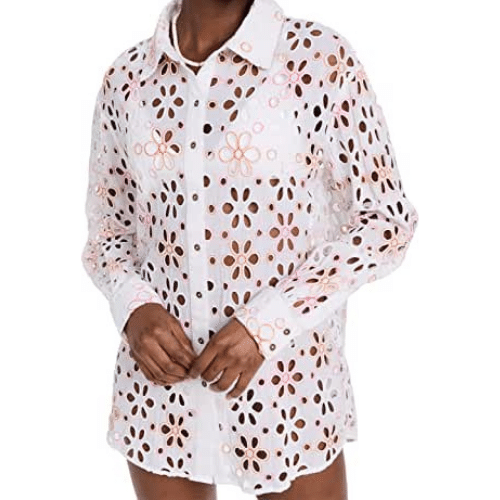 Ramy Brook Women's Gary Top
Classic button down in a fun eyelet would be great worn as a top with a cami or as a beach coverup!
Check Price Here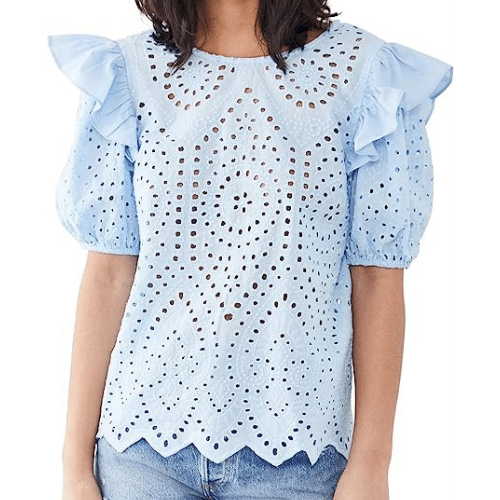 English Factory Women's Ruffle Sleeve Eyelet Top
Romantic and frilly this is a fab top to pair with a denim maxi for a stroll in the park or Sunday brunch!
Check Price Here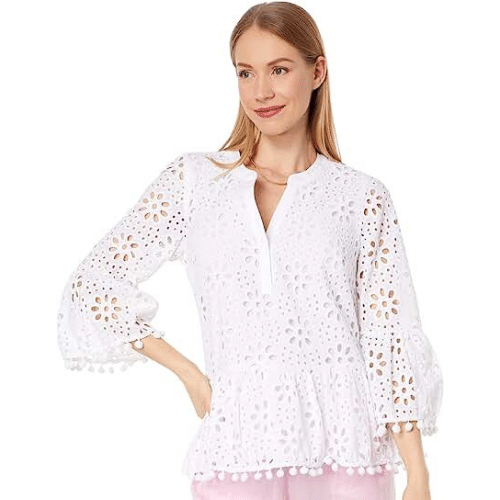 Lilly Pulitzer 3/4 Sleeve Bekah Eyelet Top
How fun is this top with eyelet and adorable pom poms! For a cute outfit pair with denim shorts!
Check Price Here
Style and Design
Eyelet tops come in a variety of colors, styles, and designs.
Before buying an eyelet top, it is important to consider how it will fit into your wardrobe and be styled with other items in your closet.
If you prefer casual looks, you might opt for a simple white eyelet top paired with jeans or shorts.
If you're feeling more daring, try pairing an ivory eyelet top with a colorful or full skirt for an unexpected look.
On the other hand, if you prefer more formal ensembles, then go for a black or navy eyelet top paired with trousers or a midi skirt.
There are endless possibilities when styling an eyelet top!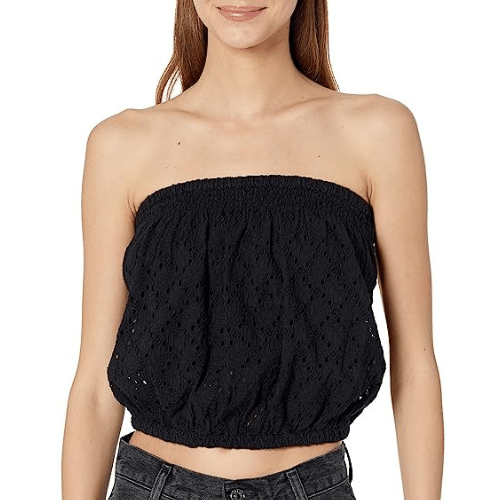 Ramy Brook Women's Trisha Sleeveless Eyelet Top
For those really hot days, this is top will keep you cool! Pair with shorts or a floral boho skirt.
Check Price Here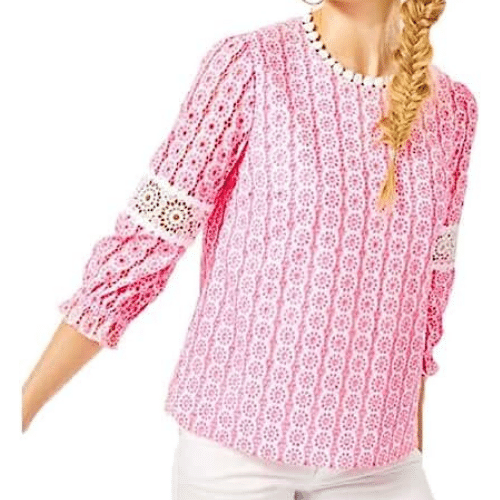 Lilly Pulitzer Jourdana Lace Top - Lilly's Coral Starburst Eyelet
Gorgeous starburst eyelet top with the details of a fab lace neckline is soon to be a what else can I wear with this top!!!
Check Price Here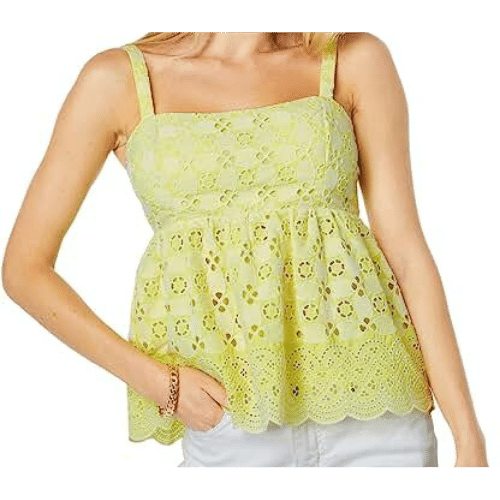 Lilly Pulitzer Michela Eyelet Cami
Love this cami in of the moment yellow with a super flattering square neck. Wear with a trendy pair of cargo pants!
Check Price Here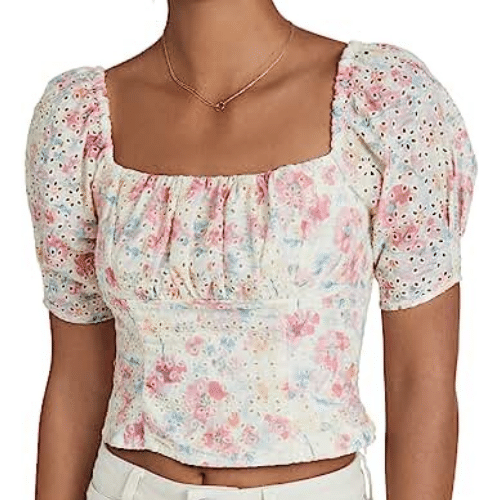 ASTR the label Women's Bondi Top
Ultra romantic, this pastel eyelet is a staff favorite and sure to be yours too! Wear it with khaki shorts, cargos, or a fab skirt!
Check Price Here
Material Matters
When selecting an eyelet top it is also important to think about fabric content and quality construction.
Eyelets are usually made of cotton or linen because these fabrics lend themselves well to airy designs that allow air to flow through them easily on hot days.
When shopping online, make sure to read product descriptions carefully so that you can get an accurate sense of the material and construction of the garment before purchasing it.
That way, there won't be any surprises when your item arrives at your doorstep!
And you don't need to worry, we did the vetting for you and found a range of gorgeous and flattering high-quality tops!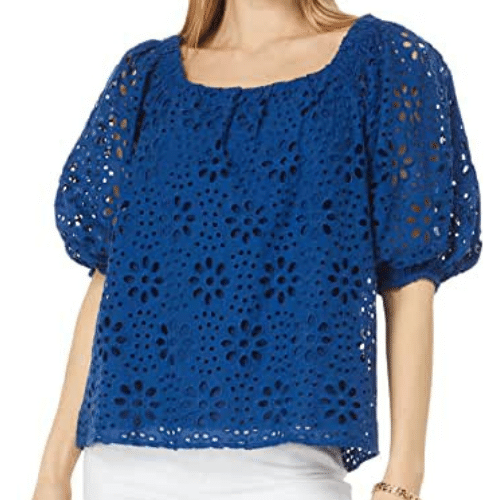 Lilly Pulitzer Kerrigan Elbow Sleeve Eyelet Top
Oyster Bay Blue eyelet top is a super fun top to pair with jeans, skirts, shorts, and denim skirts! It's one of those tops that brings hum fits to fab in a flash!!
Check Price Here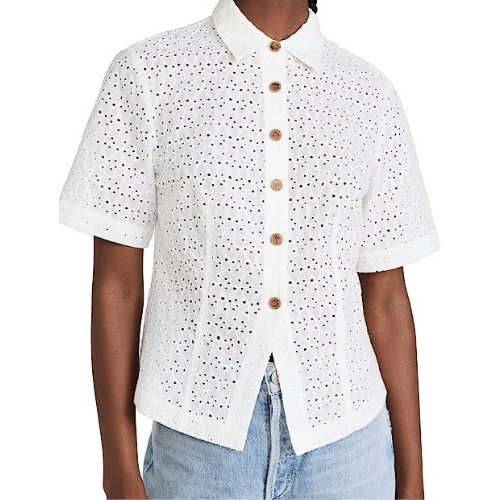 Rebecca Taylor Women's Lea Eyelet Short Sleeve Blouse
This eyelet button down makes a great wear to work top. Pair it with a sleek skirt or trousers for a breezy weekday look!
Check Price Here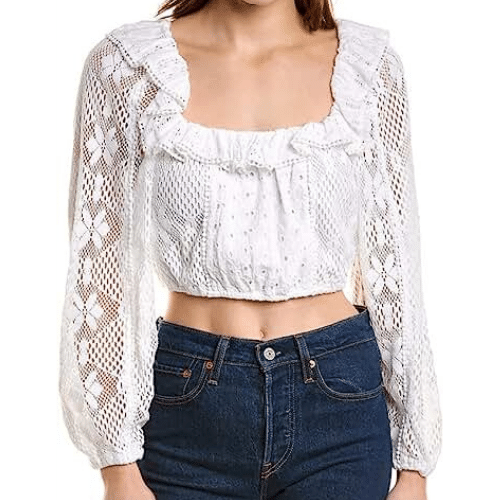 LOVESHACKFANCY Women's Dorabella Crop Top
Two warm weather faves - crochet and eyelet combine to create this amazing top! Perfect for your next GNO!!
Check Price Here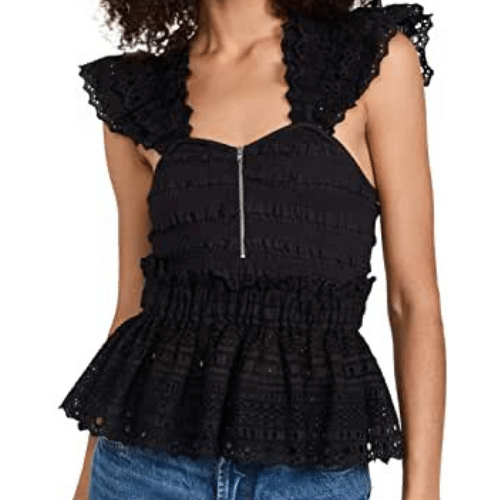 SEA Women's Marley Pleated Sleevless Top
Love this top!! With fab shoulders a zip front and peplum bottom it has all the details to be as on trend as they come! Pair with jeans for a fun look.
Check Price Here
Eyelets are timeless wardrobe classics that never go out of style; they look great on everyone no matter their fashion sense!
With this essential guide in mind, when you shop for an eyelet top keep these tips in mind so that you can find one that fits perfectly into your wardrobe this spring season!
And before you go, did you get a chance to request sign up for our newsletter? Go ahead, it'll only take a sec and you'll never miss a frilly fun fab post!!
We only recommend products we love and think that you will too. We may receive a portion of sales purchased from this article that was written by our Frilly team.
Happy shopping!!