Faux fur cropped jackets have the power to instantly elevate any outfit.
Whether you're dressing up for a night out or seeking to add just a hint of edge to your everyday look, these fur coats are sure to make an impression.
Now that cold days are upon us, and freezing cold is on its way, it's time to take advantage of the styling opportunities offered by this statement item to create perfect winter outfits.
Here are our tips on styling faux fur cropped jackets and how you can make the most out of your interesting new cropped jacket.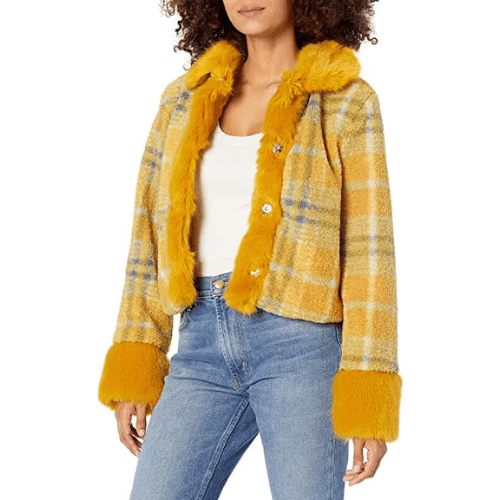 KENDALL + KYLIE Women's Cropped Mix Faux Fur Jacket
Kendall + Kylie, inspired by textural notes from changing leaves and trees. This jacket screams to be paired with jeans and a tee.
Check Price Here
Pair with Jeans and a Tee for Effortless Cool
Nothing says effortless cool like pairing a cropped faux fur jacket with skinny jeans and a t-shirt.
This casual outfit is a classic and timeless combination, making it an ideal way to show off the edgy vibes of your faux fur piece while keeping your look comfortable and casual.
For an added touch of sophistication, opt for jeans with tapered legs and white sneakers or booties.
Your faux fur jacket worn casually works perfectly for daytime outings, whether you're running errands or meeting friends for lunch.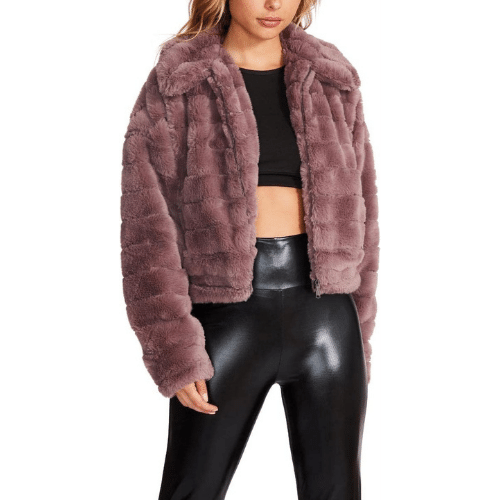 Steve Madden Just Fuzz Women's Plush Faux Fur Slouchy Cropped Jacket
Fall in love with the Just Fuzz faux fur jacket by Steve Madden; This jacket's ultra soft faux fur and cropped construction will make it perfect for layering with all your favorite cold weather outfits.
Check Price Here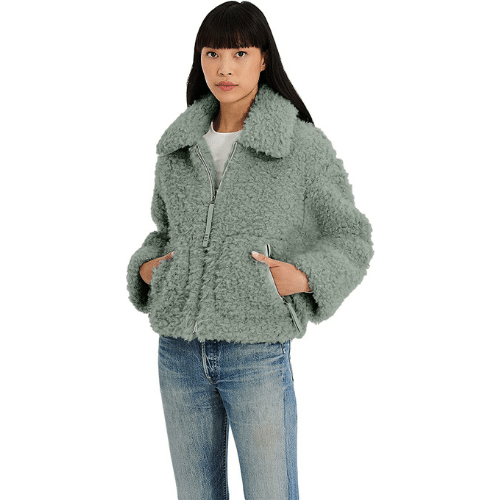 UGG Women's Maeve Sherpa Jacket
Made of Ugg signature sherpa for luxurious texture, this full-zip teddy jacket features a standout oversized collar, plus patch pockets lined in soft fleece to keep your hands warm. Throw it on over any look for an extra layer of cozy style.
Check Price Here
MILLY Women's Tricot Faux Lamb Fur Ellery Jacket
Faux lamb in a gorgeous ruby red. Piar it with a black top and pants for a sleek sexy look.
Check Price Here
Dress Up Your Evening Look
Faux fur cropped jackets can also be used as part of your eveningwear ensemble.
Try pairing yours with dressy black trousers and a lacy camisole top for a look that exudes understated elegance. Add strappy stilettos and statement earrings for subtle glitz and glamour, then finish the look off with a sparkly clutch bag.
This is sure to be one of those looks that has your friends asking where you got your fabulous outfit!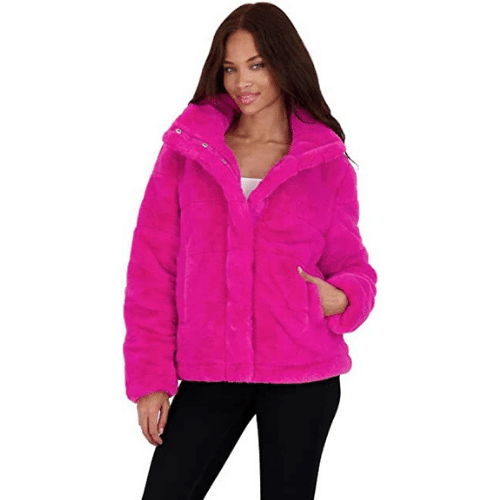 Avec Les Filles Women's Short Grooved Faux Fur Puffer Coat
Bundle up in this short grooved faux fur puffer coat by Avec Les Filles; This cozy look will keep you toasty and looking cool when temperatures start to drop. Soft faux fur and the grooved construction will pack in the heat without sacrificing style.
Check Price Here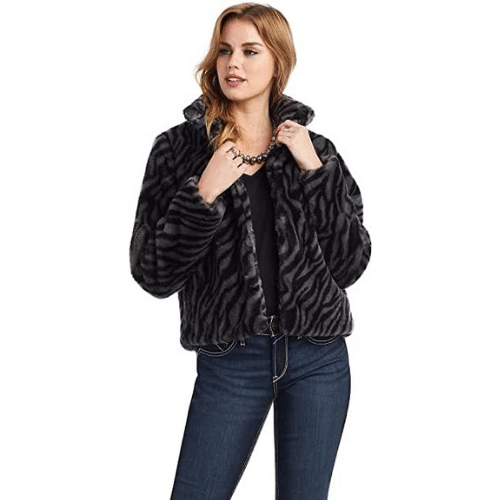 ARIAT Women's City Girl Faux Fur Jacket
Incredibly soft and super fresh with its tiger stripe design, this plush faux fur jacket is an easy way to stay cozy 24/7. Paired with your fave high-rise denim and cutest booties, you'll stand out wherever you go.
Check Price Here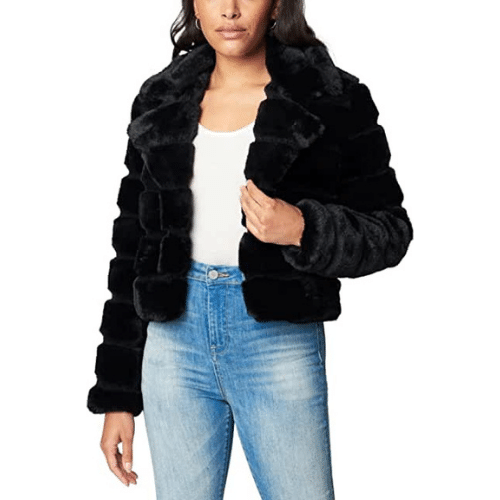 [BLANKNYC] womens Luxury Clothing Ribbed Cropped Faux Fur Jacket
These jackets are the perfect addition to a woman's wardrobe for winter or fall. Wear over neutrals or make a bold statement with a splash of color. Dress up or down and wear over a cami, crop or tank top.
Check Price Here
Go Monochrome for Maximum Impact
If you want to make maximum impact when wearing your faux fur cropped jacket, try going monochrome from head to toe. Opting for pieces in shades like black or navy will help create an effortlessly polished effect while still allowing the beauty of the jacket itself to take center stage.
A pair of slim-fit trousers or a midi skirt (depending on personal preference) are perfect accompaniments here, along with boots in either suede or leather—the choice is yours! Finish off the ensemble with some glittering jewelry pieces like chandelier earrings or stacked rings for an extra touch of luxe glamour.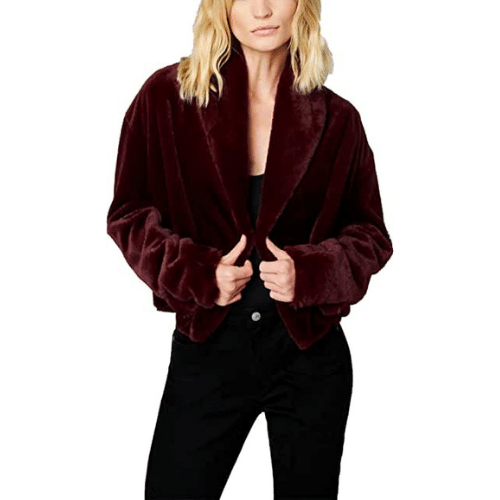 [BLANKNYC] Womens No Closure Faux Fur Coat
A luscious deep claret will have heads turn when you enter the room in this fab cropped faux fur jacket. Pair it with jeans or a ribbed dress for maximum style.
Check Price Here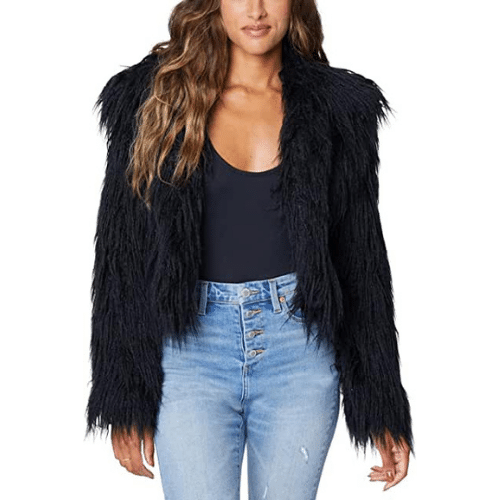 [BLANKNYC] womens Faux Fur Cropped Jacket, Comfortable & Stylish Coat
Long fur at its best. This faux ostrich fur makes a big statement. Paired with jeans or a great sequins dress and you will be the hit of the night!
Check Price Here
With its ability to instantly upgrade any outfit from basic to bold, there's no denying that faux fur cropped jackets have major styling power — all it takes is a bit of creativity and confidence!
So go ahead: show off that beautiful piece in all its glory, experiment with different colors and textures, and turn heads when you enter any room with this great outfit trends!
We only recommend products we love and think that you will too. We may receive a portion of sales purchased from this article that was written by our Frilly team.
Happy shopping!!