Every season there is a new trend in swimwear, from high necklines to plunging V-necks and everything in between. But nothing can beat the classic look of a black two-piece swimsuit.
This timeless piece of clothing is not only versatile but also flattering for any body type.
We've put together a fab group of styles from women's bikinis to bikini bottoms, bikini tops, to black two-piece swimsuits with more coverage from a large variety of brands at all price points to help guide you on to finding the best suit for you!
Let's take a look at why this swimsuit has been and will continue to be popular for many years to come.
Flattering For All Body Types
The black two-piece swimsuit is an incredibly versatile style that works on all body types.
Whether you are tall or short, petite or curvy, this timeless style provides coverage while still showing off your best features.
Its simple shape accentuates your curves and allows you to mix and match different pieces to create your own unique look.
With so many options available ranging from bikinis to high-waisted bottoms to halter tops, you can create a look that's perfect for your body type and fits like a glove.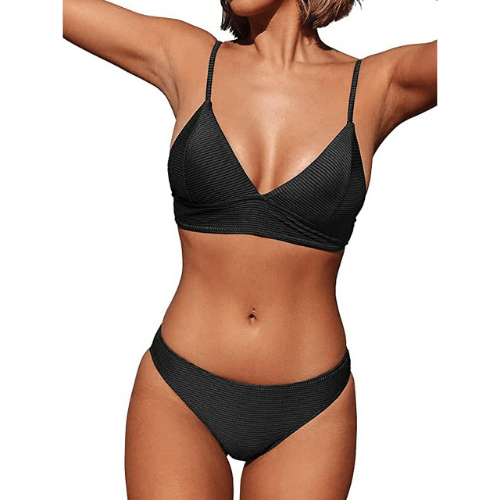 CUPSHE Women Bikini Set Triangle Two Piece Swimsuit
Ribed styling with padded bra will make this suit your go to! Reviewers love the way it hugs their curves-you will too!!
Check Price Here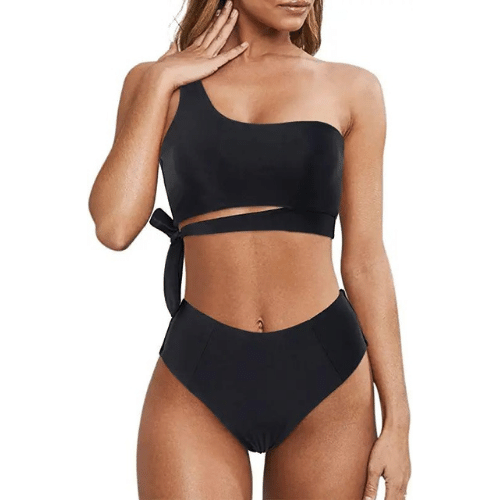 MOOSLOVER Women One Shoulder High Waisted Bikini
Super fun two piece with a fab side tie and tummy control makes this a reviewer fav!! Also available in other colors!
Check Price Here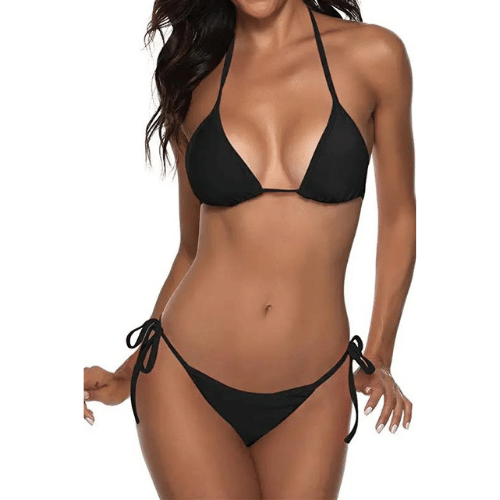 Sexy Halter String Triangle Bikini Set
Thousands of reviewers are giving this bikini 5 stars calling it "underrated" and "the best deal" for a bikini. Also available in 28 vibrant shades - yes pick up at least one!!
Check Price Here
Timeless & Versatile
The black two-piece swimsuit is one of those rare fashion items that never goes out of style.
It is the perfect combination of sophistication and sexiness without being too over-the-top or revealing.
Its sleek lines make it suitable for any occasion - whether you are hitting the beach with friends or lounging by the poolside with family - and its versatility makes it easy to dress up or down depending on where you are going or what you're doing.
Plus, its color ensures that it is easy to wear with just about anything!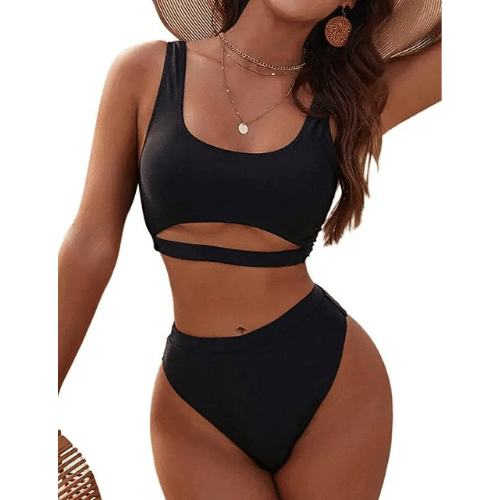 Blooming Jelly Women's High Waisted Bikini Set
Sporty tank style top with high cut bottom is perfect for romping around in the sand. Flattering and timeles, a fav!!
Check Price Here
Easy To Accessorize
One of the best things about this timeless classic is how easy it is to accessorize!
You can add statement jewelry, cover-ups, hats, scarves, sunglasses - whatever your heart desires!
This makes it easy to create a look that's all your own without having to buy an entirely new outfit every time you want something different.
Plus, its neutral color ensures that no matter what accessories you choose they will always go perfectly together.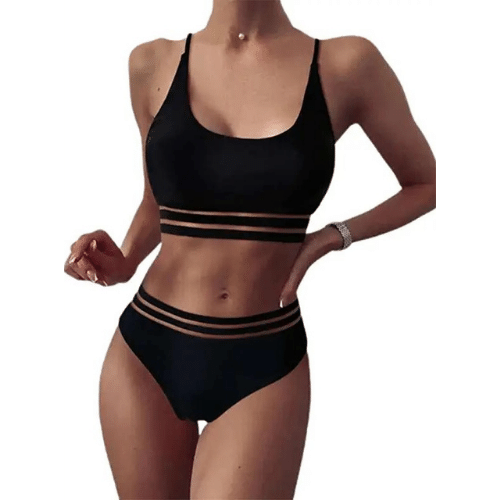 Hilinker Women's High Waisted Bikini Cut Out Sports Crop Top
For a little more coverage try this great suit! Love the mesh lines and the full coverage top!!
Check Price Here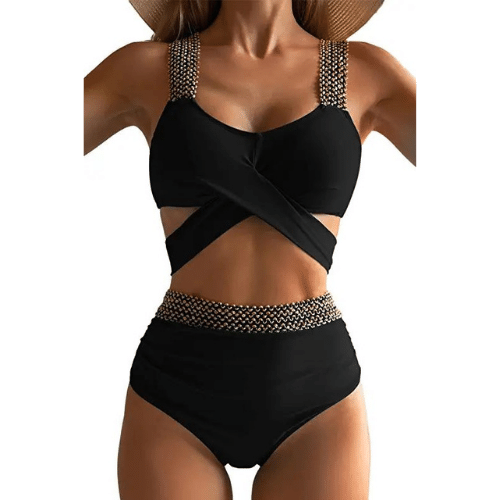 Eomenie Two Piece Criss Cross High Waist Bikini Sets
Don't you love the crisscross styling and the strap and waist detail?? Reviewers love it too calling it falettering and comfy!
Check Price Here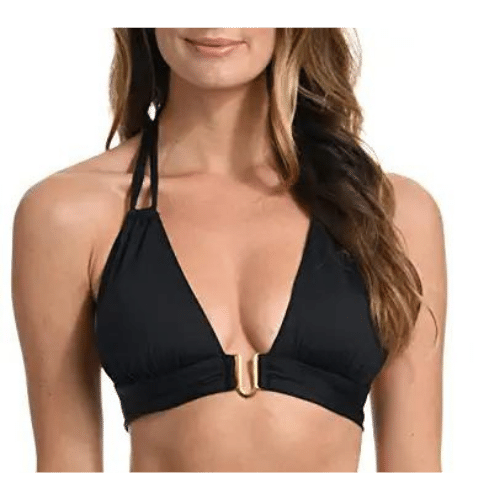 La Blanca Women's Standard Island Goddess Halter Bikini Swimsuit Top
Gorgeous plunging halter top works perfectly with the bottoms below. You will be turning heads with this suit!
Check Price Here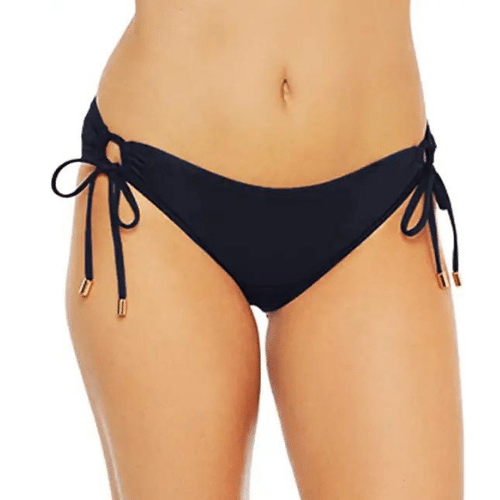 La Blanca Women's Standard Island Goddess Side Tie Hipster Swimsuit Bottom
Super sexy bottoms to go with the halter top!! You will feel like a goddess in this great pair!
Check Price Here
When it comes to swimwear trends come and go, but nothing beats the classic style of a black two-piece swimsuit.
Not only does this timeless piece flatter all body types but it also provides endless opportunities for accessorizing - making it perfect for any occasion.
So if you want something timeless yet stylish that will last season after season then be sure to shop or site and pick up a black two-piece swimsuit today!
You might even find a new brand you'll love!
With so many options available there's sure to be something perfect just for you!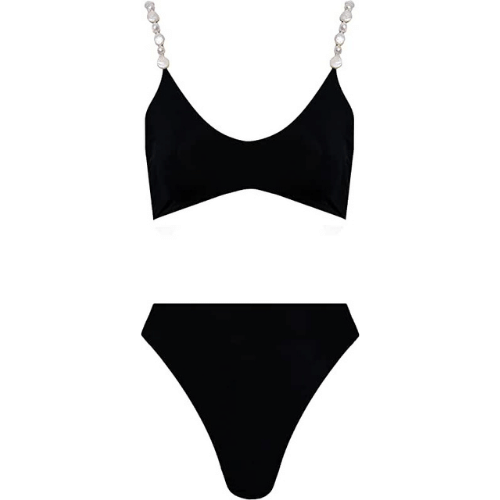 Maygel Coronel Atenas Two Piece
We usually don't play favorites, but look as this amazing suit!! Love the fresh water pearl details and the fit looks amazing!!
Check Price Here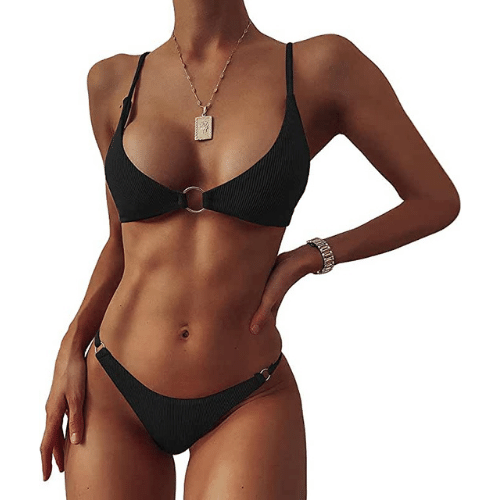 ZAFUL Women's Ribbed O-Ring String Bikini Cheeky Thong
Do you dare?? This sultry cheeky bikini is a head turner, we warned you!!
Check Price Here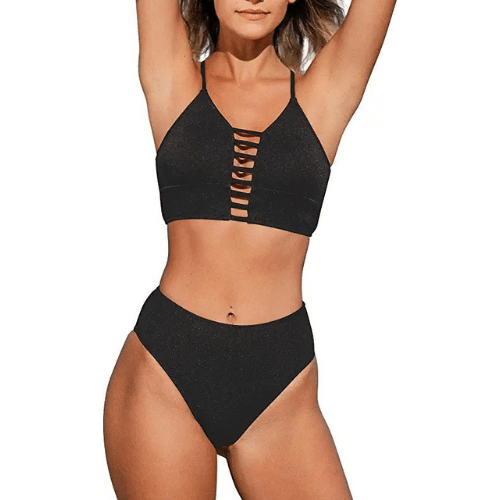 CUPSHE Lace Up Strappy Two Piece Bathing Suit
Less daring but with tons of style, this strappy two piece will win you over! It's flattering, super comfortable and we love the strappy details!!
Check Price Here
And before you go, did you get a chance to sign up for our newsletter? Go ahead, it'll only take a sec and you'll never miss a frilly fun fab post!!
We only recommend products we love and think that you will too. We may receive a portion of sales purchased from this article that was written by our Frilly team.
Happy shopping!!