As the temperature rises, it's time to start thinking about refreshing your wardrobe for the upcoming season.
There's something to be said for taking a break from your typical winter staples, doing a sort of last years collection, and embracing something a bit more daring or fashion-forward.
Whether you're looking to make a statement in bold prints, turn heads with eye-catching colors, or prefer to keep it classic with timeless silhouettes, there are plenty of stylish tops out there that are perfect for spring.
We've searched high and wide through site after site, did a filter to out the NGs, tried to find promotions that do change, so it's best to shop now, and came up with what we hope are the best styles and fit for you!
Let's take a look at some of this season's must-haves.
The Statement Top
A statement blouse is an absolute must for this spring.
Think bright colors and vibrant prints—anything that will turn heads! Whether you opt for florals, polka dots, stripes, or abstract patterns, make sure you choose one that speaks to your individual style.
And while they look great when paired with jeans or trousers of solid colors such as navy blue or black, feel free to get creative and mix them up with other prints if you want to create an even bolder look!
They're as perfect for a night out with friends as a weekend in the country antiquing!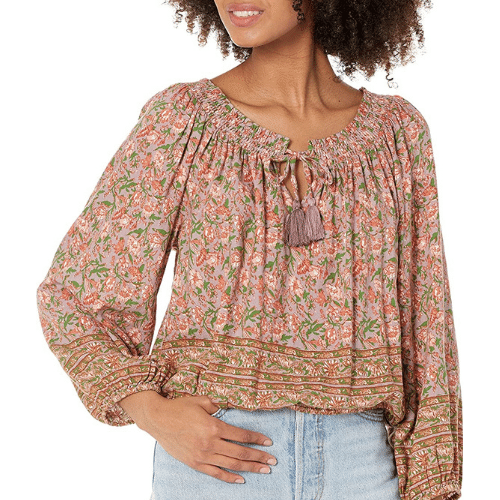 Lucky Brand Women's Bubble Hem Peasant Top
Sweet cotton blend boho top is a pefect spring piece to freshen up after a harsh winter!
Check Price Here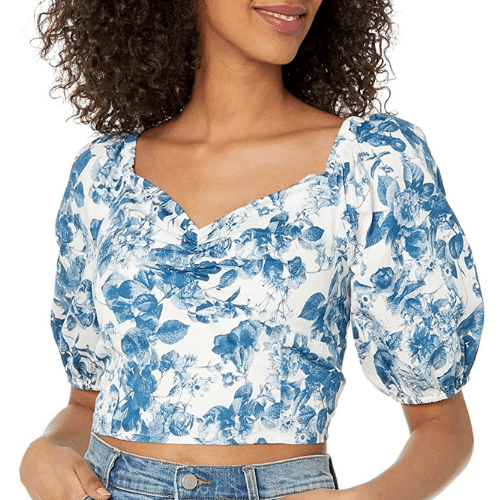 The Drop Women's Annie Sweetheart Neckline Puff Sleeve Smocked Back Top
Frilly and fab blue floral that accentuates your curves would look amazing with jeans or a denim maxi!
Check Price Here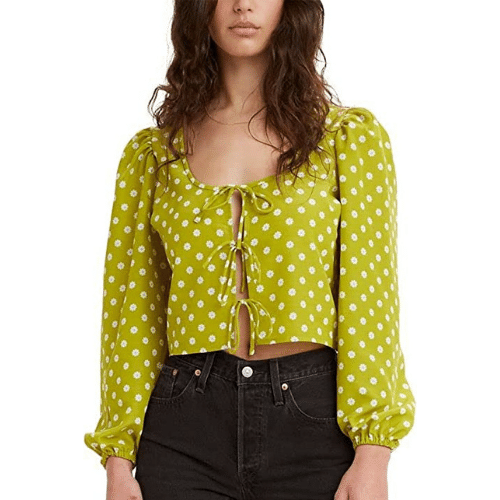 Levi's Women's Embry Tie Blouse
Ultra feminine and romantic, try this with white jeans for your next date night!
Check Price Here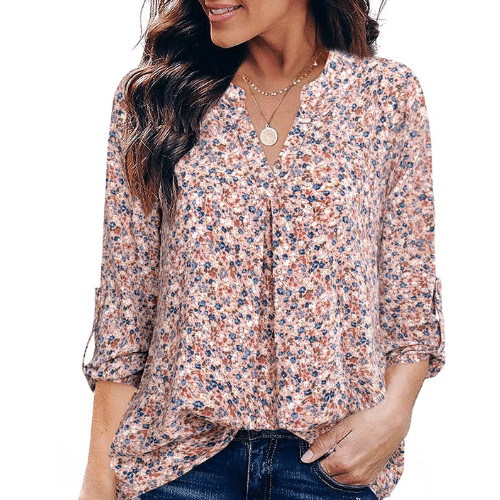 Gaharu Women's Blouses 3/4 Sleeve Work Shirt Chiffon Tunic Top Office Wear
Perfect spring floral tunic - pair with leggings for a put together fresh look!
Check Price Here
The Fresh Tees
A cache of fresh tees is a must for your spring wardrobe.
From classic whites and blacks to the colors of the season namely pink and green are sure to elevate your spring look.
Look for feminine silhouettes with gatherings at the waist, puff sleeves, and fun details rather than box tees that are best for workout time!
For an ultra-chic ensemble try pairing your tees with white ankle pants and for shoes, heeled sandals, or dress it down with skinny jeans and flats for a casual but put-together look!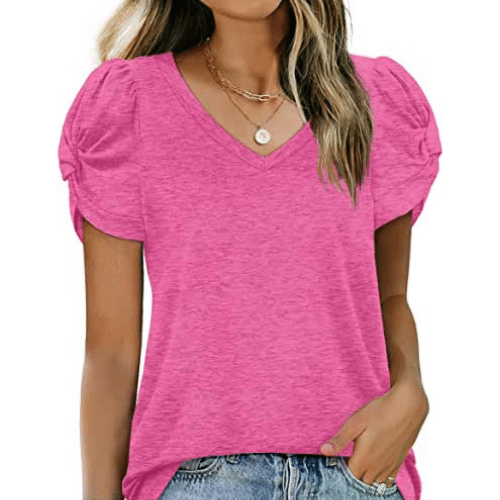 V Neck Puff Sleeve Soft Twist Shirts
Love this color - can't you see yourself in this and a great midi???
Check Price Here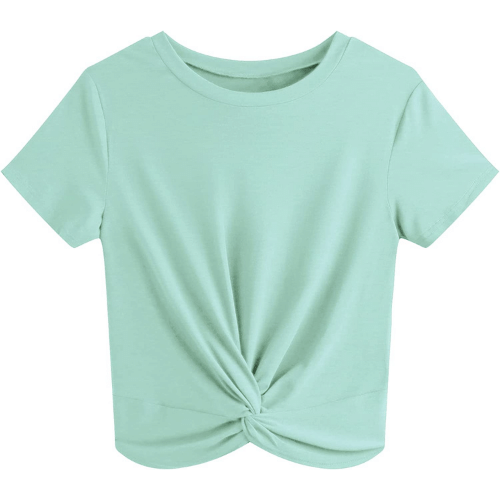 Round Neck Crop Tops Twist Front Tee T-Shirt
Mint looks like it might be pushing pink to the side this season. Pair it with jeans, shorts, leggings, joggers, skirts-you get it!!
Check Price Here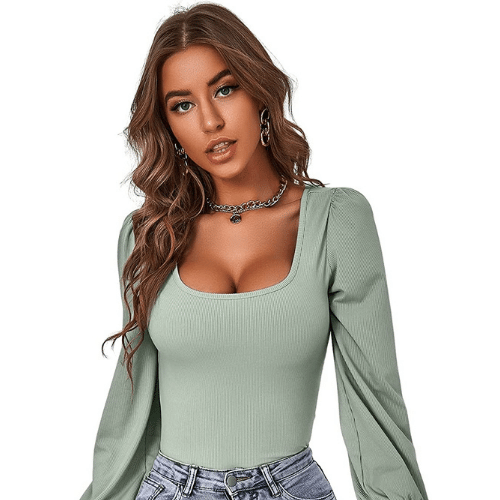 Square Neck Bishop Long Sleeve Tee T Shirt
Suqare neck, bishop sleeves, this is one of the wear anywhere day to noght must have wardrobe staples!
Check Price Here
The Off-the-Shoulder Top
If you want something that's both trendy and timeless, then an off-the-shoulder top is definitely worth investing in this season.
Not only does it show just enough skin without being too revealing, but we love its versatility—match it with jeans during the day and a skirt after hours!
Plus there are myriad styles available ranging from boho blouses to dressy tops so there's something out there for everyone!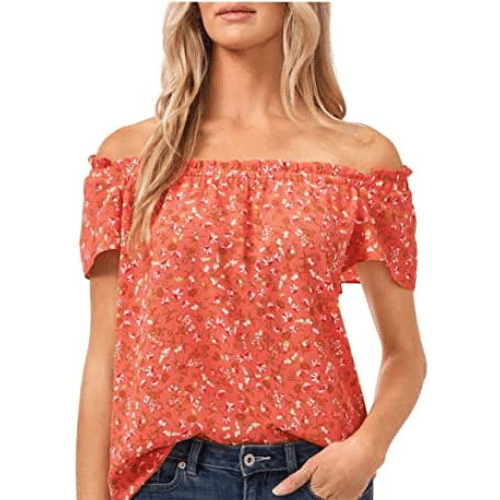 CeCe Short Sleeve Square Neck Floral Blouse
Sexy and stylish off the shoulder to that is sure to impress! Perfect with jeans, shorts, or skirts!
Check Price Here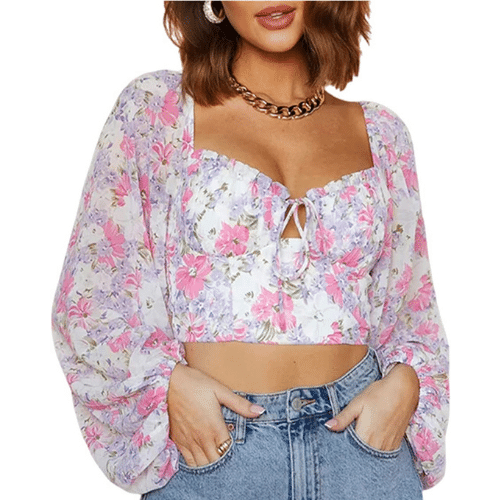 Puff Sleeve Square Neck Tops Boho Floral Print
Not an off the shoulder but a fashion forward, sexy top!
Check Price Here
And you need a stash of white tops in an array of textures to make your wardrobe complete.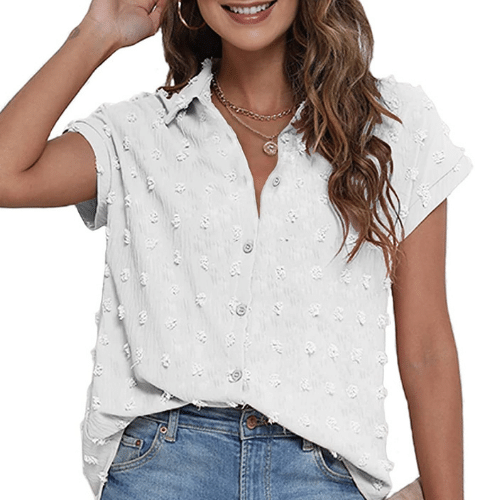 White Button Down Shirt
Sweet button down to bring on spring, calssic white pairs with every ensemble.
Check Price Here
No matter what style you prefer now is the perfect time to add some new womens spring tops to your cart and wardrobe rotation.
From bold statement tops to classic off-the-shoulder tops and everything in between, these spring tops will ensure you stay on trend all season long!
So go ahead, what are you waiting for?
Treat yourself—you deserve it!
We only recommend products we love and think that you will too. We may receive a portion of sales purchased from this article that was written by our Frilly team.
Happy shopping!!