When it comes to fashion, the trends can change more quickly than you can say "fringe."
That's why it's important to stay ahead of the curve—and this season, the hottest trend is hot fringe tops.
From subtle details to bold statements, fringe tops are the perfect way to take your look from blah to wow with minimal effort.
Read on for our top tips on how to rock a fringe top.
Choose Your Style
When it comes to choosing a fringe top, there are plenty of options.
Whether you prefer subtle and sweet or bold and daring, there's something out there for everyone.
If you're looking for something understated yet chic, try out a basic tank top with small tassels lining the neckline or hemline.
For those who like a little more drama in their wardrobe, opt for an embroidered crop top with long fringe detailing cascading down from the shoulders.
If you want something that's truly eye-catching, go all out with a statement shirt featuring oversized fringe.
You're sure to make heads turn!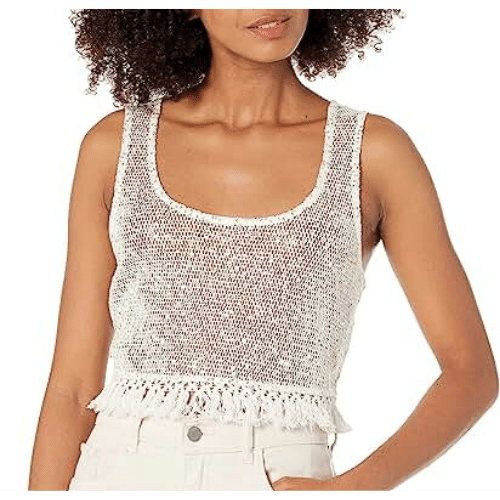 Ramy Brook Nickola Sequin Mesh Cropped Top
Two of our favs - sequin and fringe - all in this stunning crop top! Rock it with a fab white denim skirt and heels!
Check Price Here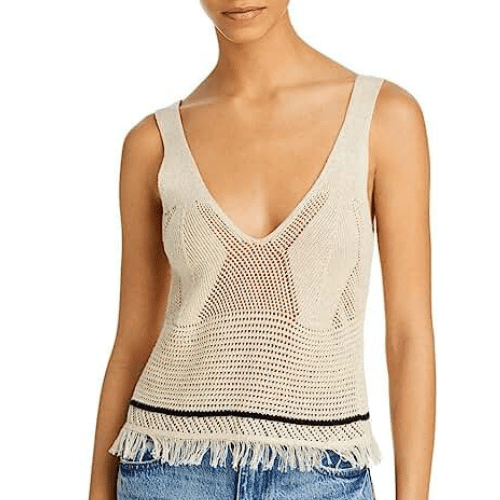 Ramy Brook Women's Kiera Top
Crochet with fringe is an amazing top! Pair with denim shorts for a great warm weather look.
Check Price Here
Luli Fama Women's Wild and Free Long Sleeve Crop Cover Up
Gorgeous print with fringe arms is a head turner!! Shorts, jeans, skirt all would look amazing and don't forget the heels!
Check Price Here
Pair It With Your Favorite Pieces
Fringe tops are incredibly versatile and can be paired with almost any bottom in your closet; from high-waisted jeans to flowy skirts, they look amazing when styled correctly.
For an everyday casual look, pair your favorite fringe top with some distressed denim shorts or boyfriend jeans, and complete the look with a pair of stylish sneakers or sandals.
For dressier occasions try pairing your fringe top with a skirt and some strappy sandals—the perfect balance of fashion-forward and sophisticated!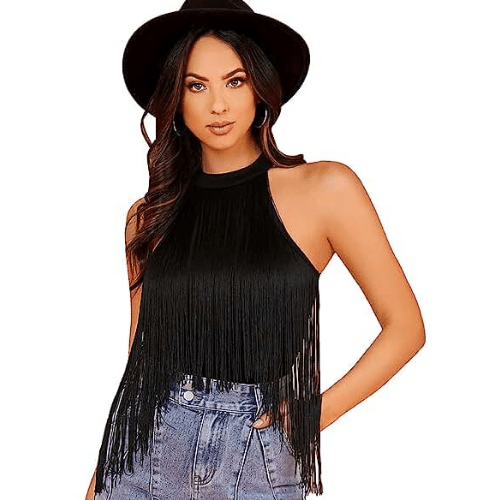 Verdusa Fringe Trim Halter Bodysuit
Super fun, this bodysuit was made for a party!! Pair with jeans or shorts or a sheer skirt for a memorable look!
Check Price Here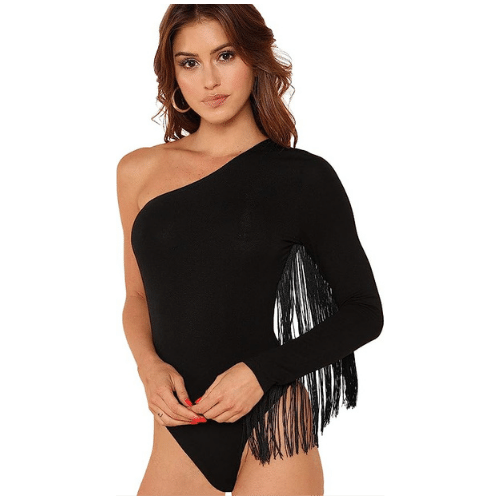 Verdusa Fringe Trim One Shoulder Bodysuit
And for another stunning option, a one shoulder bodysuit for added drama! Make sure you have your embellished heels to really glam it up.
Check Price Here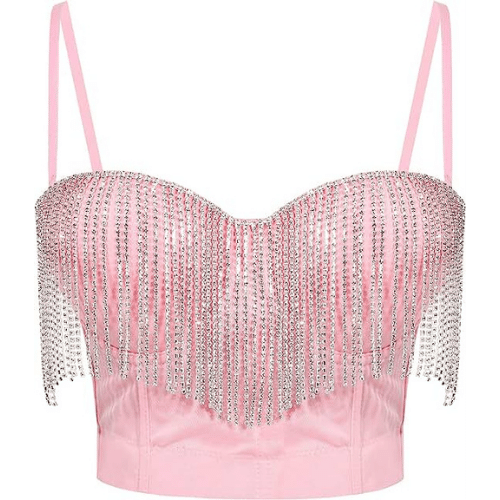 Erinaco Women's Rhinestone Diamond Tank
Super fun this fab top is meant for dancing! Add a slim mini, heels and go all out with statement earrings!
Check Price Here
Amp Up Your Accessories
If you really want to stand out in your new fringe top, don't forget about accessories!
Statement earrings or layered necklaces offer just the right amount of sparkle without detracting from your outfit.
And of course, don't forget about that all-important bag; whether it be a clutch purse for evenings out or a slouchy hobo bag for days spent running errands around town—accessories are key!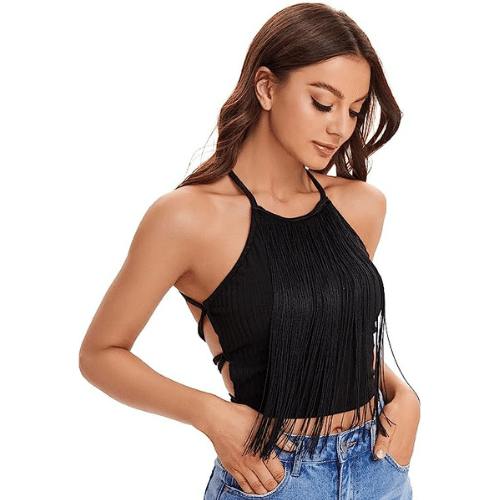 Verdusa Lace Up Backless Fringe Halter
You need this for summer! Perfect for a night out, vacation or a hot summer day, the lace up back and fringe front will have all eyes on you!
Check Price Here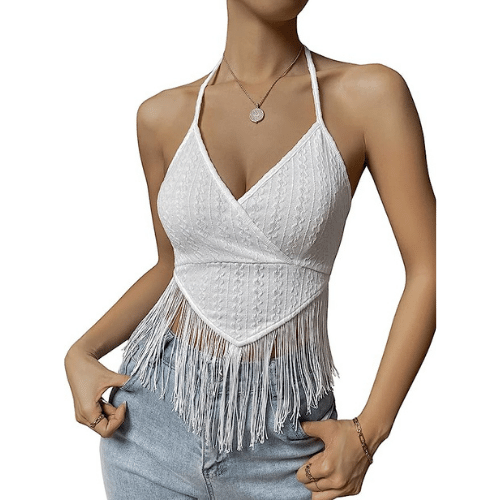 SweatyRocks Fringe Hem Halter V Neck Wrap Cami Top
Does this look like your idea of summer?? Ours too, jeans, a denim maxi, a mini - you choose. Add for a cool fun look.
Check Price Here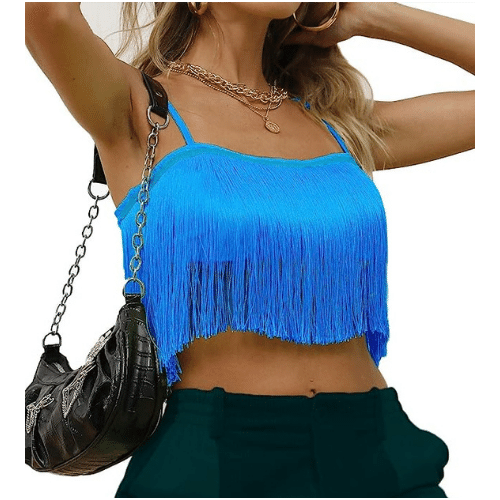 DALLNS Women Corset Cropped Fringe Tank
Super fun, this fringe tank comes in sizes xs through xxl and every color imaginable!! We love the cool blue, paired with white denim!
Check Price Here
Fringe tops are one of this season's hottest trends and they're here to stay!
With so many styles available—from subtle details to bold statements—there's sure to be something that fits your wardrobe perfectly.
All that's left is finding the right pieces and getting creative with them; mix up textures and colors while adding in some accessories for an interesting twist on classic looks!
So go ahead—give those fringes a twirl and show off your newfound sense of style and the items to your cart!
And before you go, did you get a chance to sign up for our newsletter? Go ahead, it'll only take a sec and you'll never miss a frilly fun fab post!!
We only recommend products we love and think that you will too. We may receive a portion of sales purchased from this article that was written by our Frilly team.
Happy shopping!!